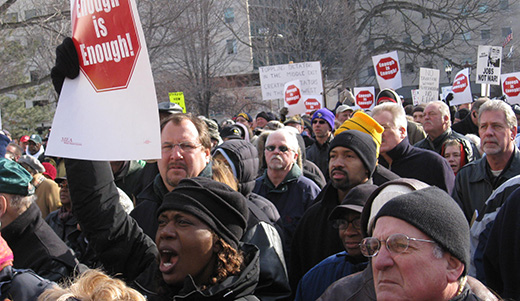 LANSING, Mich. – Workers answered the call from the Michigan AFL-CIO and turned out in force here March 8 to lobby the Michigan Senate against budget cuts and takeovers of cities and schools.
Eighth grade language arts teacher Beth Sabo criticized legislation now before the Senate that would allow the state to appoint "emergency financial managers" to run cities and school systems that have been hit hard by the economic crisis. Emergency financial managers, she told the crowd of 1,000 at a pre-lobby rally, would "ban collective bargaining, void contracts and make choices without input from dedicated professionals, parents, community members and school board members."
Many also worried that Governor Rick Snyder's budget, which slashes aid to cities and education, will push more cities into the "red," making them targets for such a takeover.
St. Clair Shores teacher Heather Schulz told the People's World state officials are looking at cutting aid to the tune of $500 per student, making almost all districts vulnerable to a takeover. "It's important to stand up for my students who are having money taken from them and their education. It's going to destroy their futures," she said.
Addressing the rally, Pastor David Bullock, of the Greater St. Matthew Baptist Church in Highland Park, likened the appointment of emergency financial managers to having a king or aristocrat run a town's affairs. "We don't need kings in America, we don't need kings in Michigan, what we need is more democracy," he said.
Bullock expressed what more and more across our nation are thinking: "I'm tired of the argument that says budgets should be balanced on the backs of the poor and the workers and not on the backs of big business."
"What do you do when you get tired? he asked. "You march, you fight back, you e-mail, you text message, you make signs. You don't stop."
The minister got the crowd shouting approvingly. His last words could not rise above the noise of the crowd, but his message to "fight until we win" was clear to all.
Also speaking was Dan Kreigbaum, a firefighter with the city of Lansing for 21 years. He shared his deep concern on how the emergency financial manager legislation would compromise the health and safety of both firefighters and the public. "Statistically, every three days, somebody dies doing what I come to work to do," he said. "Under this bill, it's the EFM who will decide the risk I take. That's just not right."
We need "government from the center, not dictatorship from the right," Kreigbaum said. "It gives them too much power."
Home-based child care providers and United Auto Workers union members Mary Jones and Elizabeth Hall were at the rally. Gov. Snyder, a Republican, has called for their pay to be reduced from $1.85 or $1.60 an hour to $1.30. A cut like that would be devastating for them, since, they said, "We can't live on what we make now."
In a move clearly aimed at destroying their union, Snyder has proposed that the 16,500 home child-care providers, who take care of children of working parents participating in the Welfare-to-Work program, no longer have union dues collected.
Jones spoke about the governor's broad attack on the working poor. Referring to Snyder's proposal to eliminate the Earned Income Tax Credit which helps low-income earners, she said, "He's hitting me in all kinds of directions."
The emergency financial manager legislation passed in the Republican-controlled Michigan House two weeks ago despite intense lobbying to defeat the bill. This week the state Senate was the target. Although Republicans have a veto-proof majority there, no one in this crowd was going to let them pass it without hearing their anger.
In the Senate debate, as people shouted, "Kill the bill," Republicans continued to vote down amendments offered by the 12 Democratic senators to limit the bill's severity.
They even voted down a Democratic amendment stating the salary of an emergency financial manager could not exceed that of the governor. Many here saw that as revealing Republicans' hypocrisy on controlling costs. Democratic lawmakers complained the state could end up paying for high-priced managers who then ironically – and shamefully – cut pay for police, firefighters and teachers.
While the bill is expected to pass, possibly as soon as today, Pastor Bullock's exhortation at the rally – "We don't stop" – captured the mood of workers who lobbied here.
Photo: Michigan workers at the Capitol, March 8. PW/John Rummel