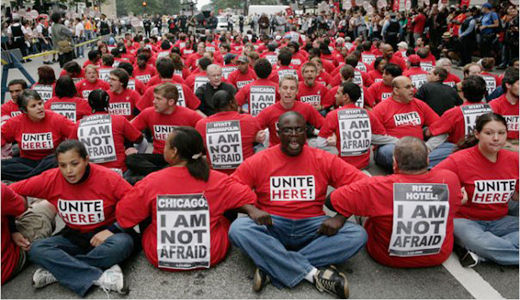 CHICAGO – More than 1,000 workers across the U.S. and Canada are preparing today to stage non-violent civil disobedience actions with thousands of others backing them up at Hyatt hotels in 15 different cities.
The workers, who received civil disobedience training from their union, Unite Here, and the thousands who are expected to turn out in support, include hotel cooks, bellman, dishwashers and housekeepers.
"The rich take unfair advantage of everything, even a recession," said Anne Marie Strassel, a union spokesperson here where 300 are preparing for arrest and thousands are expected to turn out as witnesses.
Strassel said hotel workers are enduring staff cuts, reduced hours and physical injury on the job. "Hyatt wants to take more away and lock workers into recession contracts even if the economy rebounds," she said.
The Hyatt chain is run by Chicago's Pritzker family, one of the wealthiest in the nation.
When Hyatt became a publically traded corporation in November, 2009 the Pritzkers yielded a reported $900 million from the sale. Hyatt share values, after the sale, soared 65 percent within six months.
Despite the record profits, Hyatt fired its entire housekeeping staff from its three Boston-area hotels and replaced them with minimum wage workers from a subcontracting agency.
The union says the actions today are particularly timely in at least 10 of the 15 cities, where 45,000 contracts it has at the hotels are about to expire.
In a statement issued this morning the union called on supporters in or near Chicago, Honolulu, San Francisco, Long Beach, Los Angeles, Rosemont, Boston, Vancouver, Toronto, Miami, Pittsburgh, Indianapolis, San Antonio, Santa Clara or San Diego to call 312-617-0495 for event times and locations in those cities.
Photo: Courtesy of Local 1 UNITE HERE