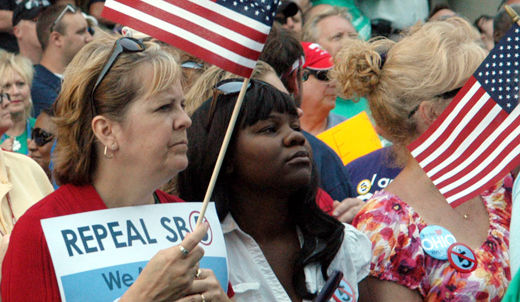 COLUMBUS, Ohio – The drive to repeal SB 5, the union-busting law that strips collective bargaining rights from 360,000 public workers in Ohio, culminated Wednesday in a massive 'People's Parade' to the Secretary of State's office where petitions with nearly 1.3 million signatures were delivered.
The march accompanied a giant semi-truck, with "Veto SB 5" on its side, packed to the brim with 1502 boxes of petitions. Leading the march was a bagpipe delegation of police from Cleveland, Columbus and Toledo, and a huge banner, reading "Million Signature March!" This was followed by a drum corps of youth from Columbus and a series of red "Fire Chief" cars, complete with Dalmatian dogs. Then came union after union, each in different colored shirts, along with community groups and motorcycle brigades.
"O-H, I-O. SB 5 has got to go!" they chanted.
"This is your day," said Melissa Fazekas of We Are Ohio, the labor-community coalition which led the petition drive, at a rally and press conference outside Secretary of State's John Husted's office. "This is the people's parade," she greeted the crowd, estimated at over 6 thousand supporters.
Deafening cheers arose as she announced that a total of 1,298,301 signatures had been collected, more than five times the minimum number required to put the measure on the November ballot. Signatures of at least three percent of voters in half the state's 88 counties were also needed but Fazekas said more than twice that many had been collected in every county.
"We are celebrating a truly historic achievement," she added.
"Tell me what democracy looks like," the crowd roared, "this is what democracy looks like!"
Never before had so many signatures been collected for a ballot issue in Ohio and never had it been done with so many thousands of volunteers outraged and threatened by Republican Gov. John Kasich's assault on the rights of labor.
"Our ancestors fought for equal rights and for collective bargaining, the rights that SB 5 takes away," said AFSCME retiree Francis Henderson. "They went to jail, were beaten and some even gave their lives for these rights. Shame on us if we let these folks take those rights away. We have to fight!"
"I'm tired of corporate politicians and millionaires scapegoating teachers that work hard to educate our children," said Theresa Whitney of the Ohio Education Association. "SB 5 is an assault on the middle, working, class teachers, police, firefighters, city and state workers that keep our nation going. They want to balance the budget on the backs of regular families while giving tax cuts to billionaires. We're here to say that that won't fly!"
She was echoed by Barry Smith, a school bus driver from Englewood, a suburb of Dayton, who said Kasich's attack on unions was an assault on democracy itself fostered by people like the ultra-right billionaire brothers, David and Charles Koch.
"We're in for a tough fight. There's going to be a massive propaganda campaign against us – just like Goebbels," he said referring to the "big lie" tactics used in Nazi Germany.
"Yes, we are our brother's keeper," said Rev. Dale Snyder of the Columbus AME Church. "This is about our civil rights, not just some people's rights, but ALL of our rights and we're here to say that we all must stand together, united, and united we will be victorious!"
Tim Burga, president of the Ohio AFL-CIO, called the day's action "the culmination of tens of thousands of volunteers across the state standing up against the Kasich Administration's extreme attacks on the middle class. We are going to get this on the ballot and let the citizens vote on Kasich and his extreme agenda to attack worker rights."
He said the AFL-CIO, We Are Ohio and other groups were scheduling conferences in the coming month to map plans for a massive grassroots, rank and file effort to educate and mobilize voters to repeal SB 5.
Photo: At the rally where thousands of Ohioans joined together to make history by turning in 1,298,000 signatures to repeal SB 5. Ohio AFL-CIO
View the Ohio SB5 Parade June 29, 2011, slide show here
Video from The People's Parade to Repeal SB5 on June 29, 2011, in Columbus, Ohio.: