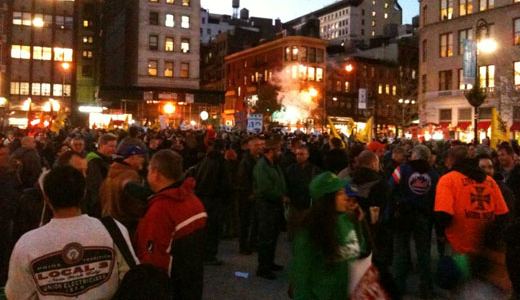 NEW YORK – The Central Labor Council was the main force behind a march for jobs here yesterday that filled the streets from 32nd Street and Broadway to Union Square.
Unions are under siege by corporate America. Leading the charge against them were the GOP governors of Ohio and Wisconsin. The fight back by organized labor and its allies that started in Wisconsin helped spur the successful November roll back of an Ohio law that stripped public service workers of their collective bargaining rights.
That victory, fortified by the Occupy Wall Street movement, has given labor and the majority of Americans hope that they can make changes that seemed daunting only a decade ago.
Yesterday, the public workers, transit workers, teachers, electrical workers, Teamsters and others united with the Occupy Wall Street forces to have their say.A statement by the CLC made their point: "This march is for Jobs and economic fairness is a call to action and a show of unity – we want to march down Broadway from Herald Square to Union Square and fill the street from curb to curb so government and big business get our message: Enough is Enough!"
Union member Michael Anthony had this to say: "I'm here to march for jobs and economic fairness. Things just haven't been fair. In the last five years the 1 percent is getting richer and richer and working class people are having a hard time and that's not even considering the working poor and the unemployed and the underemployed."
"Most of the people here today have a job but we're breaking ourselves to keep that job to make ends meet – They ain't meeting. We need a sense of economic fairness right now and it's not happening."
The largest contingent at today's march was Local 32BJ of the Service Employees. SEIU, whose members do most of the work to keep office buildings safe and functional, will soon be in contractual talks with the owners of many of these buildings. The owners are looking for givebacks in healthcare and pensions, many of the same things public workers are facing today.
Eddie Walker of 32BJ talked about his reason for demonstrating. "Our contract comes up at the end of the year so we are here to rally support for the troops to get an even break."
He continued, "We are a private union. The people who will have to pay are the tenants [and building owners] who are part of the 1 percent. They [building owners] want to take our health care benefits away, our pension benefits away. Anything they can get their claws on they want to take away from us."
As the march wound its way to Union Square people were in conversation with one another and there was a sense of unity and solidarity in the air. These marches and rallies have become more and more diverse in terms of race, age and gender.
"I'm here to demonstrate with my sisters and brothers in labor to protest and speak out with one voice about good jobs. We want to make sure the workers voices are finally heard, we are the 99 percent," said Carl Bragg of SEIU.
"They talk about the inequality and growing disparity between the wealth in this country and the rest of us," Bragg said, "and this is why we are here today. You can't continue to trample on people and expect that people will remain silent. We need jobs, we need health care, we need just the basic things to live here in America, that's what this is all about, basics."
As the marchers rallied in Union Square Park they cheered and shouted as a contingent of several hundred Occupy Wall Street protesters joined them, chanting. "March, March – We are the 99 percent!"
Photo: Gabe Falsetta/PW