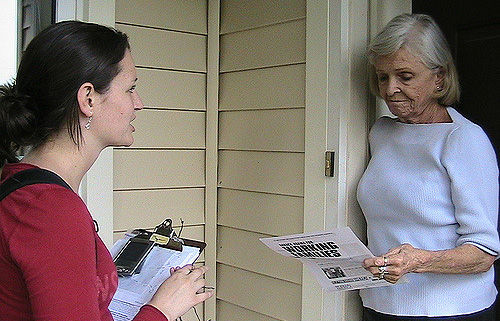 WASHINGTON – If the plan works as designed – and there's every indication it will – some 100,000 volunteers will answer the call of the Working America Coalition to speak with working families across America about the need to support candidates who support them.
"We will work closely with the three million member Working America," Coalition leaders announced. We know that "when working people speak with a loud and strong voice, pro-worker candidates win."
A study done last year by Working America, which is affiliated with the AFL-CIO, found that "Face-to-face conversations are critical for breaking through reflex thinking on difficult issues;" thinking that leads some working people to support Donald Trump.
Working America canvassers went door to door in working class neighborhoods where Trump seems to have made inroads.
The study said that if canvassers did not belittle the opinions of workers and validated the reality of their fears, people were eager to discuss alternative ways to address today's economic issues.
"Working-class voters are hungry for an independent voice to deliver clear information and with whom they can discuss the issues," the report found. … "For some [Trump supporters] … our engagement – a combination of validation and information – gave them pause. The longer we spoke with people, the more opportunity there was to talk about issues vs. personalities.
"Without a countervailing pull of authentic engagement about issues and a progressive vision for the future of the country, the appeal of right-wing rhetoric will continue."
In their announcement, the Working America spokespersons said, "We will deploy nearly 100,000 volunteers and staff across the country to speak with working families about the importance of this election and ask them to support the candidates who will be their best advocates."
The volunteers will conduct nearly 1 million door-to-door conversations with swing voters in what are considered battleground states
In addition, every week, from now through election day, the spokespersons said, "union members will receive materials in their mailboxes about candidates at every level and where they stand on the issues that matter to working families.
The statement continued, "America's union members and progressive allies will pound the pavement and work the phones and have the meaningful conversations on front porches across the country for candidates who will work hard for working families.'
In a recent essay published in the National Catholic Reporter, AFL-CIO President Richard Trumka defined what he means by candidates who are pro-working families.
"Any politician who wants the support of the AFL-CIO," Trumka wrote, "must answer a fundamental moral question: will you choose a world of scarcity or one of abundance?
"A vision of scarcity," he wrote, "leads to the building of walls, the turning away of refugees, and the denial of vital services to the most vulnerable among us. …
On the other hand, a vision of abundance, Trunka wrote "leads to broadly shared prosperity," to "raising wages, investing in roads, bridges, schools and water systems."
In their announcement of their program to reach voters, the Working America Coalition said, "When our program is successful, when working people join together, it shifts the entire dynamic of the race. Working people will ensure Hillary Clinton-a proven leader who shares our values and who is committed to working families and workplace rights-will gain the White House.
"And we will continue to expose Donald Trump's empty promises and counter his divisive rhetoric and his radical right acolytes."
Photo: Working America canvasser (left). | Flickr (CC)