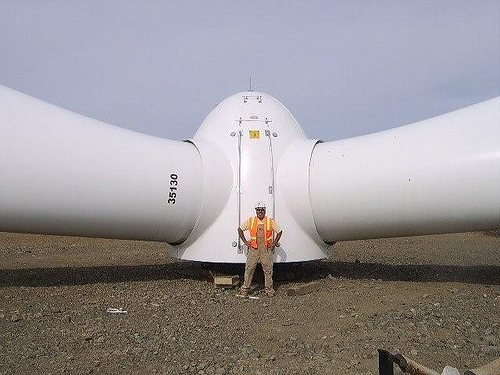 Despite a depressed economy, Joliet, Ill., ironworker Ken Kobus is optimistic. Kobus, president and apprentice coordinator for Ironworkers Local 444 out of Joliet, about 50 miles southwest of Chicago, says with the new technologies and the need for alternative energy sources, good jobs are being created, and more could be with investment.
"We can't look at what we have done in the past. Everything is tomorrow and forward. I'm optimistic. As long as we keep looking forward and embrace the new technology," he said in a phone interview Jan. 8.
The Ironworkers, through their apprenticeship program, just received a $1.9 million grant for green jobs training from the U.S. Department of Labor. Labor Secretary Hilda Solis announced Jan. 6 that $100 million for green jobs training grants would be awarded through the economic stimulus program, the American Recovery and Reinvestment Act of 2009.
The grants will support job training programs to help "dislocated workers and others, including veterans, women, African Americans and Latinos, find jobs in expanding green industries and related occupations. Approximately $28 million of the total funds will support projects in communities impacted by auto industry restructuring," the DOL press release said.
There were 25 labor union, business and community partnership programs receiving the grants with amounts that ranged from $1.4 million to $5 million each.
The Ironworkers grant covers 20 counties within five states that have been adversely affected by auto plant shutdowns. These are counties within 400 miles of La Palma, Calif.; Joliet, Ill.; West Seneca, N.Y.; Arlington, Texas and Salt Lake City, Utah.
"We are working our way out of a depressed economy the likes of which we haven't' seen since the early 1980s," Kobus said, referring to the mass layoffs of mainly manufacturing and industrial workers of that period. "There are new technologies out there and we have to be ready to train our people. We make adjustments daily."
Kobus said a cluster of wind farms are going up in the area. Over 600 wind towers will be built for the LaSalle, Ill., area, he said.
The towers are 300 feet tall, he said, so going up and down them a couple of times a day is a young person's game.
"The grant will open up new avenues to bring in younger workers," as well as experienced journeymen, he said. "It's a rough business. Be out in all weather. It's demanding and you get bumps and bruises," but younger people, including young women and minorities, can make a "good career choice" with the work, he said.
Kobus says about 100 people will be trained through this grant. The union president goes to junior colleges, often times with apprentices including a third-year woman apprentice, to reach out to young people who may not realize ironwork would be a career path for them.
For the Utility Workers Union of America, the almost $5 million grant they received for green jobs training in New Jersey, California and Massachusetts, means not only training new workers, but "incumbent workers in danger of being laid off," says Jami Simon, special assistant to the union's president, in a phone interview from Los Angeles.
But, she says, "our members will retire and the training grant will help create a pipeline of new workers for these three states."
Simon said the union was excited about the opportunities of working with their partners to provide skill building to "underserved populations."
The Utility Workers training program serves a lot of "older youth," ages 18-24 by providing "intensive math training, occupational skills and lifelong learning" specific for utility industry jobs.
"A lot of times these younger people don't realize that when they turn on the light in their house or turn on the water from their faucet that there are a whole lot of jobs connected to it," Simon said. A lot of the older youth are coming out of the "military or dead end jobs, or have been drifting."
"It's one of the coolest things to see, and I have seen it, when they put the two things together – a job and utilities," she said.
The program is expected to serve 719 workers, 359 new and 360 incumbent, downsized from the auto restructuring.
There are many, Simon said, who are excited also about joining a career with environmental issues. "Many utility workers are very conscious about conservation, especially leak detection. You have these huge water pipe breaks. It's not just a matter of rebuilding the infrastructure, but detecting leaks and fixing them before the breaks. A lot of the workers are excited to learn more about efficiency and conservation."
Simon gave an example of how the "greening" of America can not only save jobs but create them. In Ohio, she said, a coal-fire plant was about to close. "But our union partnered with the company and management and helped turn it around. It became a bio-fuel plant and generated an additional 90-100 jobs on top of the 100 jobs that were saved," she said.
"But you got to work with industry and a lot of people to make this happen," she added. Simon said green job creation on the scale needed is possible. But "we need long-term investment" and "we need to bring back manufacturing to make a strong economy. That's a huge component."
For more information on the green jobs training program go to:
Photo: http://www.flickr.com/photos/green4all/ / CC BY 2.0
Jerry Fletcher, president of IBEW 280 in Central Oregon, stands in front of a wind turbine rotor. Fletcher says "The work is a lot of fun, and the turbines are immense. When mounted, the rotor is 240 feet above the ground, or the same as a 24 story building. You can drive a truck inside the tower and the 'Nacelle' or generator at the top of the tower is the size of a manufactured home. The 'rotor' or propeller is 140 feet from the axle to the tip. There is 35 trucks worth of concrete underneath every tower."
IBEW also won a DOL green jobs training grant.
The Central Oregon-based local participates in an apprenticeship program with the National Electrical Contractors Association that trains workers for jobs in the solar and wind industries in the state. For more info on the apprenticeship program, call 541-917-6199.