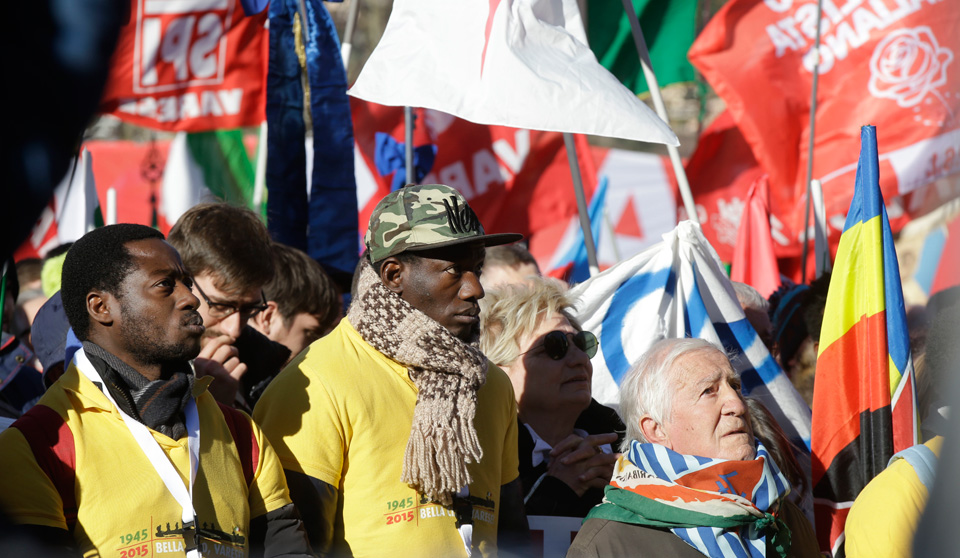 Over 10,000 anti-fascists rallied in Como, Italy, on Saturday "against all fascism and intolerance." The demonstration was called in response to a growing number of violent incidents staged by far-right organizations.
Though the demo was organized by the governing Democratic Party (DP), it saw a huge turnout from across the Italian left, with banners from trade unions and the Communist Refoundation Party as well as the National Association of Italian Partisans (ANPI), an organization representing members of the second world war resistance that brought down Benito Mussolini's fascist tyranny.
It featured an address by DP leader and former Italian prime minister Matteo Renzi—but "the crowds were not for him," Alessandro Pirovano of the communist Manifesto newspaper reported.
Placards of the CGIL trade union federation carried attacks on Interior Minister Marco Minniti, a fellow DP member, and Como Without Borders spokeswoman Annamaria Fracescato demanded a "radical change in the politics of the Italian government and the European Union regarding migration."
Silvio Berlusconi's Forza Italia and the populist 5-Star Movement both declined to support the rally.
Chamber of Deputies president Laura Boldrini noted that there were elements in Italy who "always wanted to be lenient towards fascism, talking about a good fascism and a bad Nazism."
CGIL secretary-general Susanna Camusso warned of "widespread intimidation" now practiced by fascist gangs in the country. One incident involved members of the ne-Nazi Veneto Skinhead Front bursting into a meeting on migrant housing on November 28 and declaring resistance to the "invasion" of Italy by foreigners.
The group may also have been responsible for an attack on a center for asylum-seekers in Como last Friday.
In another ugly episode, a dozen masked members of the far-right Forza Nuova launched an attack with flares on the headquarters of the Repubblica newspaper last Wednesday, denounced by the Communist Refoundation Party as a "threat to press freedom.
"Although we do not feel represented by a newspaper that ignores us as a political force, we express our utmost solidarity with its journalists. As far as we are concerned, fascism and racism are not opinions but crimes," the party stated.