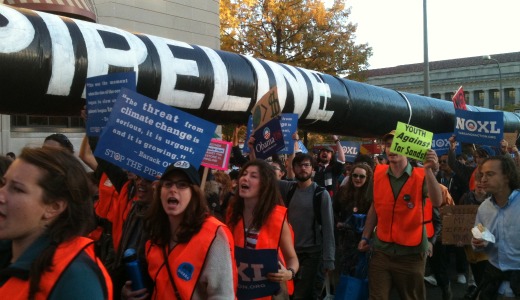 WASHINGTON-An estimated 12,000 tar sands protesters encircled the White House, Nov. 6, chanting, "Stop the pipeline, stop the greed, and give the people what they need."
On a cool, solar-powered autumn afternoon, the demonstrators from as far away as Montana and Nebraska gathered in Lafayette Park near the White House to urge President Obama to deny a permit for TransCanada's proposed 1,700 mile Keystone XL-Pipeline. The $7 billion project would carry tar sand oil from Calgary, Alberta, Canada, to the Gulf Coast of Texas.
Bill McKibben of Vermont, a founder of 350.org, a grassroots organization that is combating global climate change told the crowd, "Four years ago, then candidate Obama said his administration would begin to 'slow the rise of the oceans and heal the planet. This week scientists announced the greatest-ever annual increase in carbon emissions. We need action to match those words and without Congress in the way, Keystone is the place to start."
NASA's top climate scientist, James Hansen, said a victory in blocking the tar sands pipeline would be a step toward ending "fossil fuel addiction. Either we stop now or we destroy the Earth."
Natural Resources Defense Council founder, John H. Adams, awarded the Presidential Medal of Freedom by Obama, cited reports that the White House may delay approval of the pipeline. "My guess is if there is a delay, it could very well kill the pipeline of its own weight," Adams said.
Alison Cheroff, a classical pianist, who lives in Barre, Vermont, came on one of three chartered buses from the Green Mountain State. "This is such a vital turning point in the survival of the world," she told the World. "We have only a few years to turn it around. We need to shift over to alternative energy on a massive scale. They say it will cost jobs. I think a green economy will create millions of jobs."
The actor, Margot Kidder was one of four women holding a banner that read, "Montana Women for An Oil-Free Future." Kidder owns a home in Livingstone, Montana, which is called the "Gateway to Yellowstone National Park." She was one of more than 70 tar sands protesters arrested in a sit-in outside the White House last August 20.
She told the World a 16-inch pipeline broke under the Yellowstone River and flooded both the river itself and adjoining ranchland with crude oil. "Exxon still hasn't cleaned up that mess," she said. "Their clean up plan is paper towels and baby diapers."
The tar sands pipeline would be 36 inches in diameter, she said, "very high pressure, with high heat just to make the oil flow in the pipeline." Rupture of that pipeline would destroy some of the nation's most pristine wilderness, she warned.
TransCanada strongarms ranchers, she charged. "They offer them a dollar a linear foot to lay the pipeline across their land, claiming 'eminent domain.' If the rancher refuses, TransCanada sues, telling them, 'See you in court in three weeks.'"
She scorned claims that it will create jobs. "These are very temporary jobs, 3,500 to 4,200 by their own estimate. That's about 300 jobs for Montana. Its not worth poisoning the state for that few jobs."
Joseph F. Lado, an analyst at the National Science Foundation said extracting crude oil from tar sands requires vast amounts of natural gas or other energy. "They are talking about building a nuclear power plant to provide the power needed for the refining process, he said. "Al Gore said a Prius fueled with tar sands gasoline would be more polluting than a HumVee."
Too much of the debate on energy policy is to "end our dependence on foreign oil," he said. "That doesn't answer what the people really want—to shift to renewable energy."
David Freeman served as Chairman of the Tennessee Valley Authority (TVA) under President Jimmy Carter. "During my tenure I shut down eight nuclear reactors that were under construction," he told the World as he stood in the crowd. "We had the first solar programs under construction back in those days. Then Reagan came in and declared war on the sun. He ordered the removal of the solar panels Jimmy Carter had installed on the roof of the White House and killed all those solar programs."
Until after World War II, the federally owned TVA "was 100 percent renewable energy" Freeman added. "It wasn't until after the war that TVA started building coal-fired and nuclear powered power stations. We need to make a decision as a nation that fossil fuels are poison. We have the sun, the wind, bio-mass. We need to make the decision to go to all renewable energy. We're on an energy diet that is killing us."
Photo: Protesters march up 15th street toward the White House in Washington D.C. carrying an inflatable black plastic pipeline with the slogan "Stop the Pipeline." Tim Wheeler/PW.