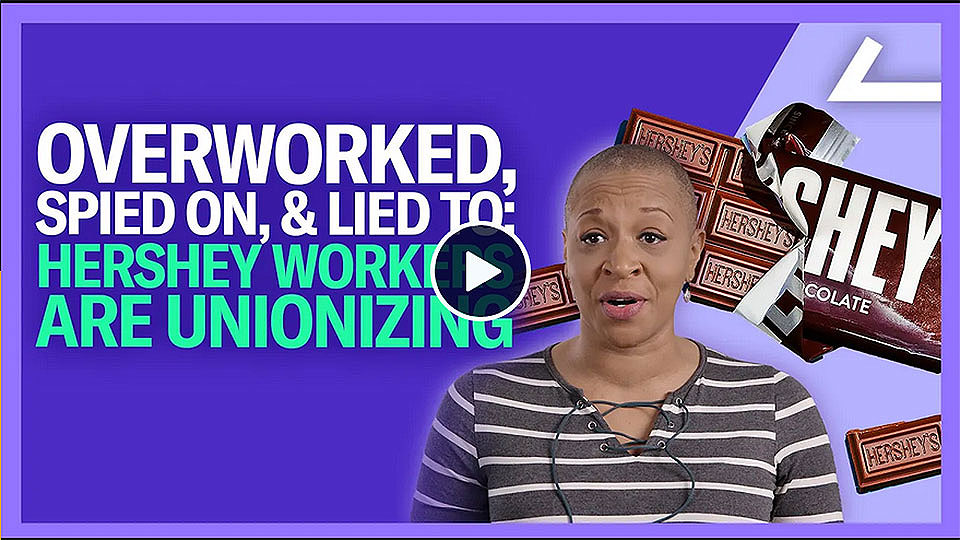 STUART'S DRAFT, Va.—Despite rampant corporate labor law-breaking and insults to the union they seek to join, some 1,300 workers at the Hershey's chocolate plant in Stuart's Draft, Va., just southwest of Staunton, are voting on whether to join the Bakery, Confectionery and Tobacco Workers and Grain Millers.
If the union wins, those workers, who make Reese's peanut butter cups and similar sweets, would join a union which recently gained national attention and support for being forced to strike against big food product manufacturers, such as Kellogg's.
Voting began at the start of March, with ballots to be counted March 24.
Key issues in the organizing drive are back-breaking hours—72-hour workweeks are common—and a two-tiered pay structure, which is particularly onerous for workers in southwestern Virginia, a relatively poor area which has seen an exodus of factory jobs, often to developing countries, over the last several decades.
The workers told various media organizations that Hershey's considered them essential, a justification bosses have used during the coronavirus pandemic to exploit a wide range of workers. But they didn't treat workers that way. Far from it.
Their conduct led to the pro-union drive. Hershey's bosses, news reports said, responded with lies about the impact of unionization, saying it would imperil workers' pay, and about BCTGM, accusing the union of "criminal activity." Bosses also repeatedly broke labor law, union filings to the National Labor Relations Board show.
The vote drew the attention of the Senate's strongest and longest pro-union member, Bernie Sanders, Ind-Vt. "I stand in solidarity with the 1,300 workers at the Hershey's factory in Virginia who are voting to join a union after the company made a $1.47 billion profit last year," he tweeted.
"I say to Hershey's: Stop the union-busting. Stop the intimidation. Treat your workers with dignity and respect."
Hershey's, the workers say, and the filings show, is doing anything but that.
"It's known as the Hershey prison and we get home release," worker James Gibson says in a video on the More Perfect Union website. "I've worked 33 days straight." Some workers are so disgusted that when they go out on breaks, they leave and don't bother returning, he added.
On the same video, former worker Janice Taylor reported working 72 days straight and being denied any days off because she couldn't convince colleagues to cover her scheduled shifts. "The overtime was there. The overtime was forced," she reported.
And Taylor added that because she spoke out in favor of BCTGM, the bosses trumped up an excuse to fire her before the vote, by charging her with being 14 minutes late returning from a break. Bosses use such firings to instill fear in other workers and turn them against unionization, studies show.
Hershey's bosses have used a lot more than that, including spying on the workers' social media postings. They also flipped the back-breaking work schedule for those workers who refused to sign union election authorization cards, by giving those workers extra paid days off, along with extra pay raises. In January, the bosses added free gift cards to the mix.
In October, bosses illegally told new hires "the company is non-union" and they couldn't contact the union during new employee orientation, plus illegal interrogations of workers the next month.
In January, bosses also threatened to discipline workers for talking union with their colleagues even outside the plant and then retaliated by suspending one pro-union worker. And bosses distributed anti-union literature on the plant floor that month while banning pro-union literature.
And "on or about January 20," the bosses, managers "and/or agents"—the Baltimore-based union buster Hershey's hired—"told workers the National Labor Relations Board told them how many cards were signed, how many cards were signed by workers who were fired or resigned and allegedly how many duplicate cards were filed with the petition, leading workers to believe their confidential card was seen by management," the labor law-breaking charges say.