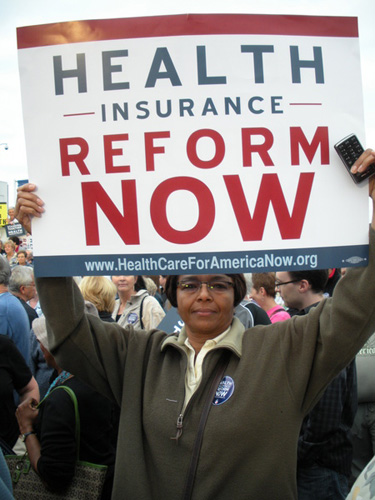 ST. LOUIS – "Health care reform is about family values," Board of Alderman President Lewis Reed told over 1,500 union members, community leaders and activists here at an Organizing for America (OFA) health care rally August, 30. "I can't think of anything more critical than the health of our families," he said.
OFA's rally is part of nationwide bus tour to refocus the health care debate and build momentum for the public option before Congress reconvenes. Additionally, as the media seems to be tiring of reporting on town-hall disrupters, hecklers and yellers, health care public option supporters are retaking the offensive.
Marian Miller, a housing analyst for the City of St. Louis, agrees.
"What's the issue," she asked quizzically? "People are on Medicaid and Medicare, both government-run plans, and they seem to be doing just fine."
Tom George, a self-employed truck driver who lost his health care in 2004, would love to be on a government-run health care plan. With diabetes, a pre-existing condition, he's unable to get private coverage. Additionally, George has filed chapter 13 bankruptcy due to health care costs.
While he is optimistic and believes that "everyone should be educated, healthy and equal," he also fears that the Republicans are out to "discredit and dissuade." "They are trying to keep people from talking about the real issues."
According to him, health care reform is a "civil rights issue" and "this is our opportunity to achieve it."
St. Louis Central Labor Council president Bob Soutier couldn't agree more. He told the crowd, "This labor council represents 125,000 union members and we fight to make sure they all have health care. Not because it's a union issue. Because it's a human rights issue. Good, affordable health is a human right."
As about 100 anti-reform protesters tried to chant over the speakers, Soutier added, "They want a debate. Well there is nothing to debate. Health care is not debatable."
"Currently there are 47 million Americans without health care," Soutier continued. "There is something wrong with that. There is something wrong with our for-profit health care system."
Mark Harvey, a pastor with the United Methodist Church, evoked scripture and said, "everybody deserves the health and wellness promised by Jesus."
He said we need health care reform "for access, for affordability, and for fairness. For the sick and for the well."
While some politicians have argued for more time to discuss the various health care proposals, Congressman Russ Carnahan has taken a firm stance in support of President Obama's health care reform. He said, "We can-not sustain the cost of a broken system." Additionally, OFA delivered over 25,000 petition signatures to Congressman Carnahan from Missouri voters supporting health care reform.
Bradley Harmon, president of the Missouri State Workers' Union, told the World, "I'm a social worker. I service poor people without health care. They can't wait for reform. I'm telling Congress health care reform can't wait."