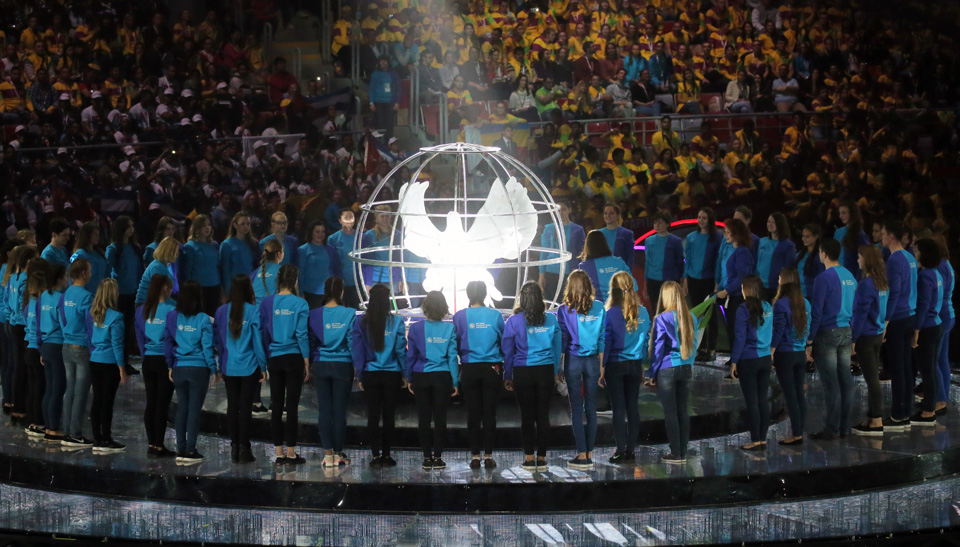 SOCHI, Russia—Waking up to crisp clean air, blue skies and snow-capped mountains, over 10,000 students and youth activists gathered here Sunday, Oct. 15 for the opening session of the 19th World Festival of Youth and Students.
The grand opening was held at the Bolshoi Ice Dome and featured song and dance performances centered around "technology, human progress, and development."
Over 180 delegate countries are represented by youth leaders of various political organizations.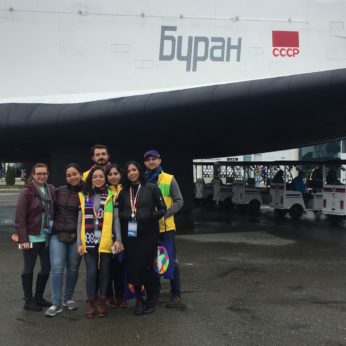 "For solidarity and social justice, we honor our past and become the builders of our futures!" said Nicolas Papademetriou, president of the World Federation of Democratic Youth (WFDY), the convening organization, as he welcomed festival participants.
Russian Federation President Vladimir Putin addressed the delegates at the opening ceremony, reminding participants that "this year marks the 70-year anniversary of the first World Festival."
"Back then, young people, like you now, were united by the power of a dream and faith that the youth—their sincerity and kindness—can break the ice of mistrust and help rid the world of injustice, wars, and conflicts," he said. "They have proven that barriers are powerless in the face of true friendship and that the warmth of human communication isn't dependent on political, religious, cultural, and other differences."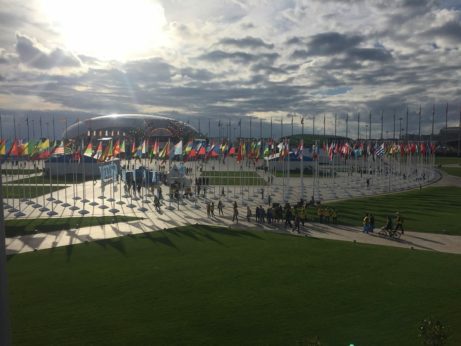 Participants were also greeted by Russian cosmonaut Sergei Ryazansky via video call from the International Space Station orbiting above the Earth.
"Space taught us…there's no time to think about differences—it's much more important to know that next to you there's a brilliant professional, reliable colleague and, more importantly, a true friend, whom you fully trust," he said.
The ceremony ended with an immense fireworks display, lighting up the night sky above the Sochi Imereti Lowlands.
During the festival, which runs until October 22, participants will have the opportunity to attend conferences, workshops, and cultural events. Many of the scheduled events will focus on global politics, social justice, and the future of world peace.
The festival has been organized by the WFDY since 1947. Russia, as part of the Soviet Union, previously hosted the festival in 1957 and 1985.