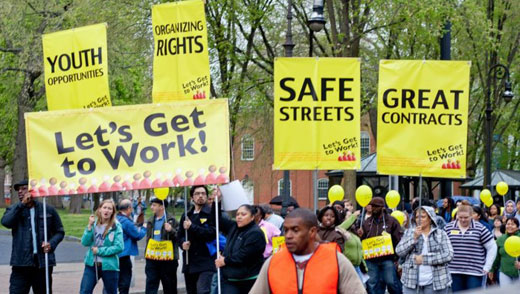 NEW HAVEN, Conn. — The movement in New Haven for jobs, youth opportunity, and an end to violence filled the streets with a march of 2,000 last week. Clerical and maintenance workers at Yale University, whole families with children in baby strollers, neighborhood leaders, graduate and undergraduate students, and youth from the community turned out en masse chanting, "Let's get to work!"
The atmosphere of the 5:30 pm march and rally was both powerful and festive. Participants marched across town on College Street in the drizzling rain as car traffic waited. They were buoyed by their recent victory, electing many union members to the Board of Aldermen, and the ongoing work toward a jobs pipeline in the city.
Led by a lively brass band, the march wended its way from one side of the city to the other, ending near the entrance to Yale New Haven Hospital for a rally with speakers on a makeshift stage. "This is how we're going to win the jobs pipeline," said Alderwoman Jackie James to cheers.
Yale workers poured out of their union meetings to join the march. Unite Here Locals 34 and 35 are currently in contract negotiations, with a Jan. 2013 contract expiration date. Prior to negotiations, a survey of the 4700 union members determined that top issues are job advancement, a jobs pipeline, healthcare, and wage increases.
A jobs pipeline would provide training for New Haven students and residents, with a clear path to jobs at Yale University and other major employers. Smaller-scale programs in the past have resulted in employment for city residents, some of whom have gone on to become union leaders and elected city officials.
As the dominant employer, the University and its teaching hospital are the best chance for a decent job with union wages and benefits. However, there are limited opportunities for New Haven residents to get hired.
A few years ago after the unions and community residents filled public hearings, delaying expansion of the hospital until there would be some commitments to the surrounding community, an agreement was made that the hospital would hire 100 local residents a year. However there was no oversight mechanism established to enforce the agreement.
At Aldermanic hearings for the jobs pipeline this month, the need for accountability was raised. By including the jobs pipeline in their negotiations, the unions at Yale are taking the stand that what is good for the residents of the city is good for the unions and the whole university.
The next step is at the ward level, where neighborhood action committees are being established that can keep their alderperson informed and mobilize participation in hearings, marches, and events.
New Haven's population is majority African American and Latino. A former industrial town, the jobs shifted to Yale University and Yale New Haven Hospital as one factory after another moved abroad or closed down. Many neighborhoods suffered severe economic consequences as many residents were left to rely on low wage jobs that do not meet the cost of living.
A report issued by the Connecticut Center for a New Economy, "A Renaissance for All of Us – Building an Inclusive Prosperity for New Haven," which outlines policy measures to address economic inequalities and poverty features the need for a jobs pipeline.
As the rally ended, Rev. Scott Marks led everyone in chanting,"We'll be back!"
Photo: Chris Randall/PW