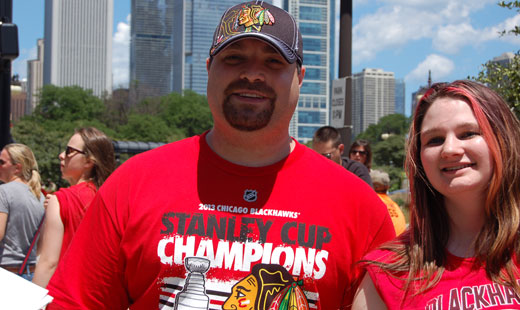 CHICAGO – Chicagoans turned out two million strong last Friday to celebrate the Blackhawks winning the Stanley Cup. It was like "a Ferris Buehler day off" with people packing the Grant Park rally and jamming the streets of the Loop area for most of the morning and afternoon.
They started arriving early, with Metra trains coming up from the South Side – already packed – at 7 a.m.
The team members, most of whom hail from working-class families and homes, rode atop double-decker buses with cheering red-shirted working-class crowds pushing down sidewalk barriers to chase them en route to the rally.
Relative decorum was observed this time with team members refraining from drinking alcohol as they rode atop the buses. When the Blackhawks paraded in Chicago after their Stanley Cup win three years ago, beer and champagne flowed not just on their buses but also in the streets.
Verbal decorum, however, was not as strictly observed.
"F*** the Bruins!," chanted a woman as she made her way through crowds that jammed Jackson Blvd. after the rally.
A bit earlier, when Blackhawks goalie Corey Crawford was presented with the championship belt, he declared to the sea of humanity assembled before him: "F***ing right Chicago! Biggest bunch of beauties in the league. F***ing worked their nuts off for this trophy. No one will ever take this away from us. We're the champs." The crowd loved it.
Just two days later, team owners did take two of the champs away from the team, however.
They traded away David Bolland, the very guy who scored the winning goal to give the Blackhawks the Stanley Cup championship. He's going to the Toronto Maple Leafs.
"Things like this happen – they make trades, " Bolland told the sports reporters. "It's part of the game. You sort of know going into this game this can happen. It's tough leaving this team. It's one of the greatest organizations in the league. I've been here for so long."
It didn't stop there. They then sent winger Michael Frolik, who assisted on Bolland's winning goal, to the Winnipeg Jets.
Despite the 80-degree heat, many wore Blackhawk jerseys. Most were content, however, to sport the lighter and cooler red t-shirts.
A fan, who darted out of the Panera Bread store on Michigan Ave., seemed excited, anxious and a bit confused. "I'm ok," he told a concerned woman.
Some 85 other people ended up in area hospitals, however. Ambulances had to make their way through thousands crowds jamming the streets.
While the crowds were huge and diverse, many had at least one thing in common: They were all absent from a job, a meeting, or an appointment they should have been keeping.
A teacher from Kankakee, Ill.. was in Grant Park with two of this students. "I'm not really worried about playing hooky," said Nick Grad. "I'm entitled to the day off and I put in for it. I can do this type of thing because I'm in the union."
Grad is secretary-treasurer of Local 641, American Federation of Teachers. He said he has been in Chicago "supporting the struggle of the teachers here, but now its nice just to be able to be here and celebrate."
Danielle Rutkowski, a cocktail waitress, was on Michigan Ave cheering with her nephew. She said she recently became unemployed and wasn't going to let it get her down. She said she wanted to come out with her nephew to "celebrate something."
"What an incredible feeling it is to be here with all these people," she said. "I like people, people are my job but seeing this many turn out for such a great team, seeing this many turn out for anything, is something I won't easily forget."
"Awesome," said Colin Kraft, her nephew, who, to catch a better glimpse of the crowd, was standing on the ledge of a stone flowerpot.
Six Columbia College students were sitting on the sidewalk curb at Van Buren St., also cheering and waving at the crowds passing them. "I knew they'd win and I knew the crowds would be awesome," said Kyle Foster, one of the six. "This kind of thing is great," he said. "You hear bad news like the cost of student loans going up. Then you have something so great like this happening. I just love it."
Another fan, lifelong Chicagoan who grew up listening to the Hawks on radio, said now that the team is on top, it's time to change the name and logo. "Let's be proactive and change the name to the Hawks. That's what most people call them anyway. Then the logo can be a bird, instead of a Native American, supposedly representing the Blackhawk tribe," she said.
Photo: Nick Grad, secretary-treasurer of the American Federation of Teachers, Local 641, and Blackhawk fan, with one of his students. Blake Deppe/PW