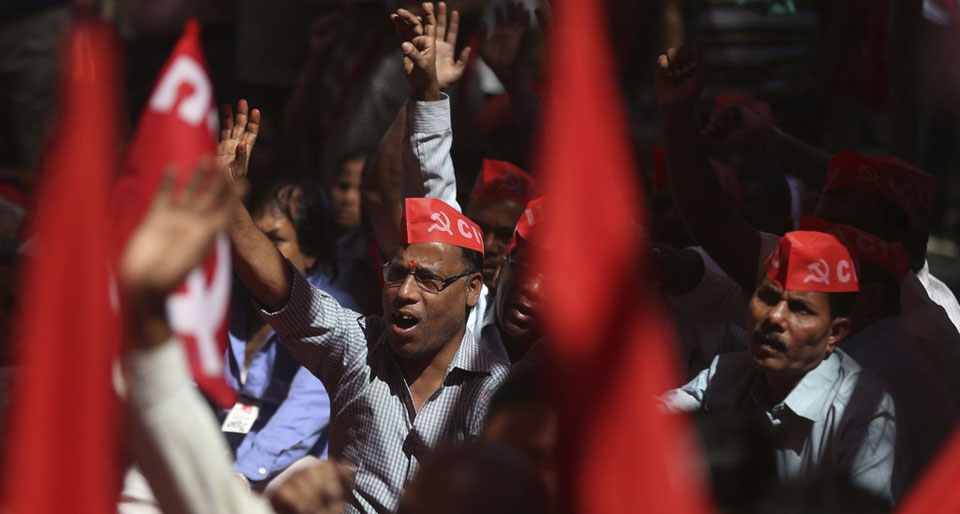 Communist Party of India (Marxist) leaders from West Bengal, Sujan Chakraborty and Anadi Sahoo, were detained by police during India's largest-ever national strike today.
They were arrested in Kolkata as an estimated 200 million took part in the first day of two days of action across India involving at least 10 trade unions.
The Centre of Indian Trade Unions (CITU) congratulated workers on their "historic" action which involved workers from public and private sectors, including the banking industry.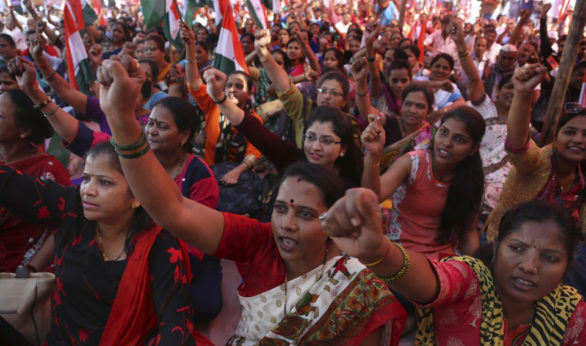 CITU General Secretary Tapan Sen said the "unprecedented expanse and the active participation of the workers in the two days' strike is a clear indication of the extent of anger and resentment of the workers against the neoliberal policies [of the government] and the attacks on their working and living conditions perpetrated by these policies."
The strike action was called in protest at the "anti-worker and anti-people policies of the Modi government," including increased prices, privatization of state assets, and amendments to labor laws which trade unions warned were designed to "impose conditions of slavery on working people."
Unions proposed a list of 12 demands to tackle inflation, rising unemployment, and falling wages and pensions which they said would help boost India's struggling economy.
Strikes were solidly supported with schools, factories, and major industries shut down and mass rallies and demonstrations in most towns and cities across the country.
Transport was shut down in Kerala with those on strike blocking trains, and private and state-owned buses were unable to operate due to mass demonstrations on the roads.
Pilgrims to the Sabarimala Lord Ayyappa shrine, who were trying to reach Pamba base camp to begin their trek to the hill shrine, were left stranded at stations across the state.
Authorities responded by making large-scale arrests of those on strike, including leading members of the Communist Party of India (Marxist) in West Bengal.
Chakraborty said he was held by "police with anti-terrorist equipment…along with comrades arrested from Jadavpur." He said they were being taken to a central lock-up, although he insisted that the "struggle will continue" describing the events as "battlefield Kolkata."
Sen said, "This strike is a clear warning from the working class and toiling people of India that they were not going to take lying down the attacks on their basic rights and living conditions.
"It is a strong warning that policies that mortgage the country to corporate interests will not be tolerated."
Further strikes are due to take place tomorrow.
Morning Star