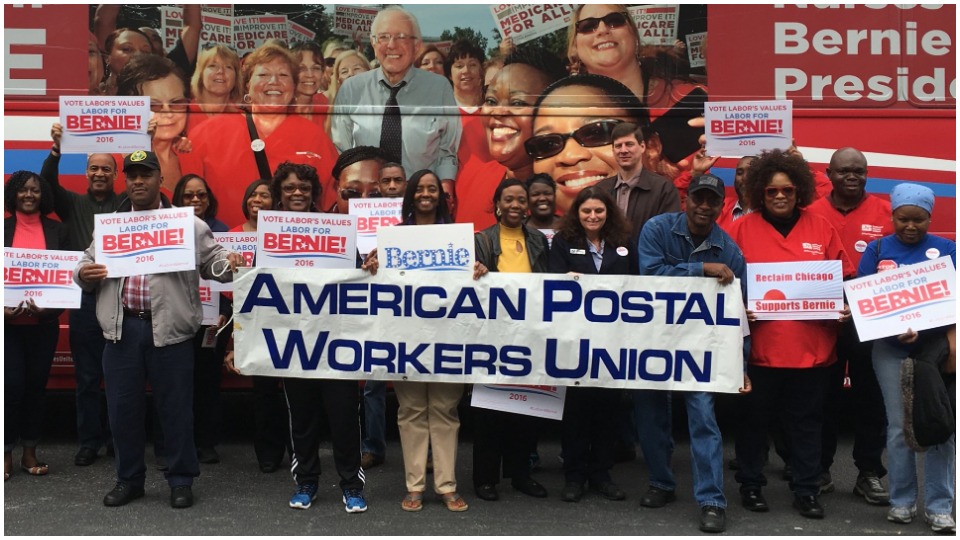 WASHINGTON (PAI)—Declaring it both wants to back labor's strongest congressional champion, and that it cannot remain silent as GOP President Donald Trump schemes to sell off and privatize the Postal Service, the Postal Workers (APWU) executive board endorsed Sen. Bernie Sanders, Ind-Vt., for president, again.
APWU's decision makes it the latest and largest union to endorse Sanders. It has 200,000 members, spread over every state and U.S. territory, plus tens of thousands of retirees. It wants them to attend Sanders rallies, make individual campaign contributions, and volunteer—all, of course, on their own time.
Other Sanders union backers so far include the National Nurses United, the United Electrical Workers, the United Teachers of Los Angeles, the National Union of Health Care Workers, and the Service Employees' New Hampshire Local 1984, with 10,000 members.
The Postal Workers, UE, and National Nurses United all endorsed Sanders in 2016.
This time, UTLA and the SEIU local are both out ahead of their parent unions, which are canvassing members, like most other unions. The other endorsement so far is from the Fire Fighters, who again back former Vice President Joseph Biden, and the International Brotherhood of Electrical Workers, which also opted for Biden.
"As the lone senator blocking postal privatizers from appointment to the Postal Board of Governors, it was clear that Bernie Sanders is on the side of postal workers." said union President Mark Dimondstein.
But the union board's Jan. 30 statement also cited Sanders' long and strong record of championing workers' rights—notably including labor law reform—protecting Social Security and Medicare, his crusade for universal health care coverage, and his frequent presence on workers' picket lines.
The Trump threat to privatize the USPS, inserted in his budget last year and ratified by a stacked panel of three Trump Cabinet members asked to assess the USPS's future, also prompted the union's endorsement, Dimondstein said.
The union board "fully recognizes and respects that our members come from all walks of life, hold many differing political beliefs, and vote according to their own conscience," Dimondstein admitted. "However, for our union to remain silent at a time when the current administration advocates selling the entire public Postal Service to private corporate interests would be a failure of leadership."
"As with 2016, once again the Sanders campaign is boldly uplifting the goals and aspirations of workers. Simply put, we believe it is in the best interests of all postal workers, our job security, and our union to support and elect Bernie Sanders for president," he added.