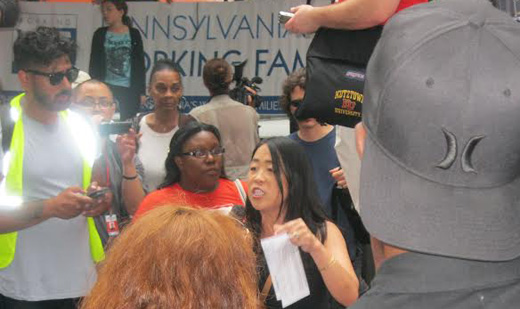 The leaves are turning and cooler temperatures are beginning to prevail – it's election time. The media coverage of the presidential candidates tends to eclipse local elections, and 2015 is no exception.
However, Pennsylvania's "off year" important election on Nov. 3 is for high stakes. The outcome will influence day-to-day life and elections to come. To underscore, it's necessary to know that Pa.'s electorate chose a very able and well-connected liberal governor in 2014. Tom Wolf made the fight to fund public education the centerpiece of his candidacy and defeated one term Republican Tom Corbett by a healthy margin.
Yet another result of the 2014 election was the consolidation of Republican power in the state House and Senate. A key reason for this outcome was the self-serving activity of the Republican legislators using of their favorite tools – gerrymandering. They drew the lines of legislative and senatorial districts to favor a maximum positive outcome for Republicans.
2015 finds three seats on the State Supreme Court up for election. The result of this contest will determine whether Republicans or Democrats are the majority on the seven-member court. With Republicans in firm control of the legislature and Governor Wolf not shy and working to reach out to Pennsylvanians for support of his policies and ready to use his veto power, the new Court is likely to hear more cases. Who wins Nov. 3 and sits on the Supreme Court matters.
Here's a summary of some issues that may get to the state Supreme Court:
* Who should draw the state legislative boundaries and on what basis? Nation wide there is a movement to take these decisions out of the hands of partisan legislators. The reign of Republicans in the House of Representatives is in no small measure the result of the 2010 apportionment. A number of states are taking the initiative to end gerrymandering (also known as a power grab) including California and Ohio.
*Should women be prevented from getting an abortion after 20 weeks? A big push nationally by right wingers who oppose all abortion is reflected in the agenda of Pennsylvania Republicans.
*Should the state be permitted to revisit voter identification laws, recently struck down by the Court. Will labor's job and union rights be protected?
*Will teachers' union contracts be honored? Philadelphia's School Reform Commission is challenging.
*Will Philadelphia and other large cities get education funding from the state moving toward equality before the law?
*Will Pennsylvania's Electoral College votes be apportioned among the state's Congressional delegation? (Clearly favoring a Republican presidential candidate.) This can happen. Pennsylvanians have the possibility of electing a state Supreme Court that can prevent these and other anti-democratic outcomes.
As the Pope's historic visit to Philadelphia ends and with his message of peace, equality, care for one another, the undocumented and our children still fresh in our minds, the election season begins. Pennsylvania AFL-CIO has made this election top priority. They have endorsed the Democratic candidates and together with district and local councils are organizing to get out the vote. Through out the state community organizations are partnering in this effort organizing to get out the faithful, the voters, who can deliver a victory for democracy. This is a test, and the test has a real world outcome.
Philadelphia, the largest among municipalities and school boards around the state is getting ready for this contest. Philly's mayor and 17-member city council are to be elected. Most Democratic candidates in this largely Democratic Party stronghold are not breaking a sweat. Still the election could bring changes that will impact in time.
One such change is the nomination of Helen Gym, a well respected activist in the many decade struggle for Philadelphia's public schools. Candidate Gym is a former teacher, expert in school financing, mother and spell binding speaker. The American Federation of Teachers along with its local P.F.T., AFSCME, National Organization for Women are among Gym's endorsers. Along with four others, Gym is seeking her first election to an at-large city council seat. Securing those five council seats could set the stage for progressive change. As important as electing fighters is, it is equally important to elect those who will support the fight and vote like it. Jim Kenney, former councilman, is the Democratic Party candidate for mayor; his support for education funding, local labor and community movements won him the nomination in a contested field of five.
As this is written, Pennsylvania is almost three months without a state budget. The deadlock in Harrisburg between Governor and legislature is forcing school districts and other agencies to borrow to stay open. The right wing legislators in Harrisburg are following their party's mandate: small government that starves public education, mass transit, higher education, infrastructure improvement, and on and on.
With the motto "I got mine, now you get yours" Pennsylvania's Republicans are serving the oil and gas interests who are resisting a modest tax on their very profitable extraction of natural gas. Every other state in the Marcellus shale region that has enacted such a tax.
In the midst of long and difficult fights sometimes it's hard to visualize the end, a break, a victory and a way to move forward. One important way to overcome such a obstacles is to join an organization that works for change, show up at the local activity demonstrating for their needs. Write a letter to your representative – tell her/him what you think. Someone will read it. And yes, register and vote.
Photo: Beth Edelman/PW