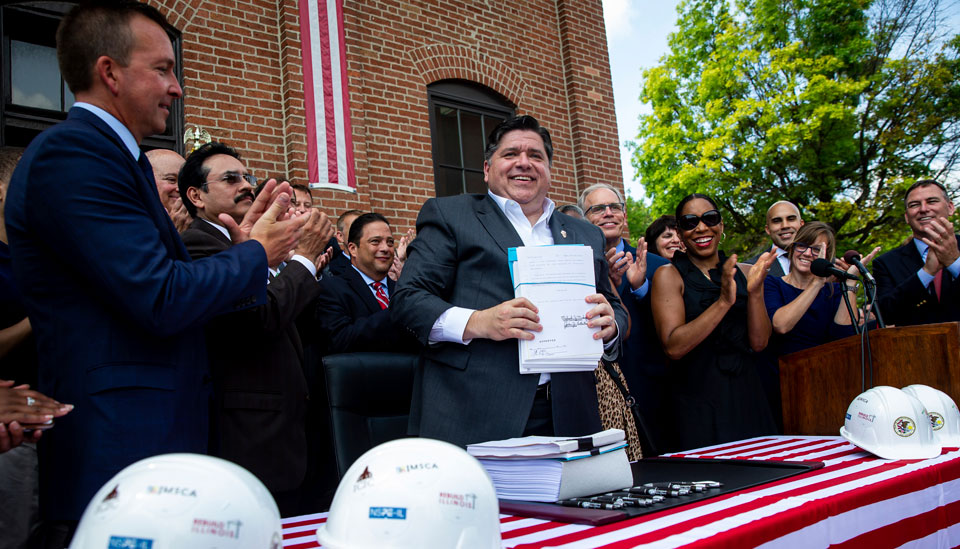 SPRINGFIELD, Ill.—What a difference election success makes.
The Democratic-run Illinois legislature—its pro-labor majority strengthened by last fall's results—and new Democratic Gov. J.B. Pritzker teamed up to enact what the St. Louis Labor Tribune called "a barrage" of pro-labor laws.
And that's quite a contrast to the prior four years, when right-wing, anti-worker, anti-union GOP Gov. Bruce Rauner spent his tenure trying to destroy workers and unions, battling lawmakers, and refusing to sign a budget unless it included his anti-worker and union-busting schemes.
As a result, the ex-hedge fund mogul ran state finances into the ditch. Illinois' bond rating under Rauner headed for "junk" status, increasing state interest costs—and costs to taxpayers.
By contrast, not only did Pritzker and the lawmakers pass a balanced budget and do so on time to meet the July 1 deadline, they also enacted the state's first infrastructure plan in a decade, banned local "right to work" laws, and approved a plethora of other pro-employee measures.
The $48 billion Rebuild Illinois infrastructure plan, along with legalizing casino gambling in more areas, will create "hundreds of thousands of jobs and bring economic development to Illinois," state AFL-CIO President Michael Carrigan said at the signing ceremony.
And in a final rebuke to Rauner, Pritzker and AFSCME District Council 31, which represents approximately 40,000 state and local workers all over the Land of Lincoln, signed and ratified a new contract. Rauner had spent his term literally trying to destroy the union. He failed.
Voters bounced Rauner in favor of Pritzker by a whopping margin. Some of the more notable results of the new cooperation at the state capital in Springfield, according to the state AFL-CIO, the Labor Tribune, and the Will County Labor Record, included:
More money for education. The $40 billion state budget increased state spending for local K-12 public schools by $25 million. It also provides a 5% ($66 million) hike for state colleges and universities. Suffering three years of budget impasses between Rauner and the lawmakers, the higher education institutions saw their funding fall, resulting in tuition hikes, teacher layoffs, and course cuts. Local schools had to scramble for money, or cut programs, to make up shortfalls.
State Senate Education Committee Chair Jennifer Bertino-Tarrant, D-Shorewood, noted overall state education spending now will include a $44 million earmark for early childhood education. "Studies continue to emphasize that the time and money we allocate on educating students at an early age pays dividends in the future," she said.
The minimum wage will rise to $15 an hour by 2025. The first dollar-an-hour hike will be on
Jan. 1, with an additional 75-cents hourly hike six months later. The minimum wage increase was the first bill Pritzker signed. At least 1.4 million workers will get raises. The hike makes Illinois one of the majority of states which, fed up with a decade of GOP congressional refusal to raise the federal minimum of $7.25 hourly, have acted on their own.
Right-to-work goes down the drain. Rauner tried to get lawmakers to enact the anti-worker anti-union so-called "right to work" law statewide, but the State Senate turned him down 71-0, with 37 Republicans not voting. Then Rauner tried to let Illinois cities and towns enact it instead. Lincolnshire, a Chicago suburb, did, but courts threw its RTW ordinance out as superseded by federal law. This legislature passed, and Pritzker signed, a law banning that local RTW tactic, too.
Workers' rights and protections included a ban on employers asking job applicants for their prior wage history. Bosses often use the data to perpetuate sexual and racial pay discrimination. There will also be higher fines for firms found guilty of maintaining extra-hazardous workplaces, and there will be no more statute of limitations for lawsuits from workers seeking compensation for exposure to asbestos, which causes cancer. That's particularly important to construction workers.
RAs and TAs are "employees" organizable by unions under state labor law. Nationally, colleges and universities have argued for years they're "students" and thus ineligible to unionize. The National Labor Relations Board has gone back and forth, declaring RAs and TAs as "employees" when it has a Democratic-named majority and "students" when the GOP runs the show.
Teacher pay. For years, Illinois had an unrealistically low minimum for teachers, $10,000. State Sens. Andy Manar, D-Bunker Hill, and Katie Stuart, D-Edwardsville, pushed through legislation—which teachers' unions campaigned for—raising the minimum in four stages to $40,000 by the 2024-25 school year. And Rauner unloaded teacher pension obligations over 3% of final-year pay onto local school districts, forcing them to cut pay and positions and limiting promotions to pay for retirement. The pre-Rauner cap was 6%. The unions campaigned for restoring that old cap and won.
Infrastructure. Lawmakers passed and Pritzker signed a $48 billion multi-year infrastructure bill to fix the state's crumbling roads and decaying bridges and aging schools and university buildings. It's the first infrastructure law in a decade. More than 2,300 Illinois bridges are structurally deficient.
2-person train crews. Rail unions nationwide are lobbying for mandatory 2-person crews on all freight trains, for safety reasons. The industry and the Trump administration in D.C. push 1-person crews. One BNSF executive pushes crewless freights—trains running without a single worker aboard. Illinois's decision mandating 2-person crews will have a national impact since Chicago is still the nation's rail crossroads.
Workplace rights will be part of the curriculum in state public high schools. The curriculum will include legal protections against sexual harassment and racial discrimination at work. Many pro-worker measures got bipartisan votes in both houses of the legislature, but this one, the Labor Tribune reported, got bipartisan unanimous votes.
AFSCME District Council 31 hailed the end of the long struggle for a new contract, which lasted all four years of Rauner's term. The GOPer walked out of bargaining in January 2016 and never returned. He tried to unilaterally impose a regressive contract on workers. Courts stopped him.
"The Rauner era was one of hostility to working people and chaos in state government. AFSCME members got through it by standing together and refusing to be bullied," Council 31 Executive Director Roberta Lynch said. "Now state employees have a fair contract and, in Gov. Pritzker, an employer who respects their voice and values their work."
The new pact, effective from now through June 30, 2023, succeeds the one Rauner let expire four years ago. The new pact ends Rauner's freeze on workers' pay, including a $625 stipend for each of the past four years, and raises of 11.5% over its life. Workers last got raises in June 2014.
It also includes slight increases in health insurance premiums (Rauner wanted to impose huge hikes and cut benefits), stronger protections against excessive forced overtime, and longer maternity and paternity leave. A new labor-management board will work on ways to reduce workplace violence and improve worker safety. And privatizers will have to justify their schemes to the state.
"The big margin" for ratifying the new pact "reflects how ready state workers are for the return of sanity and responsible governance in the wake of Rauner's relentless attacks," Lynch said. "Public service workers in state government clearly believe this contract is fair for all."
One big issue, enacting a progressive income tax, will be left to a referendum next year. Illinois had a bitter struggle in 1970 just to enact an income tax at all, via constitutional amendment. It was flat and, even with a pre-Rauner increase, inadequate for the last decade.
This new measure, which the General Assembly approved, would convert it into a graduated income tax, with higher rates on the last dollars earned by the top 1%—most of whom live in the Chicago metro area. It needs 60% approval by voters who cast ballots on it in fall 2020 or a bare majority of all voters in that election.