WASHINGTON (PAI)—You hear it every election cycle from union leaders, workers and activists: "This election is the most crucial in" – pick one – "years" or "decades" or "ever."
In 2018, they may be right, and not just because Congress could change hands.
That's because the 2018 election's outcome, state by state, has the potential to redraw the nation's political map for a decade or more, and it has nothing to do with who's in Congress right now.
Voters will elect all 435 members of the U.S. House, 35 U.S. Senators, and – most importantly – 36 of the nation's 50 governors. Plus thousands of state legislators.
All but a handful of those 2018 gubernatorial winners will be sitting in their chairs in 2021, after the next census, and will have a big say in who will represent you – worker friends or worker foes – in the following decade. They'll be big voices in redistricting.
Want proof? Look what happened in the 2010 off-year election. A combination of Democratic apathy, Republican hatred of Democratic President Barack Obama, antipathy towards the Affordable Care Act, the slow recovery from the Great Recession – with aid seemingly going to the rich but not to the rest of us – and the Tea Party troglodytes combined to produce a Republican sweep.
It didn't help that organized labor focused so much on holding Congress, which failed, in 2010, that it downplayed the state legislatures – where worker friends got clobbered. Off-year elections like 2010 and 2018 feature lower turnouts and often turn on which side can motivate its partisans to vote.
In 2010 in state after state, from coast to coast, right-wing Republicans swept into control of state capitals, winning the governor's chairs, the state legislatures, or both. The crows came home to roost when the politicians started drawing district lines the year after. As a result, in this cycle, the GOP is defending 26 gubernatorial seats, the Dems nine, plus Alaska independent Bill Walker.
Republicans gerrymandered themselves into decade-long control of legislatures and/or congressional delegations – and state and national policy agendas – in large and medium-size states: Pennsylvania, Ohio, Michigan, Wisconsin, North Carolina, Florida, Texas, Alabama, and the Missouri legislature. Reddish Indiana became deep red. Conservative GOPer Chris Christie ran New Jersey.
Control in Minnesota and Nevada has swung back and forth. In 2014, a weak Democratic governor lost to extreme right-wing Republican Bruce Rauner in Illinois, while the governor's chairs in deep-blue Massachusetts and Maryland went to moderate Republicans, though all three legislatures stayed Democratic. Only New York, where control was split, and the West Coast, solidly blue, seemed to stay immune to the GOP tide, and pro-worker.
The result was a raft of anti-worker legislation, both in Congress and in state capitols.
Start with right-to-work for less laws, repeal of project labor agreements and right-wing Wisconsin GOP Gov. Scott Walker's infamous Act 10 which emasculated state public worker unions. Nationwide, add in cuts in workers' comp and slashes in state pensions.
Continue with school vouchers, huge corporate tax cuts and education spending slashes, private control of public services – such as Indiana's Toll Road and even Chicago's parking meters — and an absolute fiscal and political disaster for workers and everyone else under radical right-wing GOP Kansas Gov. Sam Brownback.
And that's just in the states. Congress hasn't raised the minimum wage in more than a decade – most hikes have come in deep-blue states and cities – and solons on Capitol Hill spend their time attacking federal workers, postal workers, their unions, and everyone else who takes home a paycheck for a living, while throwing billions at corporations and the rich.
All of this has pushed organized labor out on the campaign trail earlier than ever before. The AFL-CIO ramped up its political program and started door-knocking, phone-banking and house-to-house visits on June 1 and it has kept going ever since.
One development could help workers and their allies. People are very angry at Donald Trump's policies, insults, racism, taunts and tweets, dictatorial tendencies and more.
The anger shows up in mass marches against him virtually every week since his inauguration, in a raft of progressive candidates – many of them women irate over his misogyny and his threat to reproductive rights — entering Democratic primaries and in high enthusiasm to vote GOP allies out.
Gun control, or lack of it, will also play a part, with students, energized by the mass murder at Marjorie Stoneman Douglas High School in Florida, leading a nationwide crusade for a crackdown on guns and gun nuts. "If they don't listen, vote them out!" was a constant chant.
But labor and its allies must cope with another impact of the GOP sweep: Disenfranchisement, in state after state, of workers, women, minorities, the poor, the old and students. The GOP's objective: Lock in control by "voter ID" laws and other nefarious methods, making sure your foes not only won't vote but can't vote.
As a result of that and the gerrymandering, non-partisan analysts say worker-friendly candidates must achieve a nationwide popular vote margin of anywhere from eight percent to 10 percent to swing the U.S. House Democratic. That big a swing hasn't happened in decades. The Democrats need to grab at least 23 more seats to take control of the House.
Nevertheless, labor has concocted a strategy for this key election, AFL-CIO President Richard Trumka says. It's divided states into two tiers and is throwing more people and resources into the "Tier One" states than the others.
The Tier One states are those, Trumka said in a pre-Labor Day session with reporters, that have "the trifecta" of races: Contests for the U.S. Senate and the state governor's chair, as well as the U.S. House. "But we also have individual House races we normally wouldn't go into," he added. "And we're going all the way down to state House races, too," he promised.
Labor certainly has more opportunities: This year, all but four of the nation's 435 U.S. House seats – not counting territorial delegates and Washington. D.C., whose solons can't vote on the House floor – have major-party contestants. The GOP holds 26 governorships.
The "trifecta" states are among the most important and obvious, for both control of Congress and control of redistricting: Ohio, Michigan, Pennsylvania, New York, California, Wisconsin, Illinois – without a Senate race – Minnesota, which has two open U.S. Senate seats, Texas and Florida. Growing Georgia has an open governor's seat.
And there are special races to watch in the run-up to November. Four are in states Trump handily carried two years ago where Democratic U.S. Senators seek re-election this year: Claire McCaskill in Missouri, Joe Manchin in West Virginia, Heidi Heitkamp in North Dakota – which Trump won by 35 percentage points – and Joe Donnelly in Indiana. Other states to watch include:
Illinois features the most-unpopular governor in the country, right-winger Bruce Rauner – and not just with workers and state worker unions he's tried to smash during his four years in Springfield. Rauner barely won his party's primary over little-known underfunded Tea Partyite State Rep. Jeanne Ives. If you can believe this, Ives challenged him as not being conservative enough. His margin was 51.5 percent-48.5 percent.
The race would be a runaway for Democratic nominee J.B. Pritzker, scion of the Hyatt Hotel family – Rauner is a wealthy financial executive – if Pritzker didn't have some baggage of his own, notably battling Unite Here over conditions for workers and their organizing drives in his hotels. Nevertheless, the state AFL-CIO endorsed Pritzker, early.
The other notable feature of the Illinois governor's race is its cost. As of August 1, and including Ives, Rauner, Pritzker and the two losing candidates against Pritzker in the Democratic primary, the combined cost of the Prairie State's gubernatorial tilt was $205 million. Most of that came from Rauner's and Pritzker's own pockets.
Missouri, which took center stage in the right-to-work fight this summer, will elect its entire legislature. It's traditionally a swing state, but the GOP so gerrymandered it in 2011 the GOP has a three-to-one ratio in the state Senate and more than two-to-one in the state House. The only Democrats – and pro-worker lawmakers – in the 8-member House delegation hail from the two central cities: St. Louis (William Lacy Clay) and Kansas City (Emanuel Cleaver).
Ohio. Welcome to the advanced gerrymander in a "trifecta" state. Popular anti-Trump GOP Gov. John Kasich is retiring. Former state Attorney General Richard Cordray (D), later the first head of the federal Consumer Finance Protection Bureau, faces current Attorney General Mike DeWine (R). Both have drawbacks, though organized labor is solidly in Cordray's corner. But he's supposed to be too low-key on the campaign trail and lost to DeWine in a prior statewide race. DeWine, in turn, is more conservative than Kasich, who won a second term by a 2-to-1 ratio.
The state legislature is heavily gerrymandered by the GOP, as is the congressional delegation in the classic swing state. That may change after 2020, following a referendum approval of a non-partisan redistricting commission. Meanwhile, one of the most-outspoken pro-worker senators, Sherrod Brown (D), leads his GOP foe but takes nothing for granted.
Minnesota has more than a trifecta. Gov. Mark Dayton (Democratic-Farmer-Labor Party) is retiring and Rep. Tim Walz, DFL-Minn. (Education Minnesota) won the August 14 primary. State Rep. Erin Murphy (Minnesota Nurses Association/National Nurses United) finished second.
Because U.S. Sen. Al Franken had to quit his seat due to sexual harassment allegations in early 2018, Minnesota will elect two U.S. senators. DFLers Amy Klobuchar and Tina Smith, whom Dayton appointed to succeed Franken, seek to keep their jobs. Smith, who was lieutenant governor, would fill the remaining four years of Franken's term. Recent polls put that race as leaning slightly towards Smith. Klobuchar is expected to coast to another full term and has occasionally been mentioned as a 2020 Democratic presidential hopeful.
And for a medium-sized state, Minnesota has a high number of competitive – or open – U.S. House seats. Rep. Keith Ellison, DFL-Minneapolis, ran to succeed Swenson. Rep. Rick Nolan, DFL-Brainerd, was Swenson's running mate for lieutenant governor. Rep. Collin Petersen, DFL-Detroit Lakes, represents rural Northwest Minnesota – where the Bakery and Confectionery Workers are a leading union presence on area sugar beet co-operatives – and is a constant GOP target. Two of the GOP-held congressional seats, in the Twin Cities suburbs, are on the Dems' "red-to-blue" list.
California has a trifecta, too. But the only question in the Golden State, the nation's largest, is how huge the blue sweep will be. Lieut. Gov. Gavin Newsom (D) is considered a shoo-in to succeed retiring Jerry Brown (D). The state's unique "jungle primary" ensured a Democrat – incumbent Dianne Feinstein or the 2nd-place finisher, State Sen. Kevin DeLeon — will win the U.S. Senate seat. The GOP got shut out of that contest.
As a result, workers eye several GOP-held U.S. House seats as pickups. Democrats, all with virtually 100 percent pro-worker voting records, hold a 39-14 edge in the congressional delegation, the nation's largest. Unlike other states, California's redistricting won't be in the legislature's hands. An independent commission draws both the state and congressional lines. That produced top-heavy pro-worker Democratic majorities in the outgoing state legislature.
Arizona is another trifecta state and one where workers and unions made their clout felt earlier this year – and intend to continue. The state saw a massive teachers' strike in the spring, organized by the Arizona Education Association around the issue of seeing GOP Gov. Doug Ducey and the GOP-run legislature enact tax cuts for the rich while starving the schools. The teachers won, but they've kept going, in coordination with a large citizens' group, to campaign against Ducey and to challenge anti-worker, anti-teacher state lawmakers.
Representatives Martha McSally (R) and Krysten Sinema (D), are running to succeed retiring Republican Sen. Jeff Flake, whose outspoken criticism of Trump led to sinking ratings among his own party members. Aided by influxes of retirees, transplants and Hispanic-Americans, once-deep-red Arizona is turning purple and the Senate race is a tossup.
Nevada: Take Arizona, but make the governorship the open seat and the Senate race the one with the endangered GOP incumbent, Dean Heller. He's been viewed as the most vulnerable Republican in the upper chamber for the last two years, ever since Hillary Clinton carried Nevada in 2016 – thanks to huge turnout from Culinary Union workers in Las Vegas – by a margin similar to that of Barack Obama.
Two of Nevada's four U.S. House seats are open, the state's Latinos are an increasingly powerful political force, and term limits forced out incumbent GOP Gov. Brian Sandoval. He's not endorsing the GOP nominee, Attorney General Adam Laxalt. Laxalt faces Democrat Steve Sisolak, a Clark County (Las Vegas) commissioner.
Former Culinary Union official Steven Horsford, a one-term U.S. representative from the 4th District in the Las Vegas suburbs, wants his old seat back. Horsford lost in 2014 to Republican Cresent Hardy, who lost in 2016 to State Sen. Ruben Kihuen (D), who quit last year amid sexual misconduct allegations – producing a Horsford-Hardy rematch.
Maryland: There's another trifecta here in the deep-blue state, of a different kind. Democratic U.S. Sen. Ben Cardin and six of the state's seven U.S. House Democrats will coast to re-election, while the slightly Democratic-leaning 6th District is open. The lone Republican, from the Eastern Shore and parts of Harford and Baltimore Counties, is safe.
The intrigue is in the governor's race. The tensions between the party's establishment and its progressives surfaced when Cardin and all other heavyweights backed Prince George's County Executive Rushern Baker in the Democratic primary. So did many unions, though the state AFL-CIO stayed neutral. National Nurses United, the Progressive Change Campaign Committee and other progressive groups backed former NAACP head, Ben Jealous.
Jealous clobbered Baker, 40 percent-22 percent, with other candidates getting the rest. But Jealous is an underdog to popular moderate GOP Gov. Larry Hogan Jr., and the party establishment – notably Ike Leggett, county executive of the state's biggest jurisdiction, one-million-person Montgomery County – is sitting on its hands in the governor's race.
New York: There's plenty of intrigue in the Empire State. Senate Minority Leader Chuck Schumer (D) is looking to the overall election results nationwide to see if he'll become majority leader. With Democrats and Democratic-leaning independents defending 26 of theSenate seats, that's unlikely.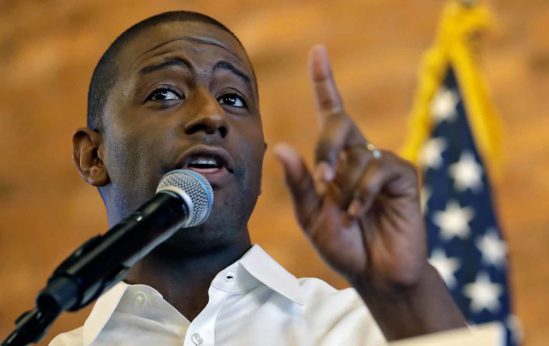 One of the 26 is Schumer's junior colleague, Kirsten Gillibrand. She's expected to coast in. Some analysts see her vying for the 2020 Democratic presidential nomination. She puts out frequent fund-raising appeals for other Democrats nationwide. Both senators are reliable pro-worker votes in Washington. Progressives dislike times Schumer works with Trump.
Gillibrand isn't the only potential presidential hopeful from New York. Gov. Andrew Cuomo has unions in his corner as he fends off a primary challenge from former Sex and the City star Cynthia Nixon, an LGBTQ activist backed by progressives unhappy with Cuomo's record in Albany on ethics. Win or lose in the Sept. 13 primary, Nixon stays on the November ballot as the Working Families Party nominee. An unknown Republican is running, too.
Finally, Democrats hope to pick off some of the remaining Republican U.S. representatives on Long Island and upstate. But progressive challengers to the party establishment – campaigning on Bernie Sanders-like platforms of Medicare For All and free public college tuition, among other issues – picked up their most-notable win so far in the Bronx and Queens.
There, 29-year-old progressive Alexandria Ocasio-Cortez, a self-proclaimed Democratic Socialist, was outspent by incumbent Rep. Joe Crowley, the 4th-ranking House Democrat, by $1.3 million-$38,000. But she used social media effectively, argued he was out of touch with his now-majority-minority district – and won the primary. It's a safe seat, and she's become a rock star, with Sanders, campaigning for candidates elsewhere nationwide.