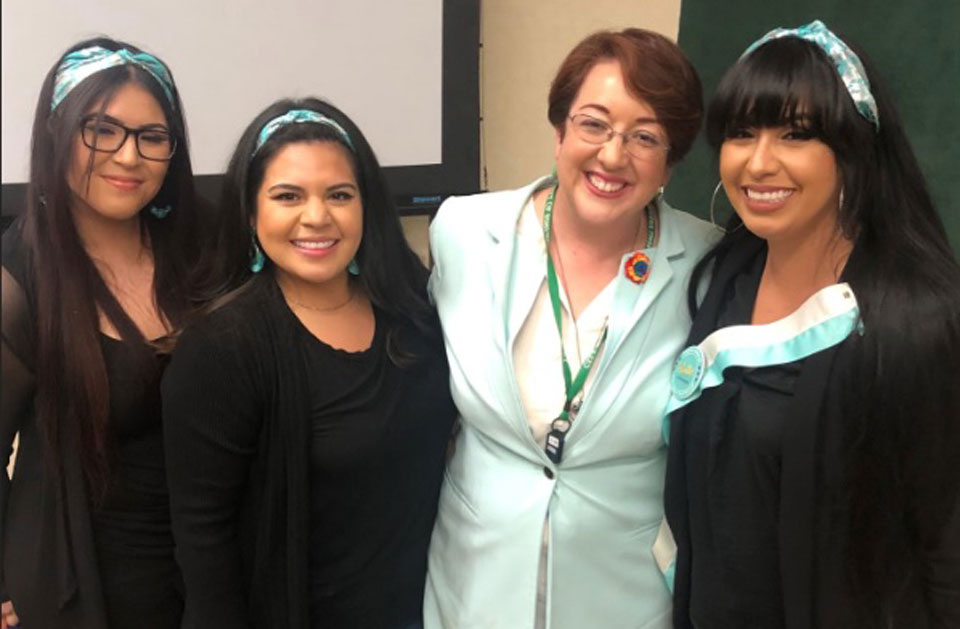 SANTA CLARITA, Calif. — Discussions regarding the coming 2022 election have begun among Democrats in this sprawling area of North Los Angeles County. The discussions promise to lead ultimately to a serious challenge to the Republican establishment that has dominated the political control of this part of one of California's largest counties.
Four prominent Democrats met on March 16th in a virtual discussion to present their views on issues affecting the 25th Congressional District and the California State 38th Assembly seat, and the importance of registering voters and getting out the vote in the coming 2022 elections.
The virtual discussion, attended by numerous Mexican and Latino participants, was sponsored by Our Revolution of Santa Clarita and the North Los Angeles County chapter of Democratic Socialists of America. Leaders of both organizations see this sponsored discussion as an effort to introduce current political leaders and potential candidates to voters of this sprawling network of rural areas and the cities of Simi Valley, Santa Clarita, Palmdale, and Lancaster.
Speakers for the discussions included Ruth Luevanos, Christy Smith, Kipp Mueller, and John Ahmadi.
Announced candidate Christy Smith vacated her elected position in the State Assembly's 38th Assembly seat to run in a special election for the 25th Congressional seat after the resignation of Rep. Katie Hill. Announcing her bid for the seat shortly after losing in her second attempt to capture the seat, she is still considered a front runner in the 2022 Congressional primary by Democratic Party moderates. But some more progressive Democrats have raised concerns based on right-wing Republican Mike Garcia's election and then reelection (in 2020) twice in a row.
A second presenter in the Our Revolution/DSA-sponsored discussion was Ruth Luevanos, a Simi Valley resident and a seasoned progressive figurehead in Simi Valley politics. Many progressive Democrats consider her to be a valued member of the progressive community which continues to grow in Simi Valley. Ms. Luevanos, a Latina, has an established history as a city leader having been returned to the Simi Valley's City Council as the first Latina member. Luevanos is also a leading public school educator/teacher with 21 years of teaching experience. Last year, she narrowly avoided censure by the City Council after having posted a video critical of Pres. Trump's ICE raids.
Kipp Mueller is a local attorney involved in immigrant rights. Mueller also was a past candidate for the Santa Clarita City Council having lost by only 1.6%. As a candidate for the City Council, Mueller was considered a fresh voice in the City Council dominated by conservative Council members with 20 years of unabashed pro-developer policies.
The virtual discussion centered on the Democratic Party's future and the current Republican Representatives in the 25th Congressional District and the 38th District of the California State Assembly. Both seats are currently held by far-right-wing Republicans, as is the state Senate seat.  Conservatives also are a solid majority in others of the county's local city councils.
Progressive Democrats acknowledge, however, that in off-presidential election years, they have had difficulty in turning out the vote. Therefore they continue to look for candidates who will attract the enthusiasm of Democratic Party voters. This is what makes Our Revolution and DSA's initial discussion of the 2022 elections so important.
The discussion of the 2022 elections by Democrats is also important because of who is sponsoring it. Both Our Revolution and the DSA have played a quiet role in this part of Los Angeles County until they recently co-sponsored a successful series of North Los Angeles County and Kern County protests against Republican Minority House Leader Kevin McCarthy and right-wing Republican Congressman Mike Garcia. At that time, they announced their intention to maintain a viable presence in the political life of the Antelope, Santa Clarita, and Simi Valleys.
In the March 16th discussion, candidate Christy Smith received an almost immediate challenge from an active health care worker on the issue of Medicare for All and her refusal to support the measure. "It just doesn't have the support in Washington," she stated. Smith stated that in the coming election of 2022, the focus would be on the issues facing the district while restating her previously held commitment to reaching out to both Democrats and Republicans, even though it is a Republican who defeated her twice. Stating that President Joe Biden won in the 25th Congressional District by 10,500 votes, she acknowledged having been defeated by over 300 votes. "There was no carryover of votes from the presidential race to other down-ballot candidates," she stated. However, progressives have commented on her lack of support for fellow "down-ballot" Democrats running for local Santa Clarita city offices. "We were also hampered by our inability to carry out a street campaign," she said, alluding to the problem of the effects of the COVID-19 on activists that affected all campaigns including that of her opponent, Mike Garcia.
Ruth Luevanos, in presenting her background, pointed out that she had been an early bilingual, bicultural activist in the City of Simi Valley beginning her activist career in a period of intense if not vicious racism that targeted Mexican and Latin American people. "I'm a fighter," she stated.  She declined at this time to state that she would be a candidate for the 25th Congressional District, largely due to the possibility that redistricting after the 2020 census might affect any candidate who might run. However, she has in the past declared her belief that it would take a bilingual, bicultural woman to engage and defeat Garcia. Garcia has exploited his Spanish surname, opportunistically taking on the mantle of his ethnicity. However, he has refused to meet with grassroots Spanish-speaking and African-American activists from all three valleys of his district. It was Garcia's refusal to meet with activists that precipitated the recent successful protests against him, as well as against Republican House Minority leader Kevin McCarthy.
Attorney Kipp Mueller began by stating his unequivocal support for immigration rights legislation as an immediate priority for Congressional passage, based on his current practice in immigration law. Addressing his past candidacy for the Santa Clarita Valley City Council, Mueller acknowledged that his candidacy for the City Council failed by a slim margin. He laid blame for his loss largely on a split among progressives regarding his candidacy. Because the split remains an issue, he scored the broader political crises created by far-right "fascist" elements in the City of Santa Clarita. As an American student in Germany, he learned of Germany's political history during the 1930s and of the political splits that divided the German left. That division, he said, ultimately led to the ascent to power of Nazi Adolf Hitler. He added prophetically that in the future, progressives must avoid making that mistake in Santa Clarita.
John Ahmadi is a former Constituent Services Representative under the 25th Congressional administration of former Rep. Katie Hill. Although he failed in his candidacies for various political offices in the Santa Clarita Valley, it is rumored that he may be interested in becoming a serious candidate for the California State Assembly, District 38. The 38th State Assembly seat is currently held by a Republican. This is the seat formerly held by Christy Smith who vacated the seat to run for her first failed bid for the 25th Congressional seat.
These districts are in transition politically and need to be watched as bellwethers of changes in the American electorate.
TOWN HALL May 2 – Confronting the COVID Economy: Women Fight Back