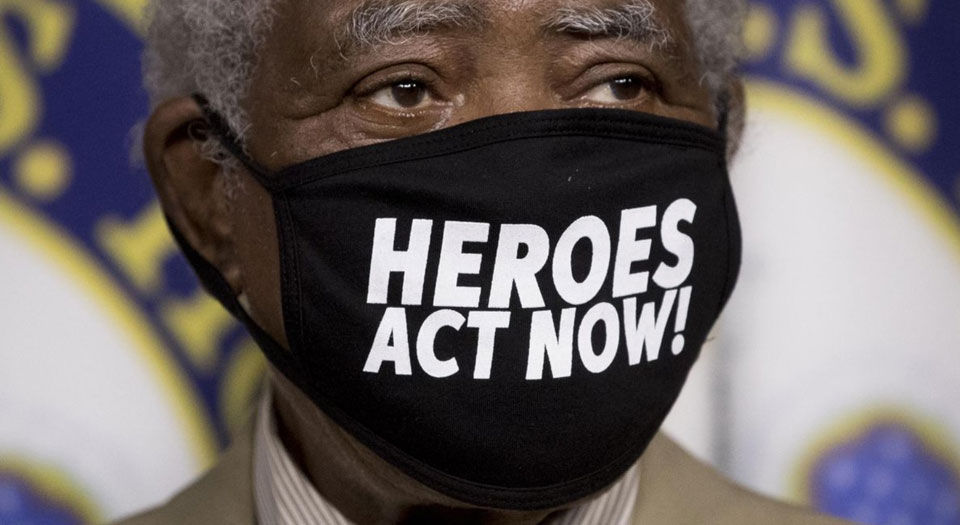 WASHINGTON—Even as more than 20 million workers nationwide are still drawing state or federal unemployment checks, Republicans in Congress has a two-word response to their need: Thanksgiving recess.
And that means that if aid runs out by the end of the year for two-thirds of them, as some economists forecast to NBC earlier this week, those workers would be left high and dry.
That's because when lawmakers return from their holiday "break" on Nov. 30, the top item on the agenda will be a money bill to keep the federal government going after current funding expires on Dec. 11, and not aid to the U.S. people the government is supposed to help.
Millions of us need that aid. BLS reported that in the week ending on Halloween, 20,319,615 workers received state or federal unemployment compensation from all jobless aid programs combined. That's 841,245 fewer than the week before.
But the Oct. 31 figure doesn't include the 1,021,490 who first sought jobless benefits the following week or the 1,063,797 more who applied for the aid in the week ending Nov. 14.
Add all those numbers together and you get 22.4 million workers who are now on jobless rolls due to closures forced by the coronavirus pandemic. That's 15.3% of all U.S. workers, double the "official" jobless rate the GOP Trump regime touts.
"Senate Republicans allowed the across-the-board $600 increase in weekly unemployment benefits to expire at the end of July, so last week was the 16th week of unemployment in this pandemic for which recipients did not get the extra $600," said Heidi Shierholz, policy director at the Economic Policy Institute, and a former top economist for the Obama-era Labor Department.
Even worse, she pointed out, up to 13.5 million of the jobless workers will see their special federal pandemic jobless aid run out on or before Dec. 26. "When these programs expire, millions of these workers and their families will be financially devastated."
The Democratic-run House tried to help them by reinstating the $600 weekly checks and extending other benefits by passing the Cares Act, twice. But Senate Majority Leader Mitch McConnell, R-Ky., has deep-sixed it both times, and both houses of Congress are quitting this week for their Thanksgiving recess. "The cruelty is beyond belief," Shierholz adds.
"Blocking stimulus is also exacerbating racial inequality. Due to the impact of historic and current systemic racism, Black and Latinx communities have seen more job loss in this recession, and have less wealth to fall back on. The lack of stimulus hits these workers the hardest, which means stimulus is a racial justice issue. Further, workers in this pandemic aren't just losing their jobs—millions of workers and their family members have lost employer-provided health insurance due to the COVID-19 downturn. Senate Republicans are failing struggling families."