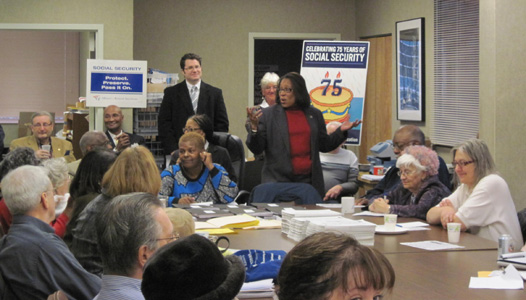 CLEVELAND – Dozens of senior activists rallied at AFL-CIO headquarters here Monday to "Protect, Preserve and Pass Along Social Security and Medicare" and to "protest the continuing assault on retirees."
At the event the community coalition Senior Voice! and the Cleveland AFL-CIO Retiree Council presented Congresswoman Marcia Fudge, D-Ohio, and representatives of Ohio Democratic Congresspersons Dennis Kucinich and Betty Sutton, with petitions containing 25,000 signatures collected in the past few months. The petitions demand that Congress mandate Medicare to negotiate drug prices with pharmaceutical companies, raise or eliminate the cap on income taxed for Social Security and reject any cuts in benefits offered by these programs.
Belle Likover denounced proposals of the National Commission on Fiscal Responsibility and Reform that would cut Social Security and Medicare benefits to reduce the deficit. She noted unrestrained increases in drug prices paid by Medicare will cause a $1 trillion increase in the deficit over the next decade, but this would be cut in half if Medicare could negotiate with drug companies as is done by the Veterans Administration.
Charles Pervo added Social Security is fully solvent through 2037 and raising the cap on income taxed to fund it to $250,000 from the present $106,800 would bring in enough revenue to cover 95 percent of any shortfall foreseen for the next 75 years.
Semanthie Brooks said the proposal by the fiscal commission to raise the retirement age to 69 is unreasonable, especially for factory or construction workers and has a special impact on African Americans.
"African American males have just reached a life expectancy of 70," she said. "Is it fair to ask that they pay into a program when they won't live long enough to participate in the benefits?"
Fudge said seniors were targeted by false Republican ads in the November election. President Obama's health care reform cut the waste and fraud put into Medicare under Pres. George Bush, but seniors were told that the cuts were in services provided by Medicare. This was a major reason seniors voted Republican, she said.
She said the way to deal with the deficit was to let the tax cuts enacted under Bush to expire. She said that, while Obama and the Democrats could be criticized for not pushing harder, "Obama's vision is what our country needs. The job of the government is to take care of the people. It has no other job."
Steve Inchak read a statement from Kucinich endorsing the demands set forth in the petition.
"Social Security," the statement said, "does not add one cent to the federal deficit. In fact, the reverse is true. Amounts borrowed from the Social Security trust fund, are unfortunately used to balance the federal budget yearly."
"We need to reassert our call that the priorities of this Nation need to shift from spending trillions on war to taking care of Americans and our economy at home. The war in Afghanistan costs $190 million per day, but some want to increase Medicare expenses for seniors and the disabled. Extending unemployment compensation would cost $65 billion but add a half-million jobs as a result. Where are our priorities?"
"I am committed to strengthening Social Security for future generations, preserving Medicare without massive out-of-pocket increases, investing further in our infrastructure and creating jobs and ensuring that the workers who built this country are heard and listened to on a wide range of issues."
Liz Walters, Congresswoman Sutton's District Director, also endorsed the demands of the petition. Also on hand to back the effort were State Representatives Ken Yuko and Bill Patmon.
Copies of the petition will also be presented to Ohio U.S. Senators Republican George Voinovich and Democrat Sherrod Brown and Republican Congressman Steve LaTourette, organizers said.
Photo: U.S. Rep. Marcia Fudge, D-Ohio, addressing the group. Norm Wernet.