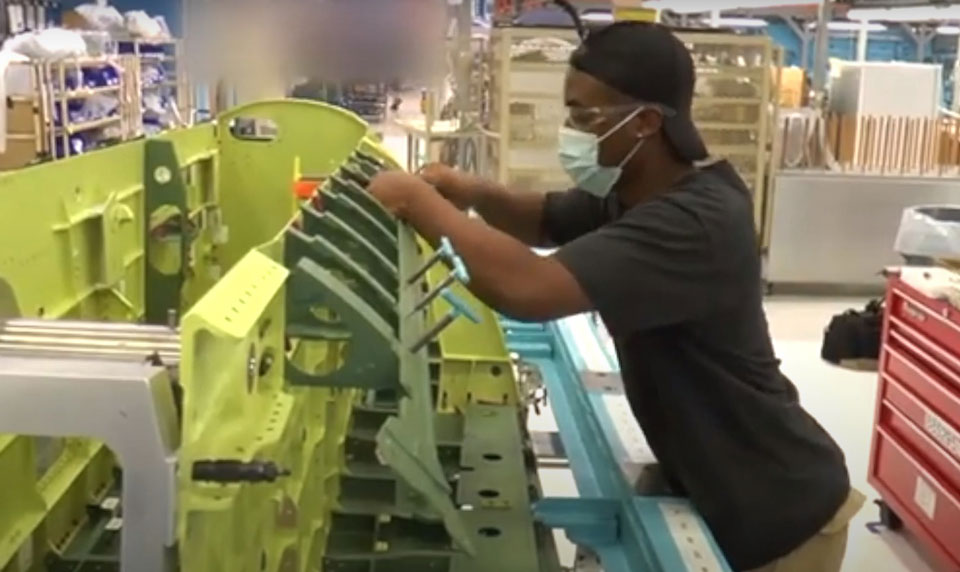 ST. LOUIS —Some 2,500 Machinists at three St. Louis-area military aircraft production plants prepared for a forced strike starting August 1, after rejecting the company's "modified best and final offer" that they called completely inadequate.
"We cannot accept a contract that is not fair and equitable, as this company continues to make billions of dollars each year off the backs of our hardworking members. Boeing previously took away a pension from our members, and now the company is unwilling to adequately compensate our members' 401(k) plan," Machinists District 837, which represents the workers, said in a statement.
"We will not allow this company to put our members' hard-earned retirements in jeopardy," Machinists District 837. The workers turned down Boeing's 3-year contract offer on July 24, the day their present contract expired at midnight.
Elaborating, one District 837 Business Representative, Bryce Kelly, told NBC's St. Louis TV station interviewer the big problems with Boeing's offer were pay hikes that don't keep up with inflation and a 401(k) match with a lot of holes in it. The 401(k) replaced a traditional pension Boeing axed years ago.
"If it wasn't for the workforce, nothing would get produced. Inflation is skyrocketing as we speak. We're trying to get something to help counteract that inflation costs to our members, so we can invest something for our retirement," Kelly said.
Even Boeing's offer, as described in a letter from the firm's top negotiator, Robert Joga, to IAM's bargaining leaders, offered a pay hike of $2 an hour the first year plus 65-cent cost-of-living hikes twice a year. Joga said that's 7.2%, which doesn't keep up with inflation.
Raises of 3% and 4%, plus the COLAs, would follow in the second and third years. The old contract, which expired July 24 at midnight, had $1.50 hourly raises and 50-cent COLAs in each of its three years.
Workers at the three plants, in St. Louis and St. Charles, Mo., and Mascoutah, Ill. apparently run round the clock making F-15 and F-18 fighters, Red Hawk training jets and Air Force drones. The Washington Post reported those three contracts are worth $3.5 billion to Boeing in 2022 alone. The firm's total revenue from the military this year is $26 billion.
Though Joga didn't say so in his letter, the company's offer, which the union posted, revealed it both wants to change the shift hours and would give a dollar-an-hour "premium" to the second shift, which would now start at 5 pm, and keep the current premium—Boeing didn't say what it is—to the third overnight shift. There's no premium for the first, day, shift, which would now start at 8:30 am, not 5 am.
Boeing wants to fully match a worker's contribution to the 401(k), which can be up to 10%, but only for the first year of the three-year pact. Then its match would crash to 2% yearly, regardless of how much the worker puts in.
And Boeing put a $1,000 yearly company contribution, on top of the percentage hikes, on the table in its July 22 bargaining session, then yanked it and inserted the money into a $4,000 ratification bonus. The bonus lapsed when workers voted the whole thing down.
Boeing wanted to triple any new worker's probation period, from the current 40 working days to 120. It also proposed a one-year experiment of 4-day 10-hours-daily workweeks for process mechanics.
And if it orders workers to take mandatory overtime, including toiling on Saturdays at time-and-a-half pay and Sundays and double pay they can't go more than three weeks' work of full-overtime days without getting a weekend off.
The contract has paid paternal leave—its words—but Boeing proposed reducing it by "any amount" a worker gets if his or her city, county or state pays leave, too. Boeing also wanted to ban workers from tacking sick time or vacation time—both paid—onto the end of paternal leave.
"We stand in solidarity across the United States and will use the might of the Fighting Machinists to bring home a contract that allows us to build and produce some of the best military aircraft and weapons in the world, and enables us to take care of our families," District 837's statement said.
"It is the bravest decision a union member makes to go on strike, putting their family and loved ones at risk. We do not make this decision lightly or in haste, but do so in order to stand up for working people around the globe and fight for the contract we deserve."
The contract rejection disappointed Boeing brass. It planned to "activate our contingency plan to support continuity of operations" at the plants if the workers walked. Kelly, in the TV interview, said that won't work, since the jobs are highly technical.
"No one would just be able to walk in and be able to build these aircraft," he commented.