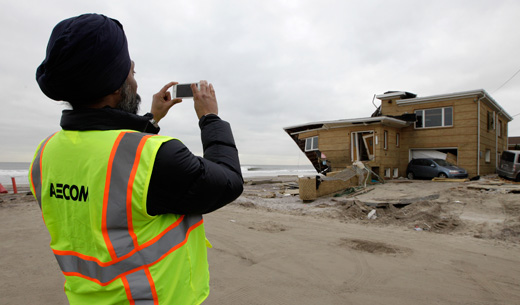 NEW YORK — The massive destruction by Hurricane Sandy literally destroyed whole communities. Thousands of private homeowners and renters who live in shorefront areas in New York, New Jersey and Connecticut have lost virtually everything
Residents of Rockaway NY and areas of Queens and Brooklyn who live in public housing still do not have power and heat.
On Long Island, communities look almost as bad as New Orleans after Katrina.
People in many of those areas recently held protests to demand that their power be restored and that they get more help with the clean up, and with food, water and heat.
Despite the massive efforts of the Federal Emergency Management Agency (FEMA) and the thousands of volunteers from organizations including unions, individuals who have come in to help, the pace is far too slow.
There has already been one snowstorm and another is due. In a month the coldest time of the year for the northeast will arrive. People are asking, "How can we survive?" Clearly, the government needs to take emergency measures to meet this desperate crisis.
This situation to too big and too costly for private, profit-making companies to handle. It calls for the federal government to take a more urgent, decisive and dramatic action. In an earlier article we called for the massive hiring of the unemployed to get the job done and help the region's economy at the same time.
Well, a few days ago, Governor Andrew Cuomo announced that New York State has received a $27,792,296 National Emergency Grant from the federal government to hire unemployed New Yorkers (unemployed prior to or as a direct result of Hurricane Sandy) to help clean up and rebuild communities destroyed by Hurricane Sandy. The grant will make it possible to hire 5,000 youth and unemployed workers to work in the devastated areas. The workers will be paid $15 an hour and there will also be a job-training component for young workers.
Cuomo stated, "The funding will not only provide young people and the unemployed with the opportunity to participate in cleaning up and rebuilding communities devastated by the storm, but it will provide valuable work experience and on-the-job training that can be useful in future careers."
The program will be run by the New York Department of Labor and they are mandated to work with communities to identify cleanup areas, assign workers to job sites and administer the funds. The Department of Labor will also work with the Federal Emergency Management Agency (FEMA) to organize a local program to hire local people who will replace FEMA workers — many of whom are from out of state.
Those New Yorkers who are interested in being hired should contact their congressperson or the New York State Department of Labor. The following is from the NYSLD WEB site:
"Workers who lost their jobs as a direct result of Hurricane Sandy or workers who were unemployed prior to the storm are eligible to apply. Employment funded by this grant is temporary. Job seekers interested in this program should fill out and submit the online registration form.
The Obama administration does not want a repeat of what Bush did in New Orleans.
Although the wages to the clean up workers could be higher, and there may be concerns about union protection and benefits, the unemployed welcome this proposal and it is surely an important beginning.
"One of the ways to help New York recover is to engage New Yorkers themselves in rebuilding their communities" said, federal coordinating officer Michael Byrne. He added, "We will have a stronger recovery if those working on the recovery are personally vested in its success."
This program opens the door politically to the need for a nationwide program to rebuild our country's infrastructure through public works. Many progressive are calling for a "New New Deal." Obama's "American Jobs Act" and a number of job creation bills pending in Congress must be passed and acted on immediately. This program needs to spread to other states ravaged by Sandy.
The Republicans who only wanted to bring down Obama are now talking compromise. Some have withdrawn from the Grover Norquist's no tax pledge. They say they want compromise but their priority is still to get the best deal possible for the 1%.
The people voted in the last election to go "forward." That means tax the rich, transfer military spending to peoples needs, create millions of jobs for the unemployed and rebuild the country. This is something to fight for that will benefit everyone It's time to call your member of Congress and the administration to not compromise our survival and do the right thing.
Photo: A structural engineer working for the New York City Buildings department snaps a photograph of a red-tagged, severely damaged house in the Rockaways in the Queens borough of New York, Nov. 19. Kathy Willens/AP