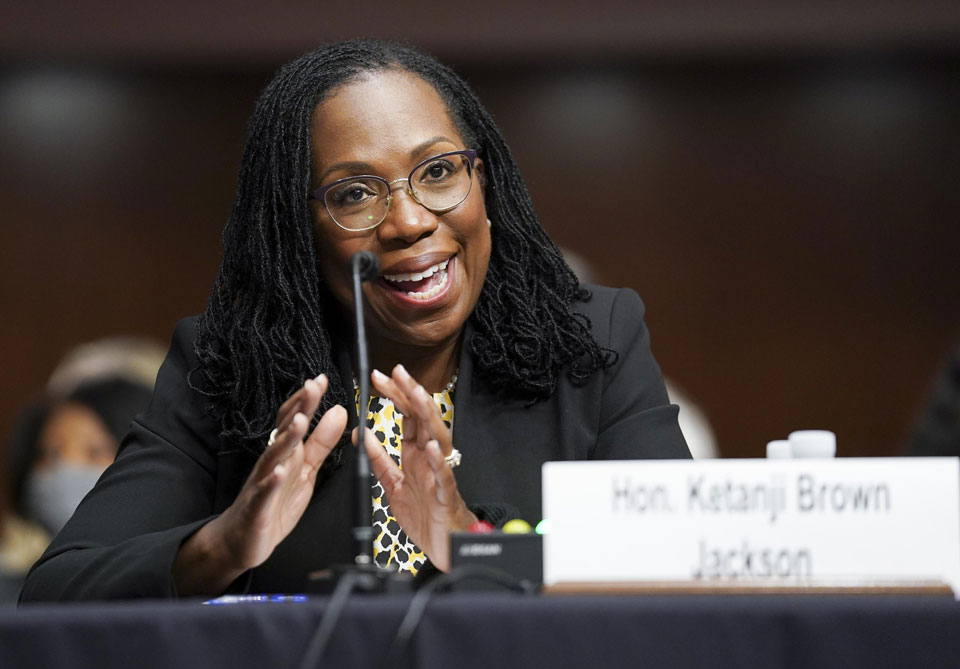 WASHINGTON —With the Senate poised to vote on Democratic President Joe Biden's nomination of federal appellate Judge Ketanji Brown Jackson to the U.S. Supreme Court, 27 union leaders, led by AFL-CIO President Liz Shuler, urged lawmakers to elevate the judge to the nation's highest bench.
Senators opened at least two days of debate on the Jackson nomination after the Senate Judiciary Committee split 11-11 on party lines—all the Democrats for, every Republican against—on having her succeed retiring Justice Stephen Breyer, one of her mentors.
But three Republicans not on the panel, Lisa Murkowski of Alaska, Susan Collins of Maine, and Mitt Romney of Utah, plan to join all 48 Democrats and both independents in voting for her, probably on April 7-8. She would take Breyer's seat in October.
Judge Jackson has been a judge on the U.S. Circuit Court of Appeals for D.C. for a year, after eight years as on the U.S. District Court—the trial court in the federal system—in D.C. She would be the first African-American woman, the first Floridian, the first former public defender, and in all likelihood the first former magazine reporter ever on the nation's top bench.
"This historic nomination demonstrates our nation's continued path towards becoming a more just society where all children have the opportunity to succeed regardless of what they look like, where they're from, or what their parents do for a living," the statement, initiated by the Teachers (AFT) said.
"In recent years, working families have experienced firsthand how critical it is to have an equitable, fair, and balanced Supreme Court. We need justices who will uphold the Constitution and maintain fidelity to the rule of law, considering every case on its merits without favoring powerful corporations. Judge Jackson meets that test."
While the statement does not say so, the current six-person GOP-named majority on the High Court does not, AFL-CIO General Counsel Craig Becker previously testified to a Biden-appointed commission on potential changes to the Supreme Court. Becker said that for decades, unions have had to assume, in advance, that the majority is stacked against workers.
The statement does, however, touch on the partisan tilt of the court, where Judge Jackson would replace Justice Breyer as one of what would be a three-woman minority.
"Working families also know a federal bench that reflects and respects the diversity of our nation is vital to robust and informed decision-making, which is imperative to fostering public trust in the judiciary," it says. That trust has slid so far that several justices—including Breyer and Donald Trump-named Amy Coney Barrett—have declared the court, in Barrett's words, "is not a bunch of political hacks."
"Representation matters in our justice system where cultural experience shapes the decisions made by judges. Confirming a Black woman to the Supreme Court after 233 years will not only add a needed perspective to the court, it inspires future generations and is a step towards creating a more just system by demanding a Supreme Court that looks more like America and serves all of us," the union leaders added.
"Based on Judge Jackson's record, demonstration of judicial temperament at last month's Senate Judiciary Committee confirmation hearings, and past and current bi-partisan support, we believe senators should enthusiastically vote to confirm her. Judge Ketanji Brown Jackson's strong character and exemplary service reflect the best of our nation."
The union leaders ended their pro-Judge Jackson statement with a pointed political message for the Republicans who oppose her—without mentioning the racial "dog whistles" Texan Ted Cruz, Arkansas' Tom Cotton, and Missouri's Josh Hawley, blew. All three are playing to their party's white supremacist bloc in anticipation of the 2024 presidential campaigns.
"Working people of all backgrounds will hold their senators accountable for how they treat this outstanding nominee when they vote in this year's midterm elections," the union leaders said.
Besides Shuler, Auto Workers President Ray Curry, Communications Workers President Chris Shelton, Letter Carriers President Fredric Rolando, and National Nurses United Executive Director Bonnie Castillo signed. So did Seafarers President Michael Sacco—who also heads the AFL-CIO Maritime Trades Department—AFT President Randi Weingarten, Service Employees President Mary Kay Henry, ATU President John Costa, AFA-CWA President Sara Nelson, new Teamsters President Sean O'Brien, and AFL-CIO Metal Trades Department President James Hart.
Two other signers, National Education Association President Becky Pringle., who heads the nation's largest union, and AFGE President Everett Kelley, were also early endorsers of Judge Jackson. NEA is the nation's largest union, and independent. AFGE won two favorable rulings from Judge Jackson in its fights against former GOP Oval Office occupant Donald Trump's union-busting
Joining them were AFSCME President Lee Saunders, BCTGM President Anthony Shelton, Department for Professional Employees President Jennifer Dorning, IATSE President Matthew Loeb, Machinists President Robert Martinez,  IFPTE President Matthew Biggs, IBEW President Lonnie Stephenson, AFL-CIO Metal Trades Department President James Hart, Government Employees Federal Division Director Lee Blackmon, Transport Workers President John Samuelsen, Union Veterans Council Executive Director Will Attig, Unite Here President D Taylor, and UFCW President Anthony M. "Marc" Perrone.