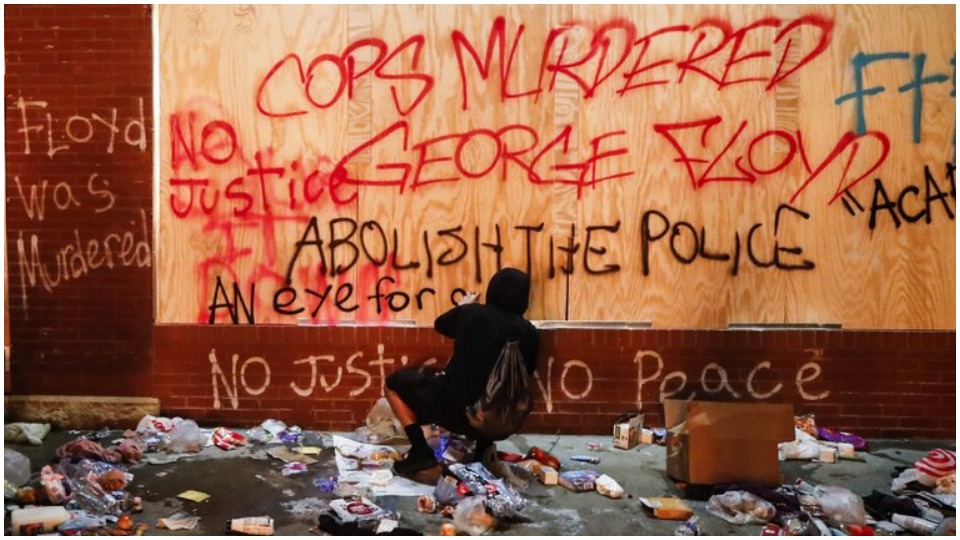 MINNEAPOLIS (AP)—The Minneapolis police officer who was seen on video kneeling on the neck of George Floyd, a handcuffed Black man who died in custody after pleading that he could not breathe, was arrested Friday and charged with murder.
Hennepin County Attorney Mike Freeman said Derek Chauvin was charged with third-degree murder and manslaughter, after the office gathered enough evidence to prove the case beyond a reasonable doubt.
Freeman did not have immediate details, but said a criminal complaint would be made available later. The charges come after three days of protests, which had been escalating in violence.
News of Chaunvin's arrest came moments after Minnesota Gov. Tim Walz acknowledged the "abject failure" of the response to this week's protests and called for swift justice for officers involved. Walz said the state would take over the response to the protests and that it's time to show respect and dignity to those who are suffering.
"Minneapolis and St. Paul are on fire. The fire is still smoldering in our streets. The ashes are symbolic of decades and generations of pain, of anguish unheard," Walz said, adding. "Now generations of pain is manifesting itself in front of the world—and the world is watching."
The governor cited a call he received from a state senator who described her district "on fire, no police, no firefighters, no social control, constituents locked in houses wondering what they were going to do. That is an abject failure that cannot happen."
On Friday morning, nearly every building in the shopping district around the abandoned 3rd Precinct police station had been vandalized, burned or looted. National Guard members were in the area, with several of them lined up, keeping people away from the police station.
Dozens of volunteers swept up broken glass in the street, doing what they could to help.
Dean Hanson, 64, lives in a subsidized housing unit nearby, which is home to many older residents. He said his building lost electricity overnight, and residents were terrified as they watched mobs of people run around their neighborhood, with no apparent intervention.
"I can't believe this is happening here," he said.
Dozens of fires were also set in nearby St. Paul, where nearly 200 businesses were damaged or looted. Protests spread across the U.S., fueled by outrage over Floyd's death, and years of violence against African Americans at the hands of police. Demonstrators clashed with officers in New York and blocked traffic in Columbus, Ohio, and Denver.
Trump threatened to bring Minneapolis "under control," calling the protesters "thugs" and tweeting that "when the looting starts, the shooting starts." The tweet drew another warning from Twitter, which said the comment violated the platform's rules, but the company did not remove it.
MORE STORIES:

> 'I can't breathe!': Minneapolis erupts in protest after George Floyd murder

> 'When the looting starts, the shooting starts': Trump revives segregationist war cry
The Minnesota State Patrol arrested a CNN television crew early Friday as the journalists reported on the unrest. While live on air, CNN reporter Omar Jimenez was handcuffed and led away. A producer and a photojournalist for CNN were also taken away in handcuffs.
The Minnesota State Patrol said the journalists were among four people arrested as troopers were "clearing the streets and restoring order," and they were released after being confirmed to be media members. CNN said on Twitter that the arrests were "a clear violation of their First Amendment rights." Walz publicly apologized on Friday.
Protests first erupted Tuesday, a day after Floyd's death in a confrontation with police captured on widely seen citizen video. In the footage, Floyd can be seen pleading as Chauvin presses his knee against him. As minutes pass, Floyd slowly stops talking and moving.
Attorney Benjamin Crump, who is representing members of Floyd's family, called for an independent investigation, and said he asked to take custody of Floyd's body to have an independent autopsy performed. Floyd said that talk of a heart condition or asthma are irrelevant because Floyd was walking and breathing before his contact with police.
The doctor who will do the autopsy is Michael Baden, former chief medical examiner of New York City, who was hired to do an autopsy for Eric Garner as well.
Minutes after the 3rd Precinct police building burned on Thursday, the National Guard tweeted that it had activated more than 500 soldiers across the metro area. By Friday morning, a couple dozen Guard members armed with assault-style rifles blocked a street near a Target store that has sustained heavy damage.
Elsewhere in Minneapolis, thousands of peaceful demonstrators marched through the streets calling for justice.
In New York City, protesters defied New York's coronavirus prohibition on public gatherings Thursday, clashing with police, while demonstrators blocked traffic in downtown Denver and downtown Columbus. A day earlier, demonstrators had taken to the streets in Los Angeles and Memphis.
In Louisville, Kentucky, police confirmed that at least seven people had been shot Thursday night as protesters demanded justice for Breonna Taylor, a black woman who was fatally shot by police in her home in March.
In Mississippi, the mayor of the community of Petal resisted calls to resign following his remarks about Floyd's death. Hal Marx, a Republican, asked on Twitter: "Why in the world would anyone choose to become a police officer in our society today?" In a follow-up tweet, he said he "didn't see anything unreasonable."
___
This is an abridged version of an article published by The Associated Press. AP writers Steve Karnowski, Jeff Baenen, and Doug Glass in Minneapolis, Gretchen Ehlke in Milwaukee, and Aaron Morrison in New York contributed to this report.