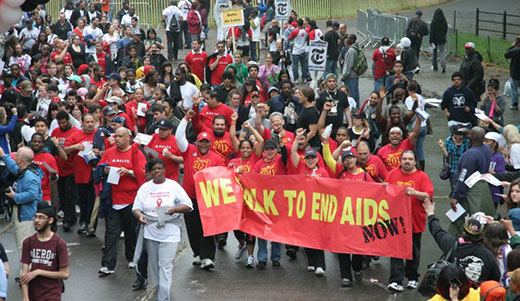 NEW YORK – On a recent May Sunday, I, along with a small group of family and friends, walked to remember my oldest son Keith, who died of AIDS 20 years ago. Keith was 30.
It rained on and off all day but still 45,000 people came out for the 26th Annual AIDS Walk.
Struck down in his prime, Keith was a fine young African American worker, a trade unionist and an outstanding basketball player.
My daughter Alia, who organized us to join the walk, raised over $1,000 in donations from family and friends. She also designed a T-shirt bearing her brother's picture that all of us wore. We walked the entire 10-kilometer route to honor Keith and to help save many other lives.
When my son was very ill and really near the end, it was fighting AIDS organizations like Gay Men's Health Crisis (GMHC) that offered him services, care and comfort. This was a time when the stigma around AIDS was pervasive and people were ostracized and scorned for having the disease. Back then they didn't have the drugs that medical research has since discovered to make it possible for many more to survive.
The fight against HIV/AIDS is an issue that united people of all races and nationalities from all over the city who came together to raise money for GMHC and 41 other vital AIDS service organizations.
This year's New York Walk raised $6.2 million and was the largest in the world.
AIDS is still a crisis throughout the country: In New York City alone, GMHC services 15,000 HIV/AIDS clients.
They offer services to help people survive including massive prevention programs advocating safe sex and urging people to get tested and get help.
The walk is a dramatic way to make people aware and get involved in fighting the disease.
Despite the AIDS crisis, the political right continues to use homophobia as a way to unite their reactionary base. They seem not to care that it leads to an increase in gay-bashing, bullying and even death and suicide.
Today, marriage equality is their wedge issue. However, they remain also opposed to funds to find a cure and purchase retroviral drugs so desperately needed for survival.
These are big political issues and the AIDS Walk, which was predominantly black, Latino and young, had a strong protest character. The African American CEO of GMHC, Dr. Marjorie Hill, expressed this aspect very well on the eve of the walk.
In a brief but powerful speech she said, "The primary challenge for our clients remains stigma, remains homophobia, remains racism, remains sexism, remains poverty and GMHC is fighting it and … I am proud that GMHC and the AIDS Walk promotes social justice."
Dr. Hill added, "In the early days the gay community led the fight and often stood alone but today we are more than gay, we are more than queer, we're women, we're young, we're old, we're black and we're white."
As this newspaper reported recently, every Republican of note who has announced his intention to run for the presidency is anti-gay. In fact it is likely that the tea party and other homophobic zealots will never allow a candidate who is for gay rights to win the GOP nomination.
Providing the funds to find a cure and prolong the lives of AIDS victims has always been an uphill struggle in this country. Knowing this I wonder what will happen if the party of homophobia and racism gains dominance again? Where will the country be on this life-and-death issue?
My family and I walked to raise awareness and make our presence known. And the march must continue to get people to register to vote, go to the polls and elect candidates who will do the right thing.
Photo: The May 15 AIDS Walk in New York. Photo by Adam Fredericks, GMHC/Facebook