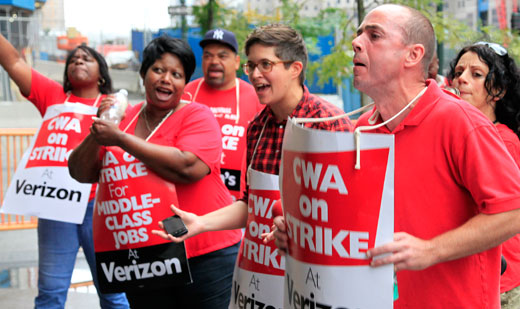 NEW YORK – Verizon spent Saturday and Sunday canceling bargaining sessions with the two unions that represent more than 45,000 workers, said Candice Johnson, a spokesperson for the Communications Workers of America, Monday morning, August 8.
The workers went out on strike Sunday, August 7, after their union contract with the company expired.
"Verizon workers are waiting for management to demonstrate that it's ready to bargain," Johnson said in a statement. "In fact, we're looking for Verizon to stop canceling bargaining sessions that have been scheduled."
The workers out on strike are Verizon's landline employees from Massachusetts, Rhode Island, New York, New Jersey, Pennsylvania, Delaware, Maryland, Virginia, West Virginia and Washington D.C. The CWA, and the International Brotherhood of Electrical Workers represent them. The heart of the dispute is that the company, which reported profits of $3.2 billion in its most recent quarter and paid out $258 million to its top five executives over the last four years, is demanding rollbacks of worker benefits, an end to regularly scheduled pay increases, and work rule changes that would allow it to easily fire workers.
This morning thousands were on the picket lines and at rallies in front of more than 100 Verizon locations across New York and New Jersey. Hundreds of Verizon workers in the Washington area travelled by bus, train and automobile to a noon rally at Verizon's Chesapeake Complex in Silver Spring, Md.
The 45,000 strikers walked off the job this weekend because the company has refused to budge since negotiations began July 22. The unions say the more than 100 concessions Verizon is demanding will cost the workers and their families more than $1 billion, or $20,000 in givebacks for each family.
The highly profitable Verizon Wireless, meanwhile, just paid its parent company, Vodaphone, a $10 billion dividend.
"This strike," said CWA District 1 Vice President Chris Shelton, "is all about good jobs. Companies like Verizon should be investing in rebuilding the American economy, not contributing to the destruction of good, middle class jobs."
During the last four years, unions note, the company has made $22.5 billion in profits and its CEO, Ivan Seidenberg, has been paid $81 million in total compensation.
"In case that's not enough to see him through his golden years," said AFL-CIO spokesperson Mike Hall, this morning, "Verizon has guaranteed him and his wife free health care for life."
Verizon is demanding cuts in pension and health care benefits, the right to outsource whatever jobs it feels necessary, elimination of benefits for workers injured on the job, elimination of paid sick days and weakening of existing job security measures.
"We cannot stand by while one of the richest, most successful corporations in the world joins the race to decimate the middle class of this country," said Edwin Hill, president of IBEW. "We remain ready to meet with Verizon to work out a fair agreement, but at this point, we had no choice."
"These greedy pigs caused this strike," said Angel Feliciano, executive vice president of CWA's Local 1101 in New York. "While Ivan (the CEO) makes $24 million, they want to tie our raises to productivity appraisals. While Ivan is guaranteed free medical benefits for life, they want us and our retirees to pay thousands of dollars in premiums."
"We have shown them time and again that we are ready, willing and able to take them on," Feliciano said. "The bastards are going to learn that this is not Wisconsin or Ohio, this is New York and we're a union town."
Photo: Verizon workers picket in front of the company's New York headquarters, Aug. 7. (Mark Lennihan/AP)