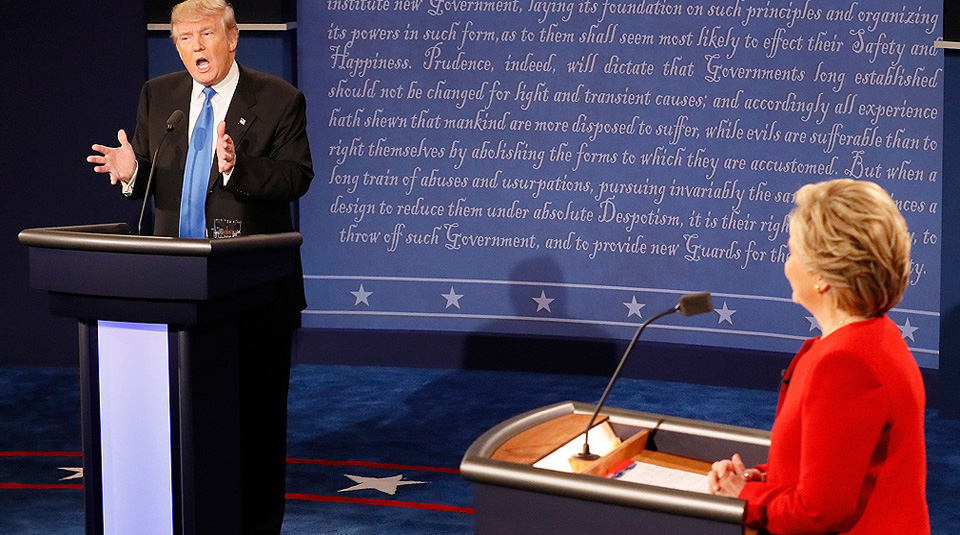 WASHINGTON – A combination of discrimination on the job and repression of all workers' rights are big factors in the yawning wage gap between white and African-American workers, an expert panel says.
The speakers, convened Sept. 27 by the labor-backed Economic Policy Institute to discuss its new report on that wage gap among full-time workers, added overcoming those factors will be a long slog. But solving it, they added, will benefit not just workers, but the economy and business.
"If half the population is being underpaid, it's a problem for all of the economy," asserted EPI analyst Valerie Wilson, a report co-author.
The wage gap is large and ongoing, with only two periods where it shrank, according to EPI's report, Black-White Wage Gaps Expand With Rising Wage Inequality. One shrinkage was the mid-1960s, thanks to the civil rights movement. The other was the late 1990s, where everyone's incomes rose. But the overall trend showed the racial wage gap is a chasm.
The report found average hourly wages for African-American men were 22.2 percent below those of white men in 1979, the first year such figures were available, and 31 percent below those of white men in 2015.
The six percent wage gap between white and black women in 1979 tripled, to 19 percent, by 2015. Educational differences accounted for one-third of the 2015 male racial wage gap and almost 40 percent of the 2015 female racial wage gap.
And declining union density "accounts for one-fourth to one-fifth" of the growth in the racial wage gaps for both sexes combined from 1979-2015, the report adds.
For African-American men, the figures are even worse: Declining unionization led to 43 percent of the growth in the wage gap for African-American men entering the workforce, and one-third of the growth in the gap for veteran African-American male workers.
At one time, geography played a role, too, but that's changed. At the end of the 1970s, the report said, the racial wage gap was larger in the South than elsewhere. By 2015, it wasn't, because as Southern wages stayed relatively the same, the rest of the nation declined.
"This is all very depressing," said one panelist, veteran Harvard University labor economist Richard Freeman. "Right after the (1964) Civil Rights Act was passed, the wage differentials were declining. Now, they've widened. The basic policy of 'You can't discriminate'" on the job "worked, and now it's eroded."
"The biggest thing is to get everybody's wages going up, and then do things that help specific groups," Freeman commented. "The share of national income going to all workers has become smaller and smaller."
Panelists said one key to closing the gap will be sustained strong economic growth that reduces joblessness and forces employers to compete for African-American as well as white workers. They also said the U.S. needs new tools to attack the gap. Other ideas included:
Strengthening unions and the right to organize. "We need to make the economy fairer by having workers having more rights to negotiate, and to know what workers are really being paid," said Rutgers economist William Rodgers, a report co-author.
That second provision, protecting workers who discuss pay with each other without fear of corporate retribution, is part of equal pay for equal work legislation that workers' and women's rights groups have been pushing — so far, unsuccessfully — in Congress.
Restoring surveys of pay, by race and occupation among federal contractors, that the Equal Employment Opportunities Commission, which helps enforce anti-discrimination laws, once carried out.
While the panelists did not discuss it, the report, in a footnote, adds that so-called "right to work" laws expand the black-white wage gap. Workers and unions strongly oppose such right-wing and business-pushed laws, which let workers take unions' services without having to pay for them.
A prior EPI study reported that while wages for all workers in RTW states are 3.2 percent lower than wages for their counterparts in non-RTW states, the gap is 4.8 percent for African-American workers.
Reviving and expanding manufacturing, particularly in the Midwest. That would go hand in hand with strengthening the right to organize, said Rodgers. The factory jobs in cities such as Chicago, Detroit and Cleveland gave African-American male workers a path into the middle class, panelists noted.
"When you look at investing in human capital and social capital" — workers — "there are two periods where it slowed," Rodgers said. They were in the 1980s and after 2001. The slowdowns helped produce surges in income inequality overall, which are even wider for African-Americans than for the rest of the country.
"We're on the precipice of a third slowdown," he warned. "It comes down to a question of whether we want a 1980s-style economy or a 1990s-style economy."
About 40 percent of the current white-black wage gap is due to "gender disparities, not racial disparities," Rodgers reported. And "increasing education for all boosts wages for all, but doesn't eliminate the gap," he commented.
The wage gap has negative implications for U.S. competitiveness, a point that advocates of closing it have not made to business. Underpaying workers leads to high turnover — among blacks and whites — and lower-than-expected productivity and profits, they noted.
"Unobservable connections," such as favoritism in hiring and promotions, enhance the wage gap, Freeman noted. Such tilts as white men hiring other white men, alumni preferences, and networking — or lack of it — "are not something governments can do anything about," he admitted.
None of these problems came up in the presidential debate between Democratic nominee Hillary Rodham Clinton and her Republican foe, business mogul Donald Trump, the panelists noted. The debate occurred the night before, and the moderator opened it by asking the two to address how they would attack income inequality.
"I would start off by conceptualizing and thinking about the problem, and even Secretary Clinton falls into not doing that," Rodgers said.
Photo: Panelists pointed out that the wage gap between African American and white workers never came up duting the first presidential debate this week.  |  AP