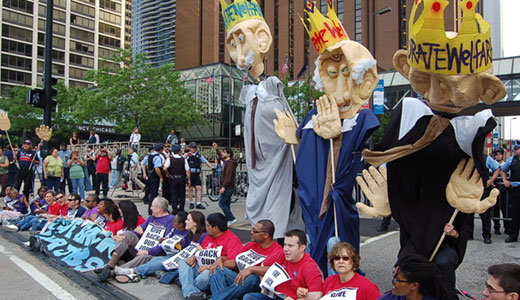 CHICAGO – As the nation's top CEOs held a June 14 summit behind closed doors at the Hyatt Regency here 5,000 angry demonstrators outside chanted, "You got bailed out, we got sold out!"
Twenty-five members of the Chicago Teachers Union and the Service Employees International Union were arrested for sitting down in the street outside the hotel. As police led them away, people belonging to 15 unions and dozens of community organizations chanted, "Let them go!" All those arrested were booked for blocking traffic and released.
The thousands converged outside the executives' summit after three kickoff rallies at Daley Plaza, the State of Illinois building and City Center. It was a noisy, spirited and peaceful demonstration against corporate greed.
Protesters marched on the Hyatt, organizers said, both because the CEO summit was taking place there and because the hotel is owned by the billionaire Pritzker family, which the local labor movement says is notorious for union-busting.
As the CEOs met in the Hyatt tower, thousands of demonstrators filled the streets below. The business execs, according to the Chamber of Commerce which sponsored the summit, were discussing "best practices" and "leadership skill techniques."
The crowds jamming the streets below demanded that the CEOs talk, instead, about creating jobs and reinvesting in the community, in small businesses and in Chicago's public schools.
"They are not doing anything good for Chicago," said Maria Ratanski, a janitor who belongs to SEIU.
Ratanksi, 44, came from Poland as a young girl in 1974 and raised a family here in Chicago. She said she marched because she has an 18-year-old son and a 16-year-old son, both unable to find jobs.
"They are getting very very rich," she said, about the CEOs meeting in the tower. "They say when they get rich, we get jobs, but they are not making any jobs. They get richer and richer, we get poorer and poorer."
Armando Robles, a UE member who led workers in the historic takeover of a windows and doors factory to prevent its closing here in 2009, marched with the thousands who made their way up Michigan Ave. from Daley Plaza.
As people on the sidewalks cheered Robles and his union's contingent he said, "Chicago families are struggling with high unemployment, foreclosures and poverty. Our children are getting robbed of their schools. Our city is getting robbed of decent jobs and for what? It's all going into making big payments to CEOs, welfare for corporations and big tax cuts for corporations. We've got to stop it."
Advocates for the homeless joined the union members and community groups that marched. "Give us back our homes," read the signs carried by people whose homes have been foreclosed.
Stand Up Chicago was the name under which the diverse groups joined together for the protest.
Organizers said that just last year, the richest companies belonging to the Chamber of Commerce reaped $200 billion in profits. But instead of creating jobs with that money, they paid their CEOs huge bonuses.
"All that money should be given back to create jobs, to help our communities and to save our public schools," said Karen Lewis, addressing demonstrators through a microphone as she marched along Michigan Ave.
Photo: In front of puppets representing the kings of "corporate welfare," Chicago workers sit down in the street saying, "Give back our jobs," June 14. PW/John Bachtell