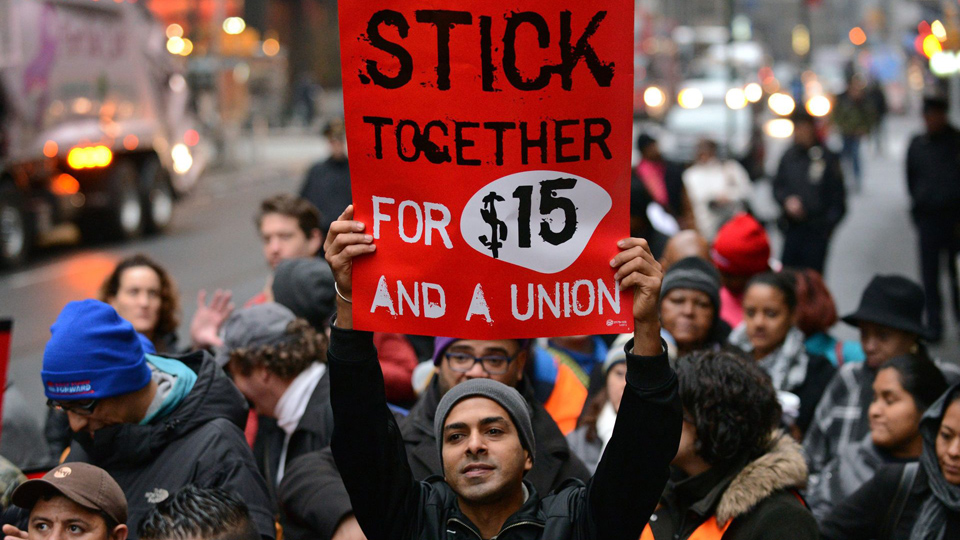 Every year, around Labor Day, the Gallup Poll runs a survey analyzing the popularity of organized labor, or – in some cases – the lack of it.
This year's headline showed 61 percent of respondents have a favorable impression of unions, and a record plurality (39 percent) believe unions should have more influence in society, compared to 28 percent who think unions should have less.
Last year, the pro-union margin on that question – 36 percent-34 percent – was within Gallup's 4 percent margin of error.
Further positive news came in partisan breakdowns: Democrats (81 percent) and independents (62 percent) felt unions should have more influence, compared to 41 percent of GOP respondents. That may not sound positive, but the pro-union number among Republicans interviewed rose by 10 percentage points in a year. It had been as low as 26 percent in 2009.
Now the bad news: Respondents want to see unions have more influence, but they believe that instead, they'll have less in the future. Forty-six percent, a number virtually unchanged for the last few years, think unions "will become weaker" in coming years. Twenty-two percent believe unions will strengthen, and 27 percent say they'll stay the same.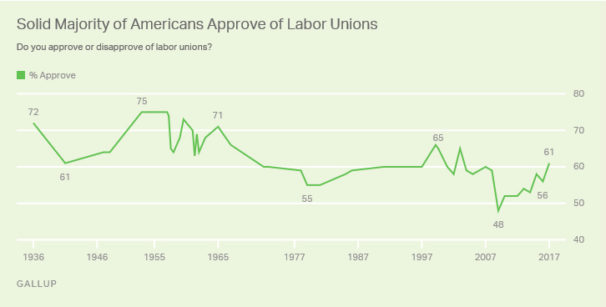 Gallup didn't ask what unions can do to increase their clout – and by extension the influence of all workers. But Gallup's separate historical records offer some clues.
One is by a 52 percent-41 percent margin in the 2016 poll, respondents felt unions helped the U.S. economy overall last year. That may not sound good, except it's a 13-point positive increase over the 2009 figures. The survey in between, in 2011, was 45 help-49 hurt.
But another Gallup survey shows unions have a massive education job to do, especially against right-wing rhetoric. The last time Gallup asked about so-called "right to work" laws – which are really right-to-work-for-less laws – in 2014, 55 percent of respondents had heard of them, but 45 percent didn't know what they were.
And asked that year if workers represented by a union shop should be required to pay dues, two thirds said "no." By the way, that was the exact phrasing of the question, with no mention of the union's role in winning better wages, benefits, and protections on the job.
On the other hand, remember that 52 percent of respondents say unions have about enough power or not enough, while 43 percent say unions have too much? Unions' opponents are another matter: Lobbyists are at 71 percent too much, while banks and corporations are tied at 67 percent. (The federal government is at 58 percent; We'd love to see the partisan breakdown on that one.)
That gives workers a fertile field to hoe: Campaign as a counterweight to the corporate crooks, financial fraudsters, and Washington influence-peddlers.
"The resurgence of labor union popularity is good news," Steelworkers President Leo Gerard said on the union's website. He drolly added Gallup shows "unions are much more popular than Congress. This may be because unions get things done."
Unions, he said, "increase wages for all workers – union and non-union alike. They work to create safer workplaces. They've campaigned against efforts to suppress voting. It is gratifying to see the popularity of unions has risen 13 points since 2009, particularly when wealthy, right-wing groups like ALEC and the State Policy Network are working every day to crush unions.
"The USW, the AFL-CIO and all of its member unions will continue working to end income inequality and improve the lives of all workers by ensuring they" – WE – "receive a fair share of the bounty created by their"—OUR – "labor."