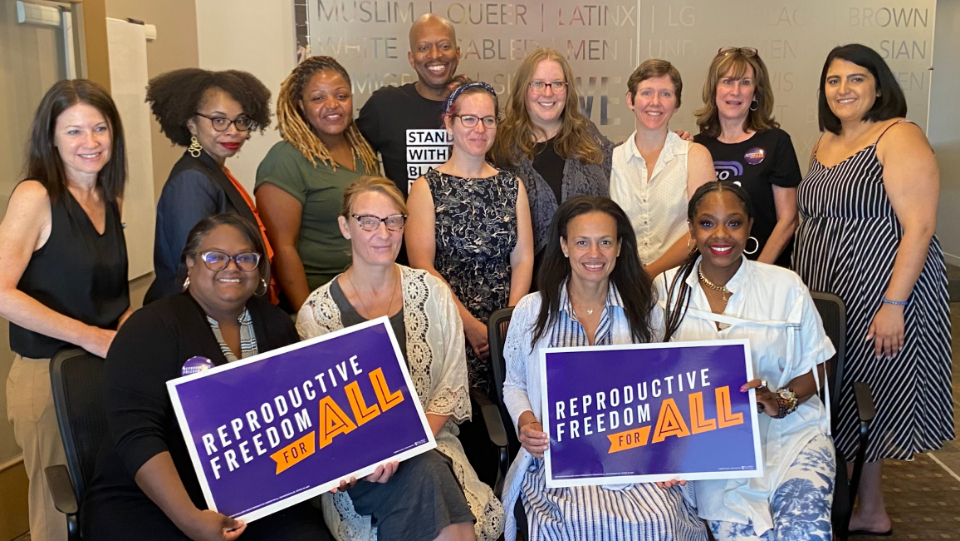 A measure to amend the Michigan state constitution to guarantee the right to an abortion and reproductive freedom just moved a step closer to appearing on the state ballot for the November election. A record 750,000 signatures for the constitutional amendment were submitted to the Michigan Secretary of State by a coalition of reproductive rights organizations on July 11.
The amendment would protect reproductive health services, including miscarriage management, contraception, prenatal care, and in-vitro fertilization.
"The Michigan Reproductive Freedom for All campaign's record-breaking signature submission reflects the urgency and grassroots energy powering this movement. A clear majority of Michiganders want to keep abortion legal," said Nicole Wells Stallworth, director of Planned Parenthood Advocates for Michigan (PPAM).
A recent poll showed that 59% of Michigan voters support the amendment, which reflects just how deeply unpopular the overturning of Roe v. Wade by the far-right Republican-dominated U.S. Supreme Court is with the American public.
The decision to eliminate the 50-year-old federally guaranteed right to an abortion is galvanizing women and reproductive rights allies in Michigan and across the country. Millions refuse to accept the decision and are fighting on multiple fronts, including at the ballot box. Outraged voters could make the difference in defeating Republican candidates in state and congressional elections.
"The Supreme Court will not determine our future—Michigan voters will," declared Ashley Phenicie of PPAM. "We know that a clear majority of Michiganders want abortion to remain legal," Phenicie said. "This ballot measure will give them a voice."
The Michigan Reproductive Freedom for All coalition responsible for collecting the signatures includes ACLU, Planned Parenthood Advocates for Michigan, and Michigan Voices. The ruling spurred tens of thousands of volunteers into action.
"Supporters from every corner of this state, from every walk of life, are signing up to volunteer, donate, and share their stories to ensure politicians can't interfere in our most personal medical decisions," Northland Family Planning Executive Director and Reproductive Freedom for All volunteer Renee Chelian said.
Signature collection for the ballot initiative began in January in anticipation of the Supreme Court ruling and took off after the opinion leak in May. "We got 30,000 new volunteers after the leak," said Jessica Ayoub, field director for the Michigan ACLU. "But in the week-plus since the decision, that's doubled to over 60,000. We have never seen anything like this before.
The right to an abortion is still legal in Michigan. Before the Supreme Court ruling, reproductive freedom groups also filed suit to block a 1931 state "trigger law" banning abortions from taking effect. Judge Elizabeth Gleicher imposed an injunction until the Court of Claims rules on the case.
Michigan Attorney General Dana Nessel said her office would refuse to enforce the 1931 law if a court lifted the injunction. The draconian law makes it a felony to have and administer an abortion and makes no exceptions even if a woman's life is at risk or in cases of rape or incest.
Gov. Gretchen Whitmer (D) also filed a suit challenging the law, saying it violates the state constitution's due process and equal protection clauses. She hopes a favorable ruling would mean the state constitution recognizes the right to an abortion.
Whitmer pledged to "fight like hell to protect every Michigander's right to make decisions about their own body with the advice of a medical professional they trust. I will not give in or give up for my kids, your kids, and the future of our great state."
But the 1931 law doesn't go far enough for extremist Michigan Republicans, who currently control both chambers of the state legislature. The state GOP introduced House Bill 6270, the Protection at Conception Act, which amends the 1931 law to make it a felony to manufacture, prescribe, and distribute drugs that induce abortions.
The SCOTUS ruling criminalizing abortion means, for the time being, the battlefront to defend abortion, reproductive freedom, and bodily autonomy centers on states and the 2022 elections. The outcome will depend on whether voters amend state constitutions to protect these rights and whether pro-choice Democratic legislative majorities and governors can be elected, including in so-called red states, to preserve and expand reproductive freedom.
"Michigan is at risk of a near total abortion ban—2.2 million Michigan women could lose their rights to bodily autonomy, including survivors of sexual violence—performing abortions would become a crime," wrote State Sen. Mallory McMorrow for 314 Action. "Just flipping 7 seats out of 148 total will flip both Michigan House and Senate into Democratic control."
Partisan Republican hacks on the Supreme Court and GOP-dominated legislatures are signaling they will consider eliminating other reproductive rights, including the right to contraception, in-vitro fertilization, and criminalizing those who cross state lines to get an abortion. The ruling is also an assault on the right to privacy, the foundation of a broad range of other democratic rights, including private sexual conduct, same-sex marriage, and inter-racial marriage.
Reproductive rights activists across the country hailed the Michigan ballot initiative. Activists and legislators are placing similar measures on the ballot in California and Vermont. The New York legislature also voted to begin the multi-year process of placing a state constitutional amendment before voters. In addition to executive actions announced by President Joe Biden, state legislatures like Illinois and New York strengthened pro-choice laws in anticipation of the ruling.
In contrast, Republican legislators are pushing more extreme anti-abortion measures, and initiatives will appear on the ballot in Colorado, Kentucky, Montana, and Kansas, where the state constitution codifies the right to an abortion.
Each new, more extreme step by the GOP to criminalize abortion and impose second-class citizenship on women raises the alarm about women's rights and its connection to a general assault on democracy.
The attack on reproductive freedom and voting rights, along with SCOTUS rulings undermining the ability of the EPA to regulate pollution and broadly expanding gun rights, and the Congressional hearings on the Jan. 6 insurrection, are creating a new political framework for the 2022 election.
Conventional wisdom assumed 2022 would be a wave election favoring the GOP. But the latest polls show Democratic and anti-MAGA voter intensity ramping up, and all the critical battleground races are now competitive. Some are now predicting a big voter turnout to defend constitutional democracy could result in a larger Democratic Senate caucus, including a pro-abortion, anti-filibuster majority.
The momentum being built around a state constitutional amendment guaranteeing abortion "will power us toward victory in November. Every day in every way, we'll stop at nothing to make sure people have access to the essential health care they deserve to control their bodies and build their futures," said Chelian.