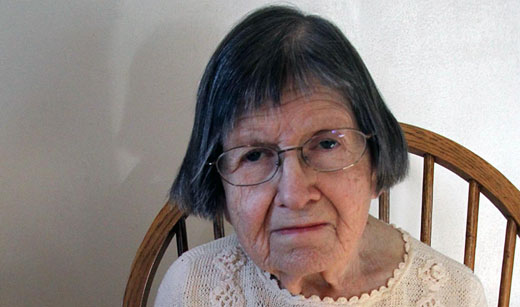 For more than 60 years Ruthelle Frank has not missed an election in her town, her state and her country. She first voted in 1948 and has voted in every single election since then.
She is herself an elected official in her hometown of Brokaw, Wisconsin. She is a member of the Brokaw Village Board.
Now, however, because of the new Republican voter ID law in Wisconsin, 2012 will be the first year Frank can't vote.
Under the new law people must carry a new state issued photo ID in order to vote. The ID itself is free but one must have a birth certificate in order to get the free ID. Birth certificates, for those in Wisconsin who don't have them, cost $20. Opponents of the Republican voter ID law argue that this, by itself, amounts to an unconstitutional poll tax.
Frank's first problem is that she does not have a birth certificate. People born at home in the 1920s in Wisconsin did not receive official birth certificates. Like many others in 1927, Frank was born in her own house.
Her mother recorded the difficult birth (Frank is, to this day, paralyzed on her right side) in the family Bible and inserted her daughter's certification of baptism into the same Bible a few months later. Her other IDs consist of a Social Security card, a Medicare statement, and a checkbook. All that aside, without the official birth certificate, she can't get the special state ID required for her to be able to vote next year.
"This is completely crazy," Frank said, when reached by phone. "I have this proof and that proof. What are they trying to tell me? Are they saying I'm not a U.S. citizen?"
Officials in Madison told her, she said, that she would be issued a new birth certificate for $20 because the state Register of Deeds has a record of her birth.
The Register of Deeds in Madison confirmed that it has a record of her birth and that it can issue a birth certificate for her.
Frank explained that there was another problem, however. When the clerk who first recorded her birth entered her name in the registry, he copied her name in a misspelled form, because the doctor present at her home when she was born had given him the wrong spelling of her last name, which was Wedepohl. The officials in Madison told her that in order to issue a birth certificate with the correct spelling she would have to pay $200, much more than the normal $20 fee.
To make matters worse, once she pays the $200 fee she will have to petition a court to amend the misspelled document – a process that would take several weeks.
Frank said that the state officials told her to simply pay the $20 for the incorrect birth certificate and just hope that the Department of Motor Vehicles would accept it as proof to enable her to get the photo ID card.
Other officials suggested that people with total disabilities could be eligible for exemptions from the new ID requirements and that she, since she is paralyzed, could be eligible for an exemption.
"That would be lying," said Frank, "and I don't' want to be forced to lie. I walk from home to the town board meetings every month. I may not be an Olympic athlete but I get around and I will not let them make me lie." She feels that her level of disability, which allows her to function on the town board and travel around, does not qualify her for an exemption.
Frank is angry.
"I look at that like paying a fee to vote," she declared. "This whole idea of photo ID to vote is for the birds, if not the birds then for some other animal. It's unbecoming to a great country, to a democracy. I'm going to fight this. I'm in it to the end."
The American Civil Liberties Union has gone to bat for Frank, and is fighting to have Wisconsin's new voter-ID law overturned.
The U.S. Justice Department says it too is looking carefully at the voter suppression laws put through by Republican lawmakers all over the country.
Photo: Ruthelle Frank at her home in Brokaw, Wis., Nov. 29. (Dan Young/The Wausau Daily Herald/AP)