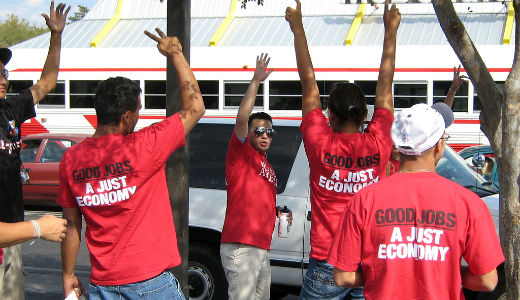 Breaking all records for labor participation in mid-term election efforts, 90,000 union members will campaign during the final four days before Election Day, Nov. 2, out of 1,200 staging areas across the nation.
Beginning Friday, Oct. 29 and ending Tuesday, just before polls close, they will make 5.6 million phone calls, knock on 4.1 million doors and pass out 1.9 million flyers.
The AFL-CIO says that the massive push will, in effect, build a "firewall" that will hold the line on expected Republican gains and allow Democrats to retain control of both houses of Congress.
"One-on-one grassroots contact will be the key for this election," declared AFL-CIO Political Director Karen Ackerman. "Union families trust and rely on the information their union provides and it cuts through the noise of unprecedented corporate cash being spent on false ads."
If the labor movement achieves its goal this weekend, a wrench will have been thrown into wheels already set in motion by people like GOP Rep. Davis Camp, who would, if Republicans take over Congress, become chair of the powerful House Ways and Means Committee. Corporate lobbyists have already been camping out in his office with instructions on how he should rewrite tax laws.
The "final four" push by the labor movement builds on what has already been the largest mid-term election effort ever by the country's unions. The immense Labor 2010 grassroots persuasion program involved 200,000 union volunteers who reached 17 million union voters in 26 states.
They made 23.6 million phone calls, handed out 17.5 million flyers at workplaces, knocked on over 1.3 million doors and sent 18.6 million pieces of mail.
"This resulted," said Ackerman, "in an increase in the generic congressional ballot among union members from plus 8 points to plus 25 points for the Democrats and doubling the lead for the Democratic Senate candidates among union members."
Labor's efforts fit into a broader campaign effort. The Democratic Congressional Campaign Committee reports ground operations in over 65 congressional districts and Organizing for America, the successor organization to the Obama campaign, is integrated into state party operations around the country. They also have been knocking on doors, calling voters and sending out mailings.
There has been a strong focus on African American voters, with more of them having been contacted in September than during the entire 2006 midterm elections.
The Republican get-out-the-vote effort, by most reports, is not as strong. GOP congressional staffers are being required to go out into the districts to try to match Democratic Party and union ground troops.
While there are a big number of House Democrats fighting off strong GOP challenges, many who were extremely vulnerable before the boots were put on the ground are now running very close races. CBS reported in the final weeks that even Democrats in conservative districts that the GOP should win are doing pretty well. Patrick Murphy in Pennsylvania and Dina Titus in Nevada, both of whom should, by conventional wisdom be far behind, are now deadlocked with their GOP opponents. What the CBS report did not say is that unions have been active in both those races.
The fact that the Democratic Senate candidates in Pennsylvania and Illinois are closing strong is also attributed, in large part, to labor's ground game.
"This election is as important as anything we did two years ago," President Obama told thousands of union activists on a teleconference call Oct. 26. "The labor program you guys have put into place is the backbone of the program."
It's not just the members of the country's unions who are mobilizing the last four days of the campaign. The AFL-CIO's top officials are fanning out for a series of get-out-the-vote events, concentrating on Midwestern states where there are hotly contested Senate and gubernatorial races.
AFL-CIO President Richard Trumka will spend Oct. 29 in Chicago, leafleting work sites and phone banking, and Oct. 30 through Election Day in Pennsylvania with Rep. Joe Sestak.
AFL-CIO Secretary Liz Shuler will phone bank Oct. 29 in Louisville, Ky., Oct. 30 in Colorado and will spend Nov. 1 and 2 in Illinois.
Arlene Holt-Baker, the federation's Executive Vice President, will spend the last four days of the campaign in Pennsylvania, Ohio and Connecticut.
Image: Darren J. Ryan AFL-CIO // CC BY 2.0