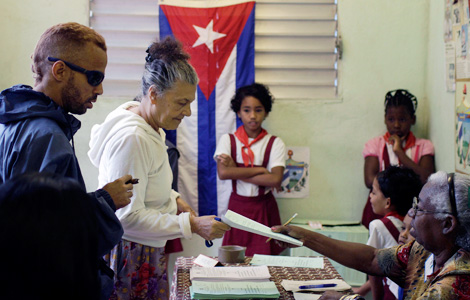 Cuba's system for choosing legislators at all levels makes up in organization and citizen participation what it may lack in U.S. style pre-vote electioneering. Its election season concluded on February 3, 2013 as 7, 877 906 voters chose 1 269 delegates to 15 provincial assemblies and 612 deputies to Cuba's unicameral national parliament.
The turnout represented 89.7 percent of those citizens enrolled in an electoral registry maintained by the National Election Commission. Some 4.6 percent of ballots were blank and 1.2 percent of them were defaced.
The balloting represented closure of a process that began on Oct. 21, when voters chose 13,127 members for 168 municipal assemblies. Second round voting, aimed to break tie votes or failure by candidates to achieve a required 50 percent voter approval level, had been set for a week later. Hurricane Sandy's passage through the island on Oct. 25, however, necessitated postponement. Subsequently two more voting rounds played out during November by which 1,410 more municipal assembly members were chosen.
The first job in their two and a half year term was to nominate candidates to run in the February 3 elections for terms in the provincial assemblies and the national parliament lasting five years. The nominated candidates had been identified by the National Candidacy Commission. That agency makes selections based on recommendations from unions, women's and student groups, small farmers' organizations, and local candidacy commissions.
Under provisions of Cuba's 1992 Constitution which regulate the entire election process, each municipality sends from two to five deputies to Parliament. One of the 25 delegates elected to Parliament from Santiago de Cuba was the leader of Cuba's revolution, former President Fidel Castro.
On February 3, voters cast two ballots – one for provincial assembly delegates and the other for local deputies to the National Assembly. In each case, they may either mark approval of an entire slate or select individual candidates,
Of those elected to the National Assembly, 67 percent are new deputies. Also, 48.9 percent are women, eight percent are less than 35 years of age, 37 percent are of African heritage, and 83 percent are university educated. Provincial assemblies now claim 50.5 percent women and seven percent of delegates under age 30. Almost half the provincial and national legislators are members also of municipal assemblies.
By February 10, provincial assemblies will have chosen their own presidents and vice Presidents. On February 24, the National Parliament will choose not only its own president and vice president but also 31 members of the Council of State including that body's president, first vice-president, and five vice-presidents. General of the Army Raul Castro is expected to be selected for a second term as Council of State President. His first term began in 2008 and in that capacity he serves as President of Cuba. Castro has suggested that Cuban presidents should be limited to two terms.
Parliament this term will have a new president. Ricardo Alarcon, president for 20 years, did not enter listings as a parliamentary candidate. The 75 year old former Cuban ambassador to the United Nations indicated that henceforth he will be devoting full time efforts to leading Cuba's campaign for release of all Cuban Five prisoners, men jailed in the United States for antiterrorist actions.
Cuban media reported on efforts taken to make voting easy and understandable. Educational materials had been circulated including DVD's. Voting took place in 29,957 locations throughout the island with provisions being made for the handicapped, inhabitants of remote areas, and voters living away from their own municipalities. Communication capabilities were upgraded in meeting places, factories, hospitals, and schools where voting took place. Telephones, internet services, and even passenger pigeons were used.
Mainstream foreign media either ignores Cuban elections as in the United States or vituperates against the proceedings as with several rightwing Spanish news outlets. As reported by ABC news there, "This Sunday again [marked] an electoral farce, more so than under Fulgencio Batista…Candidates were mostly militants of the single party. The opposition participates in non-dramatic ways by abstaining or submitting unofficial, damaged, or blank ballots."
Defenders of Cuban elections cite Jose Marti's Cuban Revolutionary Party as precedent for a single party. They point out that Cuba's Communist Party is a non – participant in elections and that not all candidates are Party members. They look back to instances in Cuba's past and elsewhere of special interests and their money permeating multi-party elections. The U.S. habit of injecting money and influence in other countries' elections is recalled.
In Cuba, Ricardo Alarcon said, citizens review and discuss important legislation before it is presented to legislators. As rendered by a reporter, Alarcon lauded Jose Marti's call for "discussion without reserve, without fear; with one heart, one breast."
Photo: People vote at a polling station during parliament elections in Havana, Cuba, Feb. 3. Cuban schoolchildren help serve as poll watchers, Franklin Reyes/AP