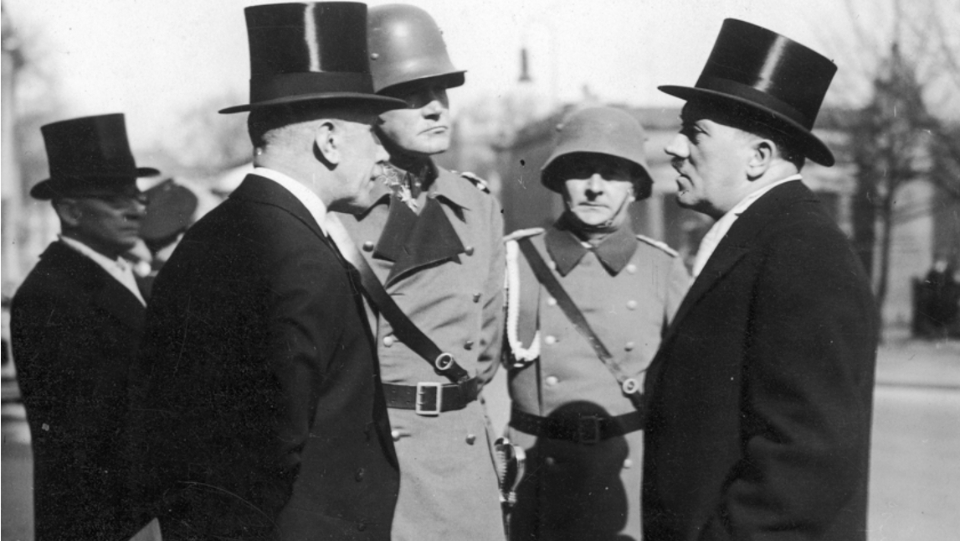 Jan. 30, 2023, marks the 90th anniversary of the corporate-facilitated appointment of Adolf Hitler as Chancellor of a deeply divided Germany. There is an alarming lesson in this disastrous development for a deeply divided America today. Cutting deals with fascists to catapult a voraciously power-hungry politician to high national office places a nation in grave peril.
Right-wing German corporate leaders from the Freundeskreis der Wirtschaft (Club of Friends of the Economy) did just that in 1933 in the wake of national elections which led to the collapse of a conservative government and an increase in Communist Party representation in parliament.
At secret meetings in January 1933 arranged by the influential banker Kurt von Schröder (now generally recognized as "the midwife of Nazism"), it was eventually agreed after some contentious negotiations that a new government headed by the fascist Hitler was the preferential option of alarmed conservatives and capitalists.
As Schröder himself later testified at the Nuremberg trials: "The general desire of businessmen was to see a strong man come to power in Germany who would form a government that would stay in power for a long time." Corporate Germany got what it wanted, and the rest of the world had hell to pay during the following 12 years.
Fast forward to January 2023 and the secret contentious negotiations that eventually culminated in Kevin McCarthy's election as Speaker of the House. The anti-democratic deals cut for that embattled promotion were dictated by a pack of political wolves from the far-right House Freedom Caucus. They did not act alone.
Alarmed by growing trends toward liberalism, even socialism, America's ruling class seized the moment of a slight Republican majority in the House to call in their chips and demand a return on their political investments.
A review of the mega donors to the congressional campaigns of the 46 members of the House Freedom Caucus reveals it as a nasty gang hopelessly beholden to extremist segments of finance capital, reactionary corporations, far-right political action committees, fundamentalist foundations, and the military-industrial complex:
The House Freedom Fund, a major financial trough for far-right House members, lavished more than $3 million on the campaigns of 33 House Freedom Caucus members, with its Chair, Scott Perry, and its Vice-Chair, Jim Jordan, pulling in more than $1 million and $65,000, respectively.
The Club for Growth, a billionaire-funded corporate benefactor for far-right politicians, invested another $212,000 in Perry alone and more than $238,000 in other House Freedom Caucus members.
Weapons manufacturers (Lockheed Martin, Northrup Grumman, Boeing, Raytheon) pumped a total of $776,000 into the coffers of 30 members.
Over $350,000 was funneled into the campaigns of 15 HFC members by major banking organizations, such as the American Bankers Association, Mortgage Bankers Association, Bank of America, and Goldman Sachs.
The notorious corporate supporter of all that is neo-fascist, Koch Industries, poured over $653,000 into the collective campaign war chests of 28 members.
Save America, a PAC formed by the instigator of the January 6 fascist putsch attempt, Donald Trump, threw $5,000 apiece to 30 of its members.
The Majority Committee PAC, founded by the embattled House Speaker McCarthy himself, injected $545,000 into the campaigns of 31 HFC members.
28 HFC members shared $392,000 in campaign donations from Steve Scalise's Eye of the Tiger PAC.
The Huck PAC, founded by Christian nationalist and former Arkansas Gov. Mike Huckabee, helped fund the campaigns of 37 members with $260,000.
Among the other hard-right leadership political action committees having donated to several HFC members are Save America/Stop Socialism; Stop Collectivism or Totalitarian Triumph; Be Victorious Over Democrats; Come and Take It; Hellfire; Patriots in Action; House Liberty Fund; Faith in America; Defend America; Making America Prosperous Again; and Stand for America.
Citizens United Foundation gave a total of at least $153,000 to eight HFC members, including both its chair and vice chair.
Among the many minor corporate supporters of the HFC is the innocuous-sounding Publix Supermarket. Its heiress, Julie Francelli, was singled out by the House Select Committee on the January 6 Attack, as a major financier, with $3 million, of the 2021 fascist putsch attempt.
Significantly, not a single labor organization donated to the campaigns of any House Freedom Caucus member. The financial support for this cancerous caucus came exclusively from capital, from its most reactionary segments.
Given these large amounts of funding from corporate America and its billionaires, it comes as no surprise that the first official action of the duly-constituted 118th Congress was to strip some $80 billion from the IRS and thereby gravely impair its ability to audit wealthy tax cheaters.
During the raucous debate on this issue, a Democratic legislator (Brad Sherman) adapted a classic line from It's a Wonderful Life to denounce the House Freedom Caucus: "Republicans support this bill because every time a billionaire successfully cheats on his taxes, a member of the Freedom Caucus earns his wings."
Nor should it be any surprise that many Republicans—the 121-member Insurrection Caucus—wanted to overthrow the results of the 2020 election. Every HFC member, save one (Chip Roy), who was part of the 117th Congress, voted to decertify the electoral college vote of 2021.
Every one is also a rabid supporter of Trump and his fascist MAGA movement. That includes all six new members: Elijah Crane, Anna Paulina Luna, Mike Collins, Josh Brecheen, Harriet Hageman, and Andy Ogles. One of those new members, Ogles, gave voice to their general intent: "Liberals, we're coming for you!" Hitler's Nazi Party had the same intent and pursued it with a vengeance.
In both ideology and praxis, the House Freedom Caucus is the functional equivalent of Germany's 1930s ruling party. However, there is a major difference between these two fascist forces. The HFC usurped only partial control of our lower house of Congress, not total domination of the government.
While these authoritarian legislators and their right-wing allies are hell-bent on eventually gaining totalitarian control of the government, they overplayed their hand in their disturbing grasp for power in the 118th Congress and clearly exposed themselves as fascists to anyone with eyes to see.
That revelation, like the violent January 6 fascist putsch attempt two years earlier, gives increasing rise and impetus to its dialectical opposite: a broad-based united front against fascism determined to throw these scoundrels out of office. The struggle to rescue and qualitatively advance our embattled democracy continues, now more earnestly than ever.
As with all op-eds published by People's World, this article reflects the opinions of its author.