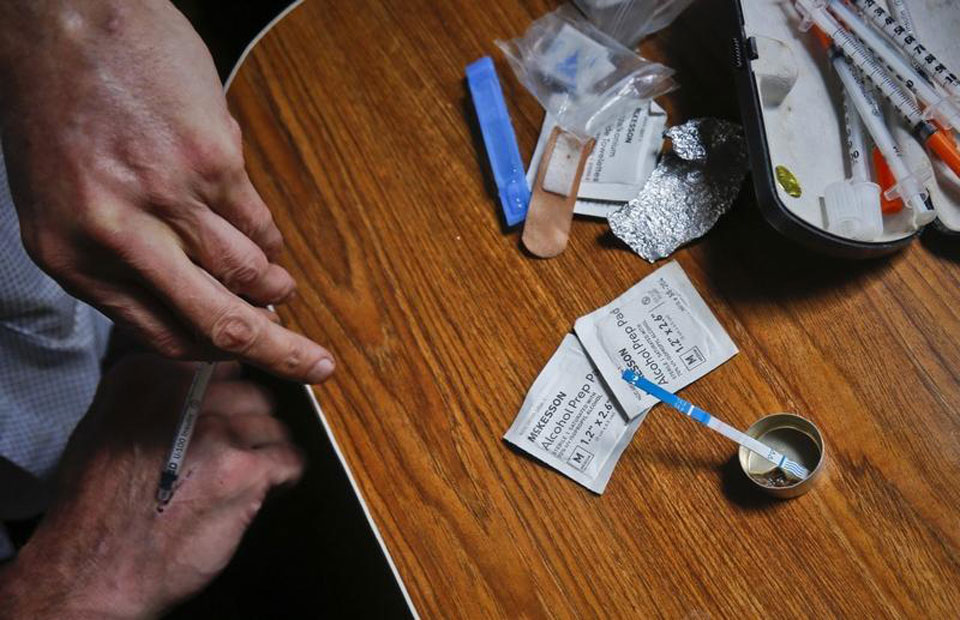 This is the second article in a series on the nation's opioid and substance abuse crisis. The first article dealt with how the largest pharmaceutical manufacturers and distributors criminally created the addiction crisis and profited from it.
Over just two days in July, nine people died from drug overdoses in Franklin County, Ohio. The rash of deaths is a stark reminder of the ongoing public health crisis which has claimed over 700,000 lives since the 1990s.
This is the deadliest drug overdose crisis in US history. What will it take to end it?
For a variety of reasons, including a 34% decrease in opioid prescriptions, overdose deaths declined slightly in 2018, the first since the 1990s. Trump promptly took credit for the drop, but health policy experts are not at all convinced a turning point has been reached. They point to statistics showing some states where deaths increased.
Despite steps taken by some state governments, the response by the Trump administration and GOP dominated Congress doesn't match the scale of the emergency, say these experts.
Meanwhile, in the largest civil trial in US history taking place in Cleveland, Ohio, 2,000 government entities are suing pharmaceutical manufacturers, distributors, and scores of doctors for creating the addiction crisis. The landmark lawsuit charges the companies knew opioids were highly addictive. It accuses them of looking the other way when they received unusually large orders that then ended up on the black market.
Unsealed court documents revealed the pharmaceutical companies flooded the US with 76 billion opioid pills between 2006-2012. In 2015, an estimated 12.5 million Americans were abusing opioids. Once addicted, many turned to cheaper substances, including heroin, cocaine, and methamphetamines. 80 percent of heroin users started out addicted to opioid painkillers.
Fentanyl, a synthetically produced opioid, has also been used as a prescription painkiller. Fentanyl is exceptionally addictive. It is 100 times more potent than morphine and 50 times more potent than heroin. Global criminal organizations are trafficking illicitly mass-produced fentanyl. It's inexpensive, easy to manufacture, and can be combined with other drugs to increase profits.
Addiction to fentanyl-laced drugs is being called the third phase of this overdose crisis. The number of deaths from prescription opioid painkillers declined in 2018. But the number who died from fentanyl-laced drugs, including heroin, methamphetamines, and cocaine, increased steeply. Growing fears about the lethal dangers of fentanyl are thought to be driving the dramatic resurgence in methamphetamine addiction.
Trump administration – little talk and less action
The opioid crisis was a big issue in the 2016 presidential elections. Then-candidate Trump made many promises to address the crisis. But since taking office, the administration has done little.
After much pressure, Trump appointed the Commission on Combatting Addiction and the Opioid Crisis. Trump issued a Public Health Emergency in October 2017, three months after the commission released its recommendations.
In 2018 Congress passed the Support for Patients and Communities Act. The legislation expanded addiction treatment while stepping up efforts to stop the illegal trafficking of synthetically produced opioids.
Most public health experts and activists say the legislation fell far short of what is needed, especially funding for addiction treatment. A minimum of $100 billion over many years is required to address the crisis. By comparison, the Federal Government spent $34 billion in FY 2019 to combat the AIDS crisis.
Since then, sharp differences have emerged in the administration between the Justice Department and Drug Enforcement Agency (DEA), still without a permanent head, and the Department of Health and Human Services (HHS). The DEA is approaching the crisis as a law enforcement issue, whereas HHS wants to prioritize addiction treatment.
Meanwhile, the Trump administration 2020 federal budget would increase funding to address the crisis by only a few $10s of millions. But it would also slash funding to the HHS, Medicaid, and Medicare which pay for addiction treatment. And Trump and the GOP are still intent on dismantling the Affordable Care Act. If they are successful, an additional 200,000 addicted people will lose access to treatment programs.
A border wall is no solution
Trump's primary solution to combat the crisis is to construct the US-Mexican border wall to allegedly stop the flow of illegal drugs while imposing the death penalty. Trump launched his presidential campaign with a racist characterization of Mexican immigrants as "rapists" and "drug pushers." His racist hysteria of an "invasion" at the US-Mexico border was echoed by the white supremacist mass shooter in El Paso.
Most law enforcement experts and national security officials say a border wall won't stop the flow of drugs. International criminal gangs and drug cartels ferry the drugs mainly through legal ports of entry. Many of the methods of transport were detailed in the recent trial of the drug kingpin, Joaquín "El Chapo" Guzmán. They include bribes to elected officials, including a former president of Mexico, and law enforcement on both sides of the border. Since Trump took office, 13 Customs and Border Patrol agents have been charged with corruption.
And not all drugs are shipped through legal ports of entry along the US-Mexico border. On June 18, federal authorities stopped a shipment of $1 billion worth of cocaine in the port of Philadelphia, the most massive bust in US history. The ship originated in Chile and was destined for the Netherlands.
The DEA says most of the fentanyl coming into the US is produced in China. Some of it is mailed directly to couriers in the US. Larger quantities enter through Canada and Mexico via drug cartels and organized crime channels already in place to transport heroin, marijuana, and cocaine.
The Trump administration trade war with China undercut an agreement with the Chinese government to clamp down on fentanyl production. At the request of the US, China had outlawed all classes of fentanyl-related analogs and products.
Methamphetamines use has spiked the last two years, spreading all across the country. At one time meth was cooked in labs around the US. But it's believed Mexican drug cartels developed a cheaper version allowing them to make deep inroads into the US market. Most of it enters the US in the same organized crime channels as fentanyl and cocaine.
A massive and comprehensive program needed
Public health officials and experts contend any plan to deal with the opioid and substance abuse crisis must be multi-faceted, massive in scale and long-lasting. It needs to deal with the general problem of substance abuse, both drugs, and alcohol and accessible to everyone who needs help. Only 35% of adults suffering from opioid abuse received treatment in 2018.
The social stigma surrounding addiction, which leaves millions to suffer isolated and alone, must be removed. Victims are often blamed for their addiction, seen as a moral failing. Instead, addiction is rooted in complex psychological, social, and physical causes. People need help, not punishment, to overcome it.
The pharmaceutical companies should be brought to account for creating the crisis. The incestual relationship between the pharmaceutical companies and the federal government must end. The companies are entrusted to self-police, much like the FFA did with Boeing, with the same tragic results. And recently the National Institute of Health turned to the pharmaceutical companies to draft guidelines to address the crisis.
Ultimately, the entire pharmaceutical industry needs to be placed under public authority.
Public health experts advise that naloxone, a drug that reverses overdoses, must be readily available to all who need it. First responders, family members, and community organizations should be trained in its use.
Medications like methadone and buprenorphine should be widely available to help people reduce their need for or quit using opioids. Fewer than half of addicts are offered addiction treatment medications.
Millions are dealing with chronic pain. However, as the documents from the Ohio civil case make clear, the pharmaceutical companies fraudulently pushed vast quantities of opioids as a safe cure-all. They did so regardless of need and knowing opioids were dangerously addictive.
Pain management can be addressed with other non-opioid medications and other means including massage, meditation, chiropractic care, cold and heat, nerve stimulation, yoga, and tai chi.
Access to mental health treatment should be radically increased. People need help dealing with underlying reasons leading to opioid and other substance abuse, like phycological trauma, and social and economic despair. Medicare for All universal health care program would cover mental health treatment.
Economic and educational opportunities are needed to help people rebuild their lives. This could be possible through free college education and the Green New Deal, which would create millions of new jobs.
Warren has a plan
While the Democratic presidential debates so far have not focused on the opioid overdose crisis, several candidates have begun fleshing out solutions. Of the candidates, Elizabeth Warren has the most ambitious and comprehensive proposal. She unveiled it while traveling through West Virginia and Ohio, two states hard hit by the epidemic.
Warren's proposal is an updated version of the CARE Act she co-sponsored with Rep. Elijah Cummings (D-Md). It would build a massive addiction treatment infrastructure modeled on the approach to combat the HIV/AIDS epidemic. $100 billion would be invested over 10 years funded through a wealth tax. State, local and tribal governments and public health institutions and non-profit agencies would work together. It directs funding to the hardest-hit communities and expands access to naloxone.
Warren would also prosecute the pharmaceutical companies for their role in creating the crisis.
Sen. Bernie Sanders is a co-sponsor of the Opioid Crisis Accountability and Results Act. It prohibits illegal marketing and distribution of opioids. It allows corporate executives to be charged with criminal liability and penalizes drug manufacturers who illegally advertise, market, or distribute opioids. It requires them to reimburse the country for the harm they have caused.
Finally, the opioid and drug overdose crises are global. Over 271 million people are addicted worldwide, a 30 percent increase in 10 years, with 585,000 dying of overdoses in 2017 alone. The UN annual meeting of the Social, Humanitarian, and Cultural Commission made clear drug trafficking is increasingly intertwined with terrorism. Transnational criminal organizations, including those resembling legitimate businesses, launder money through established banks, along with other corruption.
Global cooperation is needed to both regulate production and distribution of legal painkillers and combat illegal drug trafficking while massively funding drug addiction treatment. Global economic development, universal health care, and education are needed to address economic and social despair to end the demand for drugs.