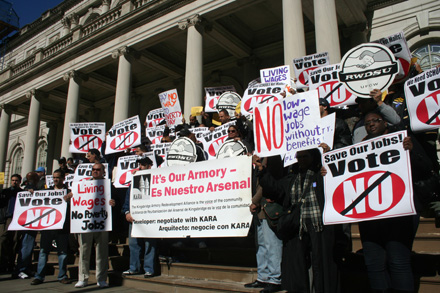 BRONX, N.Y. – On Sunday, October 25, close to 1,000 Bronx residents overflowed the gymnasium of the St. Nicolas of Tolentine Church to demand a new "Blueprint for the Bronx," a blueprint for responsible economic development, quality health care, decent education and affordable housing. Community residents also spoke out against the criminalization of and hate-mongering against immigrant workers and rent-gouging by landlords.
The rally was sponsored by the Northwest Bronx Community & Clergy Coalition (NWBCCC), an alliance of churches and local community groups.
Signs reading "Our community, Our plan"; "Living wages, No poverty jobs"; and "Whose armory? Our armory," pointed to the most topical issue for the community: the redevelopment of the historic Kingsbridge Armory, one of the country's largest, located a few blocks from the church. The Kingsbridge Armory Redevelopment Alliance (KARA), a 22-member coalition of local groups, churches and unions has waged a year-long campaign to achieve a binding community benefits agreement (CBA) with the armory's developer, the Related Companies.
In a deal worked out with the corporate-friendly Bloomberg administration, Related will pay only $5 million for a landmark property that is actually valued at $20 to $25 million, and will also receive $17 million in tax credits. The developer's plan is essentially to turn the armory into a cash cow by leasing space to national chains which typically hire part-time workers and pay minimum wages without benefits. Such chains, critics point out, would drive out local businesses, including a supermarket whose workers are members of the Retail, Wholesale and Department Store Union, earning decent wages and benefits.
In return for massive public subsidies and the promise of large profits in the years ahead for the developer, KARA is demanding full-time union jobs with living wages and benefits, priority in hiring to local residents, and the creation of schools and community recreation facilities in a section of the city that has a severe shortage of both.
New York City Comptroller and mayoral candidate, William Thompson, earned a standing ovation for his support of the community demands. "It's about fairness for Bronx residents. Related's plans will do damage to the community," Thompson said. He pledged that if elected mayor, he would disapprove any development that did not meet the community's goals.
The crowd also cheered the new Bronx Borough President Ruben Diaz, Jr., who has rejected Related's proposal for the armory, when he called the community fight-back "a new revolution." "It is not too radical or extreme to ask the developer to create living wage jobs. It is our moment, our time," Diaz said.
In recent weeks, the Bronx community has won important allies for its struggle against Related: AFL-CIO President Richard Trumka, the New York City Central Labor Council and heads of five major unions, including the Building Construction Trades Council, have all joined in solidarity with KARA to reject Related's plan.
CBAs are legally binding contracts that have been hammered out between grassroots groups and developers in several cities nationwide, including Los Angeles, Denver and Milwaukee. In its efforts to win a tangible CBA for the Armory, KARA hopes to avoid the fate of the working-class neighborhoods surrounding Related's recently-opened Gateway Mall in the Bronx, an example of low-road economic development. The struggle also takes on added urgency given the loss of over 100 unionized jobs owing to the closing and dismantling of the Stella D'Oro biscuit factory in nearby Kingsbridge Heights, by a private equity firm that bought the plant in 2006.
The development process is now at a pivotal juncture, as KARA takes its case to the New York City Council, which will make a final decision on the project within 50 days. The thumbs-down by Diaz and a "no" vote by Bronx City Council members could persuade the City Council as a whole to shelve the developer's proposal.
KARA leader and clergyman Doug Cunningham exhorted everyone to attend the New York City Council's public hearing on the Armory on Thursday, November 12. "We have waged a long campaign; we have marched, prayed and testified. We will now speak with one voice, and we will win!" he said to thunderous applause.
(Photo credit: KARA)