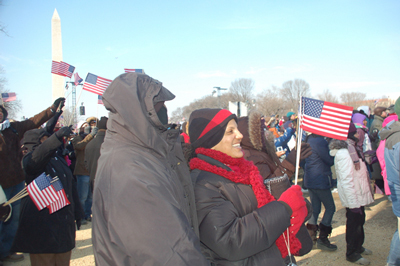 It was a day to remember.
The two million people, who showed up in Washington on Jan. 20, constituted a most important demonstration of the 21st century and symbolized the start of a new era in our country and perhaps the world.
People came in record numbers, not to protest, but to celebrate. They came as families: grandparents' with deep creases lining their faces; children and teenagers as excited as they were bundled up, prepared for the freezing temperatures; moms and dads; young couples hugging and smiling; Black women wearing mink coats donning their finest for history. People arrived with canes and in wheelchairs, waiting outside for hours to be part of a day to remember.
They came remembering those who came before and sacrificed, in particular the heroes and heroines of the civil rights movement, from Martin Luther King to Dorothy Height to John Lewis.
It was indeed a special day for African Americans. Pride mixed with tears, remembering their own lives, struggles and those of foremothers and fathers – a collective history and struggle. "I was at 1963 Washington march," many said to their grandchildren, handing down to the next generation that their struggle – all struggle for freedom – was not in vain. Progress can be made.
It was a special day for all Americans – born here or coming to this country from many nations. It was a most multi-racial, multi-national crowd.
One thought of W.E.B. Du Bois. "The problem of the 20th century is the problem of the color line," he said when segregation was the law of the land.
Americans crossed the color line of the 20th century and moved forward into the 21st century, ready to take on new color lines and new class lines.
The desire for unity ran deep, deep, deep. It was expressed in numerous interviews and conversations. Hope, change, happiness and optimism prevailed in the midst of the twin crises of the economy and war.
The Lincoln Memorial concert, Martin Luther King Jr. holiday and the Inauguration were all a mass popular education in American history, a people's history – African-American history. The fight for freedom is so intertwined in African-American history and America's history and is so crucial to progress for all. On display for millions was some of the best of our country's progressive patriotism.
This new administration and what they inspire will be a mass education on these themes as well, a rebirth and renaissance of American progressivism.
The Inaugural weekend, a mixing of music, poetry, and prayer, was full of odes to working people, ordinary people, "the makers of things."
The gigantic crowd itself gave confidence in the American people. Everyone acted mature, smart, cool, calm and collected during some very difficult moments: like standing nose to nose for 45 minutes outside of Union Station for thousands to pass through just two doors, one of them being a revolving door. At least we were warm packed together like sardines.
President Obama's speech should be studied. Hearing it the first time, may create disappointment among some. Phrases may rub one the wrong way. It may seem contradictory to the idea of a rebirth of American progressivism. Yet, upon reflection, a second hearing, a full read, the speech signals a new era. It is deep in content and context.
When the crowd booed Bush it was hilarious, but not mean. They didn't boo number 41 (Bush's dad) or General Colin Powell (he even got a cheer in our section) but Joe Lieberman got a few boos too. America is certainly glad to see the Bush/Cheney gang go and to find out how much damage they did.
The day, though, in the end was not about Bush. It was about change. It was about family. It was about struggle and progress. It was about history.