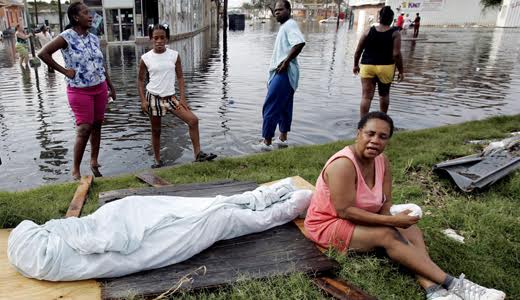 On the 10th anniversary of Hurricane Katrina's destruction along the Gulf Coast, registered nurse volunteers with the disaster relief program, Registered Nurse Response Network (RNRN), which sent hundreds of RN volunteers to provide disaster relief to the region in the wake of the deadly storm, say that critical lessons which exacerbated the 2005 crisis – global climate change, our lack of a national healthcare system, and failure to invest in public resources and infrastructure – have still not been learned.
Katrina commemoration events
Nurses from RNRN, a project of National Nurses United (NNU), the country's largest organization of RNs, are back in New Orleans this week to show support for residents of the region and highlight that the problems, which existed 10 years ago, continue to fester.
RNs, some of whom volunteered with RNRN post-Katrina, will staff a first aid tent and participate in Katrina commemoration events hosted by Gulf South Rising, a coordinated regional movement of people and groups to highlight how the global climate crisis, and the rising sea levels that come with it, are affecting the Gulf Coast states.
"Things aren't just the same, they're worse," said Malinda Markowitz, RN, a NNU vice president who will participate in the events. "As nurses, we always want to get at the root causes of illnesses, and Katrina exposed them all: the socioeconomic inequality, the racism, the lack of access to healthcare, how we've defunded our public infrastructure, and how our dependency on fossil fuels has accelerated climate change. On this anniversary, we are again working to build the movement needed to fix these problems."
Volunteer RNs sprung into action
After Hurricane Katrina hit the Gulf and New Orleans flooded, forcing the evacuation of millions of residents and trapping – and sometimes killing – those who remained in the city, RNRN sprung into action to supply volunteer RNs to the affected areas.
What nurses learned was that there was no coordinated emergency system to respond to natural and man-made disasters such as this one. Federal, state, and county and municipal agencies all implemented their own plans, which resulted in chaos.
Despite the confusion, RNRN was ultimately able to determine the needs of various hospitals and state disaster agencies overwhelmed with the need for qualified medical providers and place more than 300 volunteer RNs in positions where they could fully utilize their skills, experience, and knowledge as registered nurses.
In Baton Rouge, La., RNRN sent rotations of nurse volunteers to relieve exhausted staff nurses at Earl K. Long Medical Center, the only public hospital (now closed) in the city where scores of New Orleans evacuees had fled. RNRN also sent nurse volunteers to a number of hospitals and clinics in other parts of the Gulf, and provided a significant percentage of nurses who staffed medical services for thousands of evacuees sheltered at the Houston Astrodome, where many New Orleans residents had been bussed.
A decade later, the nation has made little progress in addressing the systemic problems Hurricane Katrina laid bare:
Systemic problems
Climate change, which results in rises in sea temperatures and likely increased the size and intensity of the hurricane, remains a major global crisis. Despite numerous climate summits and treaties, dependence on burning fossil fuels as the world's primary energy source continues.
A number of countries lag behind efforts to reduce CO2 levels that scientists say must be lowered to arrest and reverse the warming of the earth. Many policy makers in the U.S., at the behest of the fossil fuel industry, continue to oppose robust action to stem the effects of the climate crisis. The earth's current, identified fossil fuel energy stores – of oil, gas, coal, etc. – are already five times more than scientists say we can safely burn and not risk planetary collapse, and the U.S. is still one of the top two emitters of greenhouse gases.
Millions of Gulf residents are still without access to healthcare. While the Affordable Care Act did end some of the worst insurance industry abuses that shut many people out of access to coverage, many patients still cannot afford to use the health insurance they pay for because of the high deductibles and copayments those plans require. And while the Affordable Care Act greatly expanded Medicaid coverage, all of the Gulf states -Louisiana, Mississippi, Texas, Alabama, and Florida – have refused to take advantage of the expansion, depriving their states' lowest-income residents of needed healthcare services.
Investments have been diverted away from public infrastructure and public resources, and systems in New Orleans and the rest of Louisiana into privately owned entities. Public hospitals, such as Charity Hospital in New Orleans and teaching hospitals connected to Louisiana State University, were never reopened, have been shut down, or privatized. The New Orleans traditional public school system has been largely privatized and turned into a charter and voucher system.
The racial disparity in the post-Katrina "recovery" is especially pronounced. A recent Louisiana State University survey found that almost 80 percent of white New Orleans residents say that the city has "mostly recovered" from the disaster, but some 60 percent of black New Orleans residents say the city has "mostly not recovered." African-Americans, reports 538.com, are less likely to be working than when the storm hit, more likely to be living in poverty, and the racial wage gap has grown. An estimated 100,000 of the city's poorest African-Americans have been unable to return.
"Those populations that were more vulnerable before the disaster continue to remain the most vulnerable now," said Bonnie Castillo, RN, director of the RNRN program. "Katrina taught us that these types of services – public housing, education, healthcare, safety – need to be centralized and socialized. Instead, there's been a real move to decentralize and privatize."
Photo: FILE – This Aug. 30, 2005 file photo shows Evelyn Turner, right, with friends and family, waiting with the body of her husband, Xavier Bowie, after he died in New Orleans. They had decided to ride out Hurricane Katrina when they could not find away to leave the city. Bowie, who had lung cancer, died when he ran out of oxygen that Tuesday afternoon. At an estimated $81 billion in property damage, it is the costliest natural disaster in U.S. history. But to many, especially to those in greater New Orleans, this catastrophe was anything but an act of God. (AP Photo/Eric Gay, File)