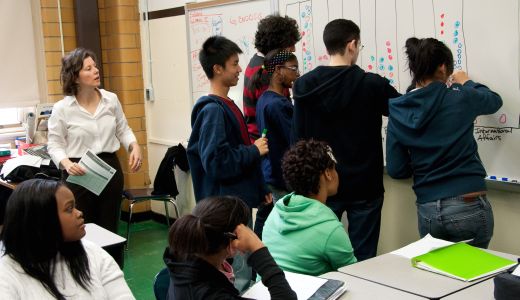 BROOKLYN, N.Y. – Community residents filled the library at Brooklyn Tech High School Tuesday night to hear Jo Comerford, executive director of the National Priorities Project, speak on budget cuts, the federal budget and war spending. Comerford, a nationally-known expert on budget matters and our country's tragically misdirected national priorities, helped clarify the complicated subject of federal spending so that people could see where and how their tax dollars are being used (or misused). People were able to see clearly that the oversized Pentagon budget ($737 billion next year!) and the two wars in Iraq and Afghanistan ($1 trillion since 2001!) were draining resources so that solutions to urgent domestic problems are becoming difficult, if not impossible, to solve.
Comerford also visited students at two high schools in the hours before the evening event. At Carroll Gardens' Brooklyn School for Collaborative Studies and later at Brooklyn Tech High School, she addressed students who were asking why free transit MetroCards are being threatened by the MTA (Metropolitan Transportation Authority) and the city – who both are pleading poverty. She pointed out that just in Brooklyn alone, taxpayers have doled out $9 billion on the two wars – money which could solve the mass transit shortfall many times over.
The events were sponsored by Brooklyn For Peace. The Brooklyn Tech events were also sponsored by Progressive Student Awareness , a student club at that school.
A slideshow of the day's activities is available here.
Photo: During Comerford's talk with students at Brooklyn Tech High School, schools, health, environment and science collected the largest amount of students' "dimes" (i.e., their spending choices). The military scored no money at all! (Matthew Weinstein)