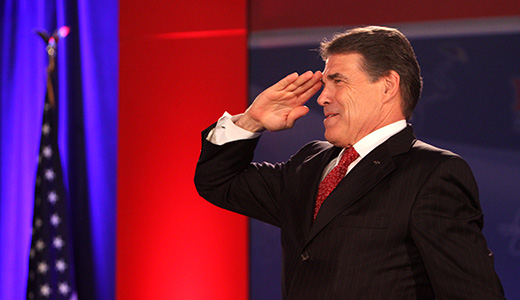 Perhaps inevitably, due to overall GOP discontent with their crop of presidential candidates, Texas Gov. Rick Perry has thrown his Stetson into the ring. Perry enjoys popularity among the American Right, who often cite his record as Texas governor as the way forward. However, a closer examination of Texas under Rick Perry ought to give any American a shudder.
Perry and his supporters like to tout his record of job creation in Texas. Granted, 38% of American jobs created since 2009 have been in Texas, but that hardly tells the whole story. In fact, unemployment under Rick Perry has actually increased from 4.3 percent in 2007 to 8.3 percent in 2011. This is due to the fact that, while Texas has created some jobs, it has failed to keep up with its own population growth. It is behind 25 states in terms of unemployment.
Additionally, a good chunk of the jobs that Perry touts are very low-paying jobs. In fact, 10 percent of all workers in the state are paid at or below the state's minimum wage. This statistic ties Texas with Mississippi as the states with the highest percentage of workers at the minimum wage level. The number of minimum wage jobs in Texas has jumped 150 percent since 2007.
Texas also lags behind in wage increases. Between 2007 and 2011, the average wage per worker has increased 5 percent in the United States, 9.3 percent in California, and 2.5 percent in New York. In Texas, the average wage per worker increased a paltry .06 percent.
Perry likes to use his condemnations of the federal government's debt and spending as applause lines. However his track record on Texas's debt tells a different story. Texas's public debt increased from $98 billion in 2001 to $216 billion in 2011, and the solidly Republican state's debt has actually increased faster than the U.S. national debt in the same period. Currently, Texas is looking at a $25 billion shortfall on its $95 billion two-year budget.
Despite his claims that "Texas has the best health care in the country," a quarter of all Texans lack health insurance – well above the national average of 15.4 percent. In fact, 13 of Texas's congressional districts are in the nation's bottom 30 in regard to rates of insured citizens. Additionally, Texas has one of the nation's most restrictive Medicaid thresholds, including denying access to impoverished people who are childless.
Education is another area where Rick Perry has nothing to brag about. Contrary to his claims that Texas has the highest SAT-taking rates in the nation, it ranks only 22 of the 50 states. Even less impressive: Texans have the fifth lowest SAT scores of all the 50 states, and the state is the third least literate. It also ranks 43rd and 50th respectively, in high school graduation rates and the percentage of residents 25 and older with a diploma or GED.
Perhaps this may be due to Texas having the 47th lowest spending rate on education in the nation. Either way, these woes aren't likely to improve with Perry's $10 billion cut to education in his recent budget. Perry also rejected $830 million in federal aid to Texas schools. Why? Because after he used $3.2 billion in stimulus funds targeted at schools to instead plug up his budget (and his reputation), Democrats from Texas inserted special language to prevent Perry from doing so again.
Not surprisingly, Perry clings to abstinence-only sexual education for Texas students. Despite evidence to the contrary, Perry claims that "abstinence works," citing his "personal life" as evidence. By 2009, over 94 percent of Texas school districts had adopted abstinence-only sexual education. This education included curriculum emphasizing that birth control is ineffective, contrary to the facts. These programs combine an overemphasis on sexually transmitted diseases and death with Christian views of morality. Many public school districts use handouts containing Bible verses as part of their sexual education.
What are the results? Texas has the third highest teen pregnancy rate in the nation. In fact, pregnancy rates under Perry have skyrocketed, and are now over 50 percent higher than the national average. Even more alarming: Texas has the highest teen repeat pregnancy rate as well as the third highest rate of youths with HIV.
Perry, like many of his Republican colleagues, is an avid climate change denier and invokes the idea of a science conspiracy, claiming that is part of some "secular carbon cult." Perhaps this is due to the $11 million Perry has received in campaign contributions from the oil industry since 1998. Not surprisingly, the state of Texas is also the nation's largest polluter and is fighting against the Environmental Protection Agency's attempts to curb its excessive culture of pollution. Perry is most upset about the EPA's rejection of his state's "flexible permit" policy which would cut costs to polluters at the expense of the environment.
Rick Perry and his record are often touted by conservatives, who are likely filled with glee now that he has entered the presidential contest. However, based on his record as Texas governor, what could we expect from a Perry presidency besides: low paying jobs, higher teen pregnancy and STD rates, declining education standards, creationism in the curriculum, state-sponsored prayer, and more pollution?
Photo: Gage Skidmore CC 2.0