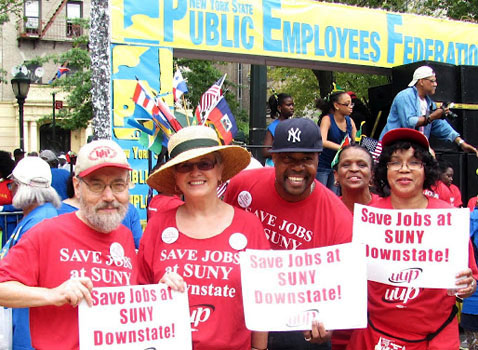 BROOKLYN, N.Y. – Public health professionals are working to save hundreds of jobs and preserve community services here at a state university-run medical center, the fourth largest employer in the borough. Facing financial pressure from a failed hospital takeover, the State University of New York Downstate Medical Center is downsizing staff, putting at risk vital health services for the many working class and poor communities it serves.
Two unions representing the medical center workers, United University Professions and Public Employees Federation, are joining forces with community organizations, elected officials and others to preserve the jobs and services. Civil Service Employees Association also represents workers at Downstate.
"People are bracing themselves for the worst," one worker said. "It's been really tense. There are a lot of sad faces, a lot of stressed looks."
Already more than 400 workers have received layoff notices in the mail over the summer.
"I hate the mailman," said an employee who fears will lose his job.
"Everybody is scared; they think they could be next," said another worker. "Nobody is safe."
SUNY Downstate Medical Center is the only academic medical center serving Brooklyn's 2.5 million residents. As of last year, it had a total student body of 1,738 and approximately 8,000 faculty and staff. Eighty-six percent of its employees are New York City residents; 68 percent live in Brooklyn. The medical center generates more than $2 billion for the economy and attracts some $60 million in research grants. Cuts threaten the local economy, union members say.
UUP represents doctors, researchers, technicians, and some supervising nurses at the facility.
SUNY Downstate's problems are tied to the take over of nearby Long Island College Hospital. LICH was already in a downward spiral and about to be closed when a deal was struck between the board of LICH and the SUNY board. The debt from the purchase has been a huge drag on Downstate.
UUP spokesperson Don Feldstein told the People's World, "We have been saying that we fear that the total number of UUP members losing their jobs may reach 1,000. UUP has been fighting to save services and jobs at Downstate. These significant job cuts will compromise the vital and essential health care services Downstate provides to the Central Brooklyn community. It will also disrupt the already fragile economy in the community and lead to additional job losses among businesses that rely on Downstate for their survival."
As budgets tighten in every state in the union, public services and jobs are the first to take the hit. In an effort to win these battles, newly elected PEF President Susan Kent chose to reach out to the public and open a dialogue on every front. She told the union's journal, The Communicator, "We plan to embark on an organizing campaign like this union has never seen. We will move toward making our political and legislative endorsements and decisions based on what is in the best interest of our members and working people."
PEF Vice President Wayne Spence said, "I know the negative social and economic impact [Downstate's] closure could have on the community and our 650 members who work there." Spence said the union participated in the recent West Indian Day Parade by sponsoring a float to let the community know the union's level of commitment.
The Brooklyn West Indian Day Parade attracts some 3-4 million people and is one of the largest West Indian celebrations in the hemisphere. The medical center serves many of the Afro-Caribbean communities here, and many of the unions' members are also of West Indian descent.
UUP members also marched in the parade, distributing some 5,000 leaflets that read, "Save vital health care services. Help our community stop the job cuts at SUNY Downstate Medical Center."
UUP is urging people to sign an online petition to the governor urging him to stop the job cuts at Downstate. That petition is accessible at http://savejobsatsunydownstate.org/
Photo: Union members march and organize at Brooklyn's West Indian Day Parade, Sept. 3. (PEF/UUP)