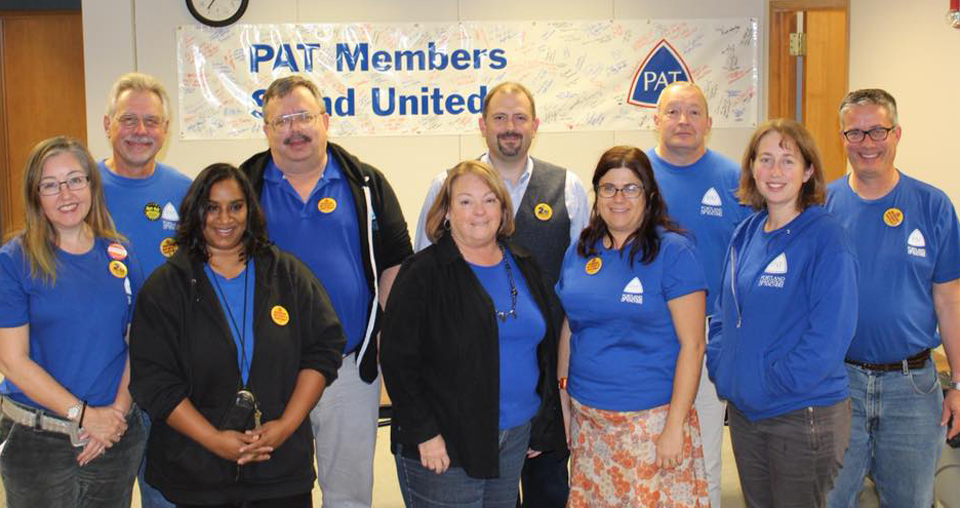 PORTLAND, Ore. – A new union contract at Portland Public Schools (PPS) contains a major advance for teachers, students and parents: Oregon's first enforceable limits on class size.
The 3-year agreement negotiated by Portland Association of Teachers (PAT) covers 4,000 teachers, psychologists and other professionals who serve over 49,000 students at the state's largest school district.
The Portland Association of Teachers has pushed for years to get Portland Public Schools to commit to limits on class sizes, but top administrators declined to discuss it. Under Oregon law, class size is a "permissive" subject of collective bargaining, meaning districts don't have to negotiate over it with unions if they don't want to.
PAT President Suzanne Cohen credits Guadalupe Guerrero, PPS' new superintendent, for the district's change of heart. "He said, 'If this is what's important to you, then let's talk about it,'" Cohen says.
Under the new agreement, the district spells out class size goals for all grade levels. If those thresholds are exceeded, the district may give teachers the option of having a half-time educational assistant, or receiving overload pay equal to 3 percent of base salary for each additional student.
The thresholds are 24 students for kindergarten classes, 26 for grades 1 to 3, and 28 for grades 4 to 5. For middle and high schools, the thresholds limit how many students teachers may see in a day: 150, or 220 for performance classes, for middle school; and 160, or 225 for performance classes, for high school.
"This is really historic," said Cohen, who worked as a middle school math teacher before taking leave to serve as a union officer. "We have been wanting this for so long. We want to be able to give students one-on-one individual attention."
Cohen said teachers would like to see class sizes even lower than those thresholds, but the contract is a start. The new contract also:
Limits caseloads for psychologists;
Reduces the amount of time educators must spend in meetings;
Increases the amount of paid time they have to plan lessons;
Adds one instructional day to the school year. It will be 177 in the 2018-19 school year;
Maintains current benefits; and
Provides annual across-the-board wage increases of 3 percent, 2.75 percent, and 2.25 percent.
Cohen called the wage package a fair settlement, and said teachers compromised on wages to secure the class size limits. With the raises, Cohen says PPS teacher wage levels will no longer be the lowest among metro-area school districts. Under the contract, the current annual salary for a first-year teacher with a master's degree is $48,609 — rising to $72,621 with 12 years' experience.
Most of the raises will be retroactive to the July 1, 2016, expiration of the previous con-tract. That's because the new agreement took more than two years to negotiate, and the three-year period it covers is halfway complete. The new agreement runs through June 30, 2019.
Cohen said members voted overwhelmingly to approve the new contract in a Feb. 5 ballot count. The PPS board is expected to ratify it at a special meeting tomorrow.
Meanwhile, in the Oregon legislative session that began Feb. 19, state lawmakers are considering a bill to make class size a mandatory subject of bargaining.