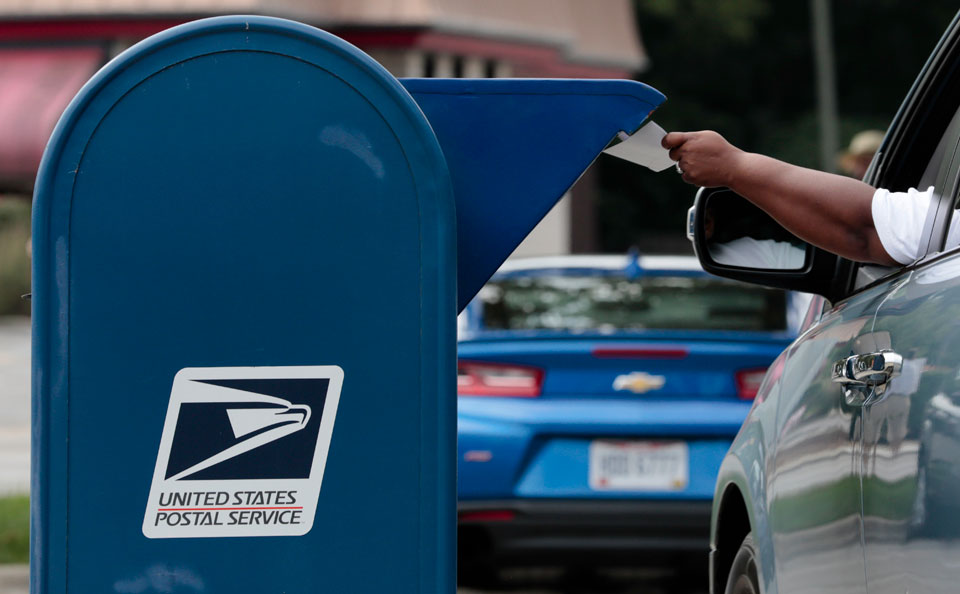 Once upon a time, the appearance of women's faces on U.S. postage stamps was a rare event. But representation has come a long way. The price of a one-ounce first-class letter has also come a long way: it now goes for 60 cents. No wonder so many Americans conduct their business and personal lives electronically! Still, appearance on a stamp generally signifies a giant step forward in recognition and commemoration. They serve an important educational purpose. Let's look at a few recent releases.
Title IX
Issued on March 3, these stamps commemorate the 50th anniversary of the passage of Title IX, a civil rights law prohibiting discrimination on the basis or sex from any educational program or activity receiving federal financial assistance. Title IX was passed as a clause in the Education Amendments of 1972. The artwork features four unique designs, each a dark blue silhouette of a woman's face in profile. The illustrations represent female athletes, specifically a runner, a swimmer, a gymnast, and a soccer player. Yellow laurel branches, a classic symbolic of victory, rest in their hair and on the swimmer's cap. "Title IX" appears across the women's cheeks, intended as an empowering message about the inclusion of women and girls in all educational settings. U.S. Representative Patsy T. Mink of Hawaii was the principal author of a section of a House bill that became Title IX.
The first woman of color and the first Asian-American woman elected to the House of Representatives, Mink was a tireless champion of women's rights and the rights of people of color. The Education Amendments were passed and signed into law by Pres. Richard M. Nixon on June 23, 1972. Thirty years later, after Mink's death, Title IX was renamed the Patsy T. Mink Equal Opportunity in Education Act.
In the 50 years since its passage, Title IX has been applied widely on all educational levels, covering a wide range of programs and resources. Additionally, Title IX prohibits sexual harassment and assault, dating and domestic violence, and stalking on school campuses or within school programs or activities.
Title IX has had the most visible impact on school athletics. The year before the law was enacted, around 300,000 girls participated in high school sports, which accounted for less than 10% of all participants in high school athletics. Women's sports were all but invisible on college and university campuses, receiving very little of the funding and none of the recognition of their male counterparts. Title IX created pathways for enriching women's athletics programs, allowing for a wider range of competitive sports offerings, more robust physical education regimens, and equal spaces to play.
Fifty years after its passage, Title IX continues to evolve. The ongoing need to address discrimination on the basis of sex in educational programs and activities provides opportunities to better serve students, despite economic, cultural, geographic, and other barriers. Title IX has impacted generations of young people in the United States, yet the work to provide protections for even more in the future continues.
Artist Melinda Beck designed the stamps. Derry Noyes served as art director.
Women's rowing
This issuance celebrates a graceful but demanding sport in which American women have excelled. Four different stamp designs are featured in a pane of 20 stamps arranged as five staggered rows of four. The artwork, which covers the entire pane, is a stylized illustration of five eight-person crews on the water. Although the rowers face left, toward the stern ends of the "shells," they are moving toward the right. The ninth person in each shell, at the left end, is the coxswain, the only one facing in the direction the shell is moving, as her job is to steer. The shells are so long, they are cut off by the edges of the pane.
The sports world largely excluded women when, in 1972, Congress amended federal education law by adding Title IX, which prohibited gender-based discrimination in federally funded education, including athletics. Although some colleges and universities reacted slowly, women pressed them into opening up varsity sports and disbursing funding equitably.
The first time women rowers competed in the Olympics, in 1976, the eight-person American team won bronze. It went on to win gold in 1984, the next games in which the United States participated (having skipped the 1980 Moscow Olympics in "protest" of the Soviet intervention in Afghanistan which the U.S. intentionally provoked). The women's eight began a glorious second winning streak in 2004, attaining silver that year and gold in 2008, 2012, and 2016.
Nancy Stahl designed and illustrated the stamps and pane. Ethel Kessler was the project art director. The stamp was issued on May 13.
Katharine Graham (1917-2001)
The 17th stamp in the Distinguished Americans series honors pioneering business leader Katharine Graham (1917-2001). The first female CEO of a Fortune 500 company, Graham was a pivotal figure during turbulent moments in American history.
The stamp features an oil portrait of Graham based on a photograph taken in the 1970s, during the peak of her influence as owner and president of the Washington Post Company, where she was also publisher of its flagship newspaper. Katharine Meyer's father, Eugene Meyer, purchased the failing Washington Post in 1933. In 1940, she married Philip Graham, who became the publisher of the newspaper in 1946. While she focused on raising their four children, the company, under Mr. Graham's control, acquired broadcast stations and Newsweek magazine. Widowed in 1963, Mrs. Graham assumed leadership of the company.
In 1971, Graham made the difficult decision to publish the "Pentagon Papers," a leaked, classified history of early U.S. involvement in Vietnam, despite threats from the U.S. attorney general. This could have jeopardized her company's initial public stock offering, which had been planned for that week. Moreover, it risked government confiscation of the company's profitable television licenses.
One year later, burglars broke into the Democratic National Committee headquarters. Young Washington Post reporters Bob Woodward and Carl Bernstein tenaciously pursued the break-in investigation right to the Oval Office. For months the Post was virtually alone in its coverage of Watergate. Ultimately the scandal led to Nixon's resignation in 1974. Personal History, Graham's candid memoir, won a Pulitzer Prize in 1997. In 2002, she was posthumously awarded the Presidential Medal of Freedom.
Art director Derry Noyes designed the stamp with original art by Lynn Staley. It was released on June 14. This stamp is valid for a two-ounce letter and sells for 84 cents.
Eugenie Clark (1922-2015)
This new commemorative stamp honors pioneering marine biologist Eugenie Clark. Affectionately known as the "Shark Lady," Clark conducted many important studies that provided fascinating insights into shark biology and worked tirelessly to change public perception about sharks.
The stamp art features a digital collage by multidisciplinary artist Amanda Phingbodhipakkiya. The design includes a photograph of Clark taken by David Doubilet as well as a photograph of a lemon shark taken by Reinhard Dirscherl. Wavy blue elements in the stamp's background evoke an undersea scene, with the sun overhead and circles of red and blue possibly representing marine life. The fact that a banner with the subject's name is floating among the waves hints at the crisis of ocean pollution.
Clark earned her nickname for her well-publicized work as director of the Cape Haze Marine Laboratory (now the Mote Marine Laboratory) on Florida's west coast from 1955 to 1967. In a series of groundbreaking experiments, Clark demonstrated that lemon sharks could be trained to do complex tasks and debunked myths about sharks as vicious, fearsome creatures. She also made significant contributions to the study of hermaphroditism in fishes.
Clark carried out more than 200 expeditions across the globe. One of her most unforgettable moments occurred in 1973. At the request of local divers, Clark traveled to Mexico's Yucatán Peninsula to study a group of requiem sharks that appeared to be sleeping at the bottom of an undersea cave. After 99 dives, Clark and her team determined that they had discovered a "cleaning station," an area where water conditions caused parasites to release their grip from the motionless sharks. Their discovery helped disprove the notion that some shark species must keep swimming in order to survive.
Clark's enthusiasm for sharks and for the preservation of marine environments around the world was infectious. She published more than 175 scholarly and popular scientific articles and narrated several film and television documentaries. Crowds of fascinated listeners of all ages packed her public talks. She received numerous awards and other recognitions.
Antonio Alcalá served as art director for this stamp, issued on May 4, which would have been Clark's 100th birthday.
Edmonia Lewis (1844-1907)
The 45th stamp in the Black Heritage series, issued on January 26, honors sculptor Edmonia Lewis. As the first African-American and Native American sculptor to earn international recognition, Lewis challenged social barriers and 19th-century assumptions about artists. The stamp art is based on a photograph of Lewis by Augustus Marshall made in Boston between 1864 and 1871.
The work Lewis produced during her prolific career evokes the complexity of her social identity. Known by an Ojibwe name that translated into English as Wildfire, she made and sold crafts for tourists for part of her childhood when she lived with her aunts near Niagara Falls, N.Y. Many details of Lewis's early life are unclear, Lewis herself cultivating a deliberate air of mystery about her upbringing. Her brother, a successful entrepreneur, appears to have funded her education, a rare opportunity for a young mixed-race American woman in the 1850s.
Lewis's drawing of the muse Urania, her earliest known work, was made during her time at Oberlin College. In Boston in the early 1860s, Lewis sculpted clay, plaster, and marble busts and medallion portraits of famous men and women, and exhibited and sold plaster-cast replicas at public events.
In 1865, Lewis sailed for Europe and settled in Rome, where she created marble neoclassical sculpture that often incorporated African-American and Native American subjects. A Roman Catholic, she also made numerous religious sculptures and took commissions for sculptures for churches in Baltimore and Scotland. Her studio became a must-see attraction for American tourists. She continued to sculpt busts of prominent Americans who visited Rome in the 1870s and 1880s, and frequently returned to the United States to exhibit and sell her work.
With heightened attention to Lewis's life and career in recent decades, previously unlocated works have come to light, and she has become more widely represented in museums and private collections. As the public continues to discover the beautiful subtleties of her work, scholars will further interpret her role in American art and the ways she explored her complex cultural identity to meet or expand the artistic expectations of her day.
Art director Antonio Alcalá designed this stamp with art by Alex Bostic.
This 1875 carved marble sculpture by Lewis depicts the Biblical figure of Hagar, who was Abraham's concubine and an object of jealousy on his wife Sarah's part. Hagar gave birth to Ishmael, and Sarah to Isaac. The two sons of Abraham are legendarily identified as the forebears of the Arab and Jewish peoples, respectively. The statue is in the collection of the Smithsonian American Art Museum, and typifies Lewis's neoclassical style.
On July 6, the USPS also released a stamp commemorating Nancy Reagan (1921-2016), wife of Ronald Reagan, about both of whom the less said the better!
Credit: Most of this overview derives from information provided by the United States Postal Service. Eric A. Gordon edited and contributed also.