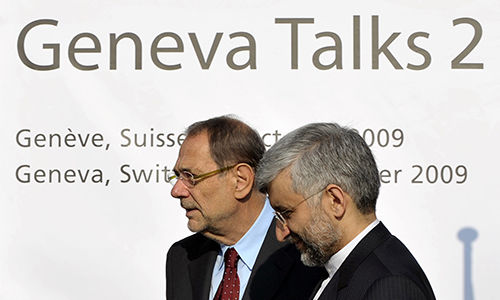 On Oct. 1 in Geneva, the U.S. engaged in the first direct talks with Iran in 30 years. The ultimate outcome remains to be seen, but it was a step in the right direction.
The initial results of this first meeting were virtually unanimously seen as positive, and grounds for "cautious optimism," as the Russian foreign minister put it. Middle East scholar Juan Cole comments that President Obama "got more concessions from Iran in 7-1/2 hours than the former administration got in 8 years of saber-rattling."
Iran agreed to open its newly revealed nuclear facility near Qom to United Nations inspectors within two weeks. It has now set a date of Oct. 25 for that inspection.
It also agreed to ship the bulk of its enriched uranium to Russia to be processed into a non-military type needed to operate its small medical isotope reactor. That would leave Iran's remaining supply of enriched uranium well below what would be required to make nuclear weapons. Although Iran denied it had agreed to this step, a meeting is set for Oct. 19 between Iran, the U.S., France and Russia to discuss details of such an arrangement.
Meanwhile an unofficial report by UN nuclear inspectors has been leaked to the press, arguing that Iran possesses the information needed to produce nuclear weapons. At the same time, the White House national security adviser, Gen. James Jones, has reaffirmed U.S. intelligence agencies' assessment that Iran is years away from being able to actually make such weapons.
Clearly, there is a lot of maneuvering going on, in U.S. foreign policy circles, in Iran with its politics in turmoil, and in the international arena where every player has its own interests.
But it is high time for the U.S. to turn away from a foreign policy of arrogance and militarism. Iran, earlier known as Persia, has been a major political and cultural force in the greater Middle East for millennia. The U.S. needs to engage with it, as with other countries of the so-called Third World, on the basis of mutual respect.
It is vital that the Obama administration stand up to the war hawks and press ahead with serious negotiations with Iran. That process will be greatly aided if the U.S. simultaneously presses forward to move the Israeli-Palestinian conflict to a just and peaceful conclusion. In this regard, it is noteworthy that the U.S. has now opened talks with Syria, another key player in the region, for the first time in five years.
This is a good direction. Urge your congressional representatives to support it.