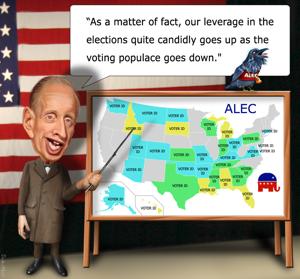 PITTSBURGH (PAI) – The GOP is working desperately to deny the right to vote to citizens it doesn't like. You know, poor people, black people, Hispanic people, old people, female people, especially people it believes are inclined to vote for Democrats.
Republican politicians hatched a multitude of schemes in states across the country to accomplish this gambit, passing laws demanding specific voter identification at polling places, eliminating early voting days and purging voters from registration rolls.
The right-wingers on the U.S. Supreme Court last year gave Republicans a hand in this effort by striking down key protections in the Voting Rights Act. Joining them this month were three Republican judges on the 7th U.S. Circuit Court of Appeals in Chicago.
In a rush-job, five-paragraph order just hours after the trio heard testimony, the three over-ruled a lower court's 70-page decision and allowed Wisconsin to demand voter ID of 300,000 residents who don't currently have it for an election that is less than seven weeks away.
When their hands are pressed on a Bible in court, Republican experts admit they've got no evidence of in-person voter fraud the GOP claims these state laws are intended to prevent.
What they're really intended to prevent is voting by people Republicans detest, the derided "47 percent" that GOP presidential candidate Mitt Romney spit on. Republicans are robbing citizens of the fundamental right to vote. It's criminal. It's fraud that subverts America's cherished democracy.
Since 2010, Republicans have passed voter-suppression laws in 22 states, and nearly half the nation's population could be affected in November's balloting.
Groups like the American Civil Liberties Union and the NAACP succeeded in postponing and overturning some. That includes the one in Pennsylvania, where the law's Republican supporters conceded in court they had absolutely no evidence of in-person voter fraud.
In Texas, the expert called to testify by Republicans supporting the law admitted when cross-examined that he was unaware of a single case of in-person voter fraud there. In Wisconsin, Republican officials acknowledged in depositions they could not produce one example of in-person voter fraud in the entire state history. Wisconsin became a state in 1848.
The Brennan Center for Justice studied the allegations of in-person voter fraud and described it as essentially a myth, an event that almost never occurs.
Justin Levitt, a Loyola law professor who has tracked allegations of fraud for years, has found 31 incidents since 2000 — out of more than 1 billion ballots cast nationwide. And, he says, some of the 31 have not been investigated and may, in the end, be debunked. Levitt also says voter ID does not prevent the most common types of election cheating.
Voter fraud is unacceptable. But so is disenfranchising hundreds of thousands of citizens. Particularly when disenfranchising them does not prevent voter fraud.
Federal District Judge Lynn Adelman put it this way in his ruling against the Wisconsin law, "There is no way to determine exactly how many people Act 23 will prevent or deter from voting without considering the individual circumstances of each of the 300,000-plus citizens who lack an ID. But no matter how imprecise my estimate may be, it is absolutely clear that Act 23 will prevent more legitimate votes from being cast than fraudulent votes."
Among the 300,000 are Ruthelle Frank, Shirley Brown and Eddie Lee Holloway Jr., all plaintiffs in the lawsuit against the Wisconsin statute. Though Brown has been a regular at the polls in Wisconsin for decades, the state Department of Motor Vehicles (DMV) denied her the ID she would need to vote under the state law because she did not have a birth certificate.
Born at home in Louisiana 70-some years ago, Brown never had a birth certificate. The DMV rebuffed a statement from Brown's elementary school attesting to her birth, even though Medicare had accepted it.
The DMV denied Holloway an ID card because his birth certificate read "Eddie Junior Holloway instead of "Eddie Lee Holloway Junior."
The lead plaintiff is Ruthelle Frank, an 87-year-old woman born in Wisconsin who has voted in every election there since 1948 and who has served on the Brokaw Village Board since 1996. She does not have an acceptable ID under the law because she lacks a certified copy of her birth certificate.
Wisconsin Republican state officials told the appeals court earlier this month they would no longer require residents without birth certificates to produce them. They promised to do so because a state court suggested requiring residents to purchase certificates was akin to a poll tax. Instead, the DMV will look up the information. That may not help Ruthelle Frank, however, because her maiden name is misspelled on her certificate. To correct a birth certificate could cost $200 and takes time.
And she doesn't have much time. There's only seven weeks until the election. For hundreds of thousands of citizens like Ruthelle Frank, what Wisconsin is demanding of them to exercise their right to vote is extremely difficult if not impossible. Even if she could pay to get her birth certificate corrected in time, she'd have to find a way to a motor vehicle office to collect an identification card.
Those GOP-enacted high bars to voting are in other "voter ID" laws around the country.
In 48 of Wisconsin's 72 counties, where a quarter of the state's adult population lives, motor vehicle offices are open only two weekdays, and never during evenings. People without ID don't have drivers' licenses. That's 300,000 people in Wisconsin who would have to find a way to motor vehicle offices during limited hours – 43,000 people a week until Election Day.
If the three-Republican judge panel's ruling is not reversed, hundreds of thousands of Wisconsin citizens could be disenfranchised by Republicans in a state where there has been no documented in-person voter fraud since it joined the union.
That's exactly what Republican politicians and Republican judges want, especially when their GOP governor is running neck-and-neck with his Democratic challenger. That is defrauding voters.
Leo Gerard is president of the Steelworkers. This column was originally posted on the union's blog.
Photo by DonkeyHotey on Flickr.