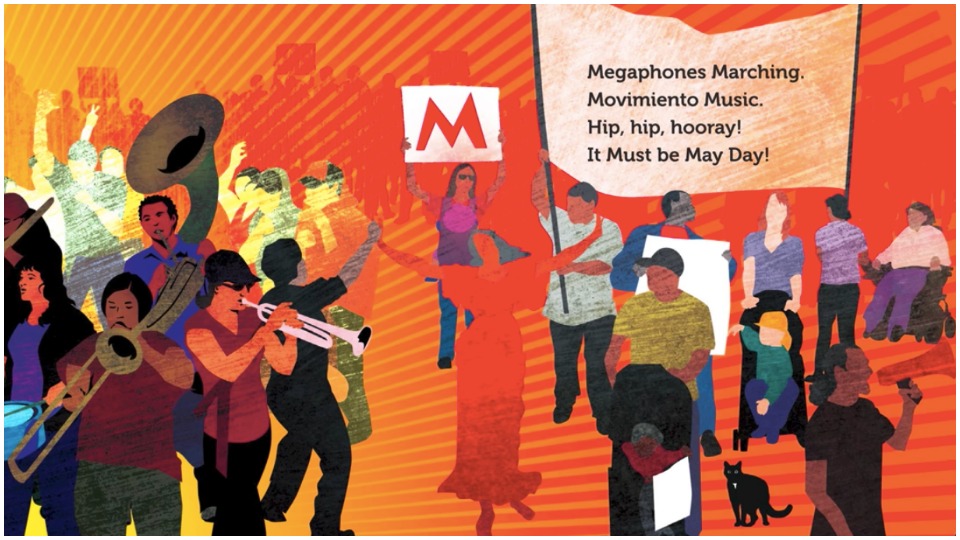 Imagine my surprise when I opened a 5.5-inch square children's board book at the home of my niece and her husband and my grandnieces Naomi, 2, and Valerie, 1 week old, and found myself (along with at least one cat) on virtually every page! Activist—Environmentalist—Grassroots—LGBTQ—Radical—Unionist—and all the way down the alphabet to Z for Zapatista. (I guess I don't personally qualify for that one, except in spirit.)
A is for Activist is a bestseller by Innosanto Nagara that is at least one person's answer to the age-old question, How to raise socially conscious children? Born and raised in Jakarta, Indonesia, Nagara moved to the United States in 1988. In the San Francisco Bay Area as a recent college graduate, he did graphic design work for social change organizations, then founded the Design Action Collective, a worker-owned cooperative design studio in Oakland.
Nagara wrote and illustrated A is for Activist for his young son, observing the lack of a "pro-activist, pro-social justice, pro-gay, pro-labor, pro-diversity, progressive ABC book." After he received supportive approval from friends and from a social media funding campaign, he published it privately and sold and mailed out over 3000 copies as a one-man operation. Then in 2013, he found a commercial publisher in Triangle Square Books, an imprint of Seven Stories Press.
Siete Cuentos, the Spanish-language side of Seven Stories, published an edition with musician Martha Gonzalez's translation, A de Activista, in 2014. There is now also an audio version recorded by radical guitarist and activist Tom Morello.
More than 125,000 copies of his book in print make Nagara a children's bestseller according to the New York Times. This books joins a trend of many recent children's books on social issues that parents are clearly seeking out to add to their children's collections of fantasy and fairy-tale themes.
"Full of wit, beauty, and fun," say Naomi Klein, author of The Shock Doctrine, and filmmaker Avi Lewis; "we can think of no better way to learn the alphabet."
"I wish this beautiful and inspiring book was around when my daughter was young," says Dan Zanes, creator of new all-ages music and of the Grammy Award-winning album Catch That Train!, "but fortunately there are plenty of cool children around today who will devour what Inno is serving up!"
Co-founder of Global Exchange and Code Pink, Medea Benjamin, says A is for Activist is "fun, funny, exquisitely illustrated and brilliantly written with a message that is sure to resonate with kids. May a thousand young activists bloom!"
Not all the reviews have been so positive, however, citing offbeat rhymes and the parent's need to explain difficult words and concepts on virtually every page.
The sales and popularity of the small book speak for themselves: Yes! Magazine found that the "alliteration and rhymes have the rhythm and fun of standard ABC books."
Other books by Nagara include Counting on Community, The Wedding Portrait, My Night in the Planetarium, and M is for Movement.
Source for background and quotes: Wikipedia.