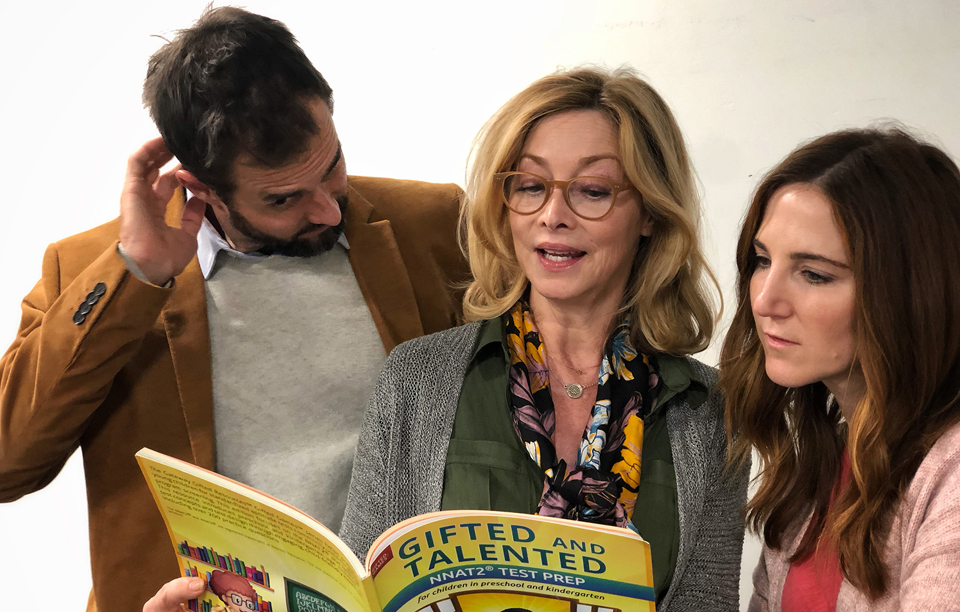 PASADENA, Calif.—OK, parents, listen up! Your five-year-old boy (let's call him Jake) wants to dress up for Halloween as Queen Elsa of Arendelle from the Disney animation film Frozen. What do you do? Find or make his costume? Or lay out costumes of a pirate and a skeleton for him to choose (and watch him go into a tantrum over broken promises)?
This is the premise of the IAMA Theatre Company's season opener A Kid Like Jake, an award-winning play about a mother and father, Alex (Sarah Utterback) and Greg (Tim Peper), trying to do right by their son. Since of course no one wants to compete with an adorable five-year-old on stage, Jake himself is nowhere in sight. Two other characters round out the cast of this one-act play, the pre-school teacher and family friend Judy (Sharon Lawrence), and the Nurse (Olivia Liang), Alex's ob-gyn aide and later a kind of Fairy Godmother who paces Alex through a rough patch.
Jennifer Chambers directs the West Coast premiere of Daniel Pearle's newly revised 2013 play. We last touched base with her as director of The Cake.
Pearle's acclaimed play is, if anything, more timely than ever. It has to be seen as not a didactic essay on how to deal with transgender children who manifest their leanings at such an early age. Rather, it is a study of marital intimacy and the aspirations, often unarticulated, that couples assume of one another. Pearle examines parenthood, its gifts and challenges, and the private fantasies, also often unspoken, that make communication problematic.
When Jake is four and immersed in the intense competition for admission to one of New York City's premier private kindergartens, Alex and Greg have to decide how much of their son Jake's specialness to reveal. Should they mention in their application essays that Jake explores "gender expansive expression"—in other words, he happens to prefer Cinderella to G.I. Joe? As the interviewing process moves along, Jake's behavior becomes erratic and perplexing, even somewhat violent and angry in both action and the artwork he produces. What is the problem? Is it his fondness for dress-up, or is it the insidious shame he has absorbed from the atmosphere? Or is it the unresolved response by the adults to this characterological expression the real cause for concern that needs to be addressed?
More importantly, can a marriage and a family survive successfully when outcomes are uncertain and may not follow a prescribed route? Is there enough in the reservoir of unconditional love to overcome ambiguity and not knowing how things will work out—especially when your son may be in physical danger just for being himself? The discussion is heightened in 2019, more than in 2013 when the play was first staged, by the terrifying times we live in now, with discriminatory laws, policies, regulations and procedures raining down on transgender persons, not to mention a high crime rate especially against trans people of color. Perhaps parents should be cautious about putting a label on their kids too early.
Pearle's play also brings into the discussion the role of women who give up active careers to become full-time, stay-at-home moms. Alex worked as a lawyer who, as a mom cooped up in their Brooklyn apartment, feels less than fully recognized for her sacrifices. Greg works as a psychotherapist who sometimes is less than 100% empathetic with his own wife's situation.
A Kid Like Jake premiered in a sold-out run at LCT3/Lincoln Center Theater, where it was a New York Times "Critic's Pick" and won a number of awards. Pearle's feature film adaptation, directed by Silas Howard and starring Claire Danes, Jim Parsons, and Octavia Spencer, premiered at the 2018 Sundance Film Festival and was subsequently distributed by IFC Films. After adapting his play for film in 2017, Pearle decided to revisit the 2013 stage version as well. The new version of the play is published by Dramatists Play Service.
"When the play was first written, it was before Transparent, before Caitlyn Jenner and Laverne Cox, before 'gender expansiveness' was part of our cultural lexicon," Pearle explains. "But although the language surrounding gender identity and the details of the conversation may have changed, the core of the story remains the same. It's still about the anxiety of being a parent, of trying to do the right thing for your child, of how hard it is to let kids be who they are without projecting onto them."
Director Jennifer Chambers has two pre-teen kids herself. "So I really get that beautiful, heartbreaking pain that comes with your kid growing up and getting away from that little bubble you live in together when they're babies," she says. "What can you do as a mom to protect them, to keep them safe when they go off to school and into the world? I remember that wonderful, magical innocence—but then they differentiate, which is their job, and yet can be very tough."
Chambers continues her ruminations on this play in a Director's Note in the program:
"Being a parent is no joke. Being a kid who wants to discover who they are is no joke either. Especially in a world that, throughout history, has had a problem with who you might be. So how, when we love someone so much that we would die for them, do we negotiate all of that? This is a play that does not tell you how you should feel, or who you should be, but instead grapples with the complicated nature of parenting, identity and overall, love."
The acting is highly credible: Anyone who has been in an intimate relationship will recognize both the zenith and the nadir of emotions that we see here, even as we recognize that Pearle has not painted the picture of a perfect couple. He employs the Cinderella story to great effect: When Cinderella is at the ball, her stepmother and stepsisters look directly at her and cannot recognize her. Perhaps there's a lesson to be learned from that insight.
The creative team for A Kid Like Jake includes set designer DeAnne Millais, lighting designer Ginevra Lombardo, composer and sound designer Peter Bayne, costume designer Melissa Trn, and properties designer Heath Harper.
A Kid Like Jake plays through Nov. 3 on Fri. and Sat. at 8 p.m. and Sun. at 7 p.m. at the Carrie Hamilton Theatre at the Pasadena Playhouse, 39 S. El Molino Ave., just south of Colorado Blvd. in Pasadena 91101. For reservations and information, call (323) 380-8843 or go to www.iamatheatre.com.