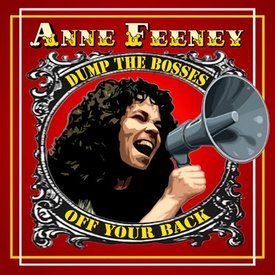 A labor of love for the love of labor
CDREVIEW
Dump the Bosses Off Your Back
Anne Feeney
www.annefeeney.com, $14.99
I'm not sure I can remember exactly where I first met Anne Feeney. Suffice it to say that Feeney is the epitome of Preacher Casey in Steinbach's great novel, "Salt of the Earth." I know I saw her at Ravenswood, at Camp Solidarity in western Virginia, at the big steelworker rally at the WCI strike in Youngstown and at the Newport News strike. I could go on and on, but it really is true; wherever workers struggle for justice, it's there you'll find Anne Feeney!
As much as Anne's singing for justice for working folks is a labor of love, she recently pointed out that it's also a family tradition. At a recent show in Cleveland, Feeney stated that she'd gotten a grant from the Pennsylvania Labor History Society to study and collect information on her grandfather, a hellraising Irish immigrant union leader and an associate of the great William Z. Foster. As she pointed out, what could be better than fighting for justice, singing along and getting paid to study your granddaddy?
I don't know who could do it better, and we're all a fair shot better off today for Feeney's newest CD, "Dump the Bosses Off Your Back!" In my opinion, this is her best technical production.
However, for those of you who don't know Feeney, you're missing a treat! I was considering what to say about her when I read a letter to The Nation, quoting CIO leader Len DeCaux, from his "Memoirs." Len wrote that when he first came to Cleveland to work for the CIO in the late 1930's, he attended many pro-union rallies. "I'd hear one of the Communist speakers say something so radical, I'd become embarrassed," DeCaux stated. "Then I'd look around at the workers, ragged and hungry, and they were all smiling, cheering and stomping!"
That is Annie!
In "Dump the Bosses" you get, as the title may suggest, a flavor of the old fighting IWW. This is certainly true of the title song, as well as "The Preacher and the Slave" and "Hallelujah, I'm a Bum!" Other influences are also present. This CD has a Canadian taste, with miners songs playing a strong role. "Hillcrest Mine" is the great Canadian folk singer James Keelaghan's fine piece about the Hillcrest mine disaster. "Sago" and "How Much for the Life of a Miner," speak to the increasing danger miners in our own nation face under the corporate Bush regime now in power.
"Song for Santiago Cruz" is a strong, but haunting, composition by Feeney on the life, and murder, of young Santiago Cruz, a U.S. labor organizer for the Farm Labor Organizing Committee (FLOC) who was killed in Mexico trying to organize Mexican workers who were traveling to the U.S. to find jobs. "!Ya Basta!" is a real fighting song, another song of hers, stating that we've "had enough!"
While I'm a real lover of the folk genre and protest music, I've always been a bit put off by the syrupy sweetness and the almost mystical quality of some singers. That is exactly what you will not find here! Anne Feeney is a true daughter of the working class. A bawdy troubadour of our working class!