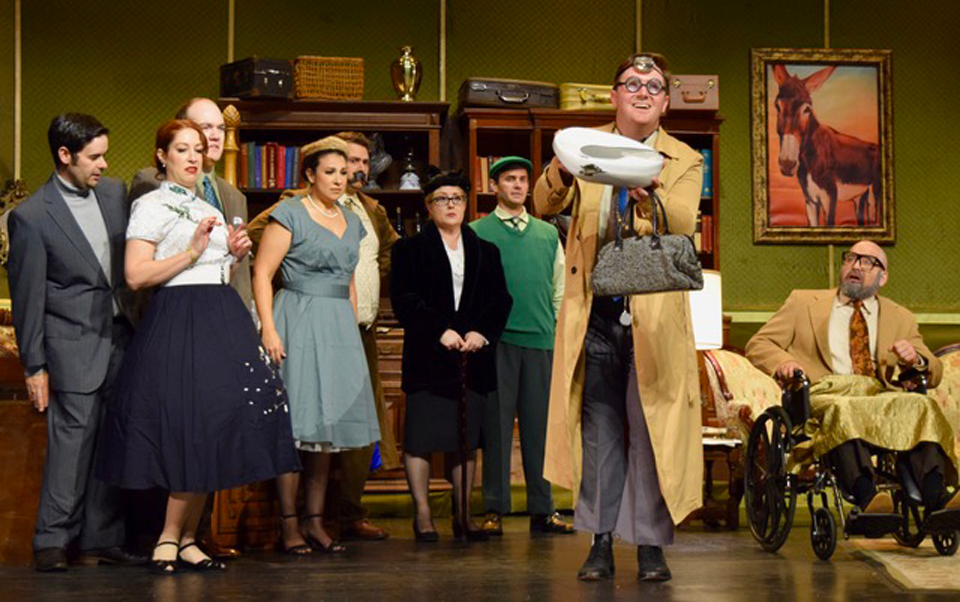 LOS ANGELES—You wouldn't have to be an opera lover to love Pacific Opera Project's latest venture, a double bill of two 20th-century works, Giacomo Puccini's 1918 Gianni Schicchi and Maurice Ravel's 1925 L'enfant et les sortilèges (The Little Boy and the Magic Spells). It would help if you were a kid: This would be a fine introductory performance for children—or for anyone who's young at art.
Both are familiar pieces in the repertoire, but according to Artistic Director Josh Shaw, this is the first time they have been paired in performance (seen Jan. 25). Although there are many comic elements in Puccini's tragic operas, such as Madame Butterfly, Tosca, La Bohème, and Turandot, Puccini's under-an-hour-long Gianni Schicchi is his only full-out comedy.
As a short opera, Gianni Schicchi first came to light in Puccini's triptych of short operas (Il Trittico) that also included Suor Angelica and Il Tabarro, all quite different, and all in their own way focused on death. Il Trittico received its world premiere in December 1918 at New York's Metropolitan Opera. Since that time the operas have been produced either as a complete triad or split up into combinations with other one-act operas.
Based on an incident mentioned in Dante's Divine Comedy, the libretto by Giovacchino Forzano involves the snobbish Donati clan squabbling over the inheritance from the wealthy patriarch of the family, Buoso Donati. Rather than see the villas, lands, the mill and the precious mule all go to fatten the friars' paunches, they grit their teeth and engage a newcomer to Florence, a shrewd upstart from the country, named Gianni Schicchi, to impersonate the dying Buoso and dictate a new will under pain of amputation of the right hand and banishment from Florence should they reveal anything to the authorities.
Schicchi's daughter Lauretta is in love with Buoso's nephew Rinuccio: The famous aria "O mio babbino caro" (Oh dear daddy mine) is Lauretta's appeal to do the job and approve their May Day marriage, thus uniting the by now rather degenerate old-money class with the new ambitious entrepreneurs from lower peasant origins. In this tale, as embellished by Forzano, Dante Alighieri (1265-1321), a leading intellect in the early Renaissance, is already anticipating the decline of the aristocracy and the rise of the untitled bourgeoisie—the same theme that playwright Anton Chekhov mined in The Cherry Orchard at the end of the 19th century in Russia.
The anti-clericalism of the tale conforms with Puccini's outlook. He had skeptical things to say about the Church in Tosca, and about traditional Japanese religion in Butterfly and Chinese tradition in Turandot. In several operas, Tosca, Manon Lescaut, La Bohème and La Rondine, he celebrated love outside of marriage. Only in Suor Angelica, set in a nunnery, did he honor the religious life in the title character, though not all the other sisters come off so saintly. The reason Angelica was in a nunnery in the first place had to do with an illicit child she had borne.
Gianni Schicchi has a cast of fifteen, so to keep them all employed after the intermission, the ever-imaginative director Shaw has his singers play roles in the Ravel fantasy about a miscreant young boy whose misdeeds lead him into an unforeseen territory of nightmares and terror when the everyday objects of his room, animals from the woods, and even the characters from his storybooks, come to life. The fanciful libretto is by the French author Colette.
Both these works display a profound humanism, with love reigning supreme in the end. One of my favorite tenor arias comes from the mouth of the young lover Rinuccio, who appeals to his well-placed relatives with "Avete torto—you're wrong!" Streams and rivers nourish the soil of Florence, and so do the people from the country who contribute their art, science and skills to the magnificence of the city. "Away with narrow-minded hatreds and with grudges!" Rinuccio sings. "Long live the newcomers and Gianni Schicchi!" It's a welcome to immigrants whose hard work and ingenuity will only build up their beloved city.
The spoiled child of L'enfant won't do his homework, he tears up his picture books, spills ink on the rug, tosses a tea tray across the room, breaks the grandfather clock. They all come back as enchanted reincarnations (somewhat as in Beauty and the Beast). The Princess of the storybook tells him he cannot learn the end of the story because he has ripped her up. "You might have become my prince in golden armor," she tells him. And all the animals that populated his books come to life—a squirrel, frogs, bat, owl, dragonfly, nightingale—along with a tree, a shepherd and shepherdess and their flock.
When he sees the love that the animals all share together, their interdependence and respect, and their natural relationship with humans, he realizes that no one loves him. He starts his way back by binding up the squirrel's bleeding paw. The animals all combine, too, to tend to the boy's wound, praising his newfound kindliness. He holds out his arms and calls for his mother.
This opera is shorter than Schicchi, maybe 45 minutes long, but it can be seen as a quick coming-of-age story. The boy emerges from angry self-centeredness into wisdom about nature and balance in the world. He sees the value of learning and of stories. He sees that his actions have only hurt himself by throwing out of whack all that is good and important.
Some listeners interpret the opera as a "blame the mother" screed since she was so insistent on her son's doing his school assignment and then punishes him by giving him unsweetened tea and dry bread. So he is acting out against her being a martinet. But in the end, he recognizes that she means only the best for him. Part of that is taking responsibility as a mature person, something you need to do to both receive and give love.
Heard today, Ravel's and Colette's dadaistic little opera, full of little songs in various musical genres for the different characters, is evidently a post-World War I plea for peaceableness and natural order. Gianni Schicchi, too, is such a plea, after a similar tumult, for restoration, but on the basis of a new understanding. It would be tempting to cite the appropriateness of chaotic disturbance and a cathartic re-set as a metaphor for the current political moment in America, but I won't pursue that theme any further.
Joshua Horsch conducts a sizable chamber orchestra of 26 players, who are largely unseen off stage left. Josh Shaw not only directs the production with ample use of hilarious physical comedy, but also designed the set. In his conceit, linking the two operas, the rowdy little boy Gherardino, youngest of the Donatis, is Ravel's child who had experienced the trauma of the events in Florence and now, a month later (in 1955, with appropriate costumes and sets) has returned to his home in France (modified from Schicchi) and suffers a post-traumatic episode.
The talented cast includes E. Scott Levin as Gianni Schicchi and the Black Cat, Kimberly Sogioka as Gherardino and the Child, Tiffany Ho as Lauretta, the Princess and the Owl, Jonathan Matthews as Rinuccio and a Frog, Sharmay Musacchio as Zita and the White Cat, Joel Balzun as Betto and the Clock, Tim Sitzler as Simone and an Arm Chair, Sonja Krenek as Nella and the Mother, Danielle Marcelle Bond as Ciesca, Teacup and Dragonfly, Robert Norman as Gherardo and Teapot, Jared Daniel Jones as Marco and Tree, Peter Barber as Amantio and ensemble member, William Grundler as Spinelloccio and Arithmetic, Audrey Yoder as Pinellino, Louis XIV Chair, Bat and Shepherdess, Sarabeth Belón as Guccio, Squirrel and Shepherd, and Michelle Drever as the Fire and Nightingale. In addition, 11 members of the Occidental Glee Club, directed by Désirée La Vertu, participated in the ensemble for L'Enfant.
The double bill receives two more performances at Thorne Hall, Occidental College, 1600 Campus Rd., Los Angeles 90042, on Sat., Feb. 1 at 7 p.m., and Sun., Feb. 2 at 3 p.m. More information and tickets can be obtained here. Next up for this seriously pop company is a Gone with the Wind-inspired version of Mozart's wise farce Così Fan Tutte at El Portal Theatre in North Hollywood in late March and early April.